The Maddening Reason Why Your Male Coworker May Be Off Next Week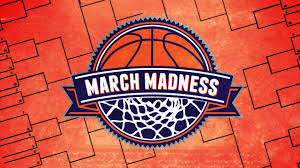 This coming Sunday is a big one for the National Collegiate Athletic Association (better known as the NCAA). At 5:30 PM Eastern Time, the NCAA and its broadcast partner, CBS, will spend an hour and a half of TV time telling us which 68 college basketball teams made it into this year's NCAA Men's College Basketball Tournament. The too-long "Selection Sunday" TV show the kickoff to an annual tradition here in the United States — shameless, unfettered office gambling pools.
We call it March Madness.
March Madness is centered on the NCAA bracket, the grid of 64 teams (we don't particularly worry about the "First Four," as the NCAA calls them) provided to us during Sunday night's "selection show." Starting that night and running until the first real game Thursday afternoon, lots of people, even those who don't know the difference between a slam dunk and a grand slam, try to predict the winner of each game going forward. This is called "filling out a bracket," with each bracket-filler hoping to get more games right than their friends and co-workers. Often, there's an entry fee and a prize (consisting some percentage of the entry fee pool) for finishing atop your group. It's a pretty low-effort way to gamble on something you don't need to know very much about yet still have a reasonable chance of winning.
And starting on Thursday, that formula legitimately adds up to being fun. The reason is the chaos — for four days, it's wall to wall basketball from noon (Eastern, of course) until often past midnight. At times, there are as many as four games going on at the same time, and any of them can make or break your bracket — and in the blink of an eye. Last-second shots ("buzzer beaters," for those in the know) can shift the outcome of a game 180-degrees in a fleeting moment, turning your aggressive decision to advance a 5-seed into the Final Four into a silly mistake as the 12-seed sends them home instead. If you're into basketball, it's great TV. Unfortunately, it's during the week — and few would spend vacation days in such a way without feeling shame.
But what if you had another reason to be home, on the couch, doing nothing but watching TV? Say, you were recovering from surgery . . .  let's say, a planned procedure? That would work. Now, all you'd need to do is find an elective procedure which you can schedule as you see fit. And, of course, something you actually want to have performed. For an old-enough male college basketball fan, well, how about a vasectomy?
The recuperation period for a vasectomy is about two to three days, during which the patient can go home, but can't do much other than lie down in bed or on the couch, with ice as needed (and no, not for a beer). That seems perfectly paired with a full slate of college basketball games, right? End your risk of accidentally becoming a father (again?) and cheer or agonize over the games on the TV that day. It's a great idea — if you're in the market for such a procedure — right?
It turns out that, yes, it is a great idea — or at least an incredibly common one. In 2014, one Cleveland-area urologist told CNN that in March, his clinic typically performs "about 50% more vasectomies than in other months" and that patients are transparent as to the timing: "A lot of patients come in and say, 'I have to have this during March Madness, you have to talk to my wife about it. Tell her what my limitations are and that I need to be on the couch. They'll even tell us to exaggerate a little about how long it takes to recover." Some come into the surgery center wearing team gear — one even brought his own Ohio State-branded ice bag for the recovery.
And patients aren't the only ones aware of the fortuitous timing here — some doctors are using the tournament as a way to market their services. In 2015, Money magazine reported that some physicians were offering special deals around the tournament — a vasectomy special, if you will. For example, per Money, "one year, a clinic in Cape Cod even threw in free pizza as part of its March Madness-themed vasectomy package."
So, if one of your coworkers — male, of course — is taking a few days off toward the end of next week, maybe you know why, now.
Bonus fact: If you work for a Berkshire Hathaway company — that is, one owned by billionaire Warren Buffett — it's probably a good idea to enter into the corporate March Madness pool. That's because Buffett has sweetened the pot. Per Forbes, "any Berkshire Hathaway employee that can pick the Sweet 16 correctly will win $1 million a year for life " But don't get your hopes up — if prior history is any indicator, that's an unlikely proposition. In 2014, also per Forbes, more than 11 million people used ESPN's bracket contest platform; only 11 were able to get all of the final 16 teams right.
From the Archives: It's Gotta Be the Shorts: Why NCAA (and NBA) basketball players no longer wear short shorts in games.
Related: A reusable ice bag, unbranded.