In the market for a high-end, expensive meal? Here are two rules of thumb: One, don't even bother looking at vending machines. A Snickers bar or bag of Pirate's Booty may seem like a grand idea, but — even with the 20 ounce drink of your choosing — isn't going to make for a good date night experience. And two, don't go to the mall. You'll find places like Sbarro, Cinnabon, and Panda Express there, all of which have their, say, charms, but none of which are high cuisine.
Vending machine food is bad. Mall food… that's not very good either. Combine the two — vending machines in malls — well, that's an absolutely, catastrophically, terrible idea.
But that doesn't stop people from trying.
Meet the Beverly Hills Caviar Automated Boutique, pictured below.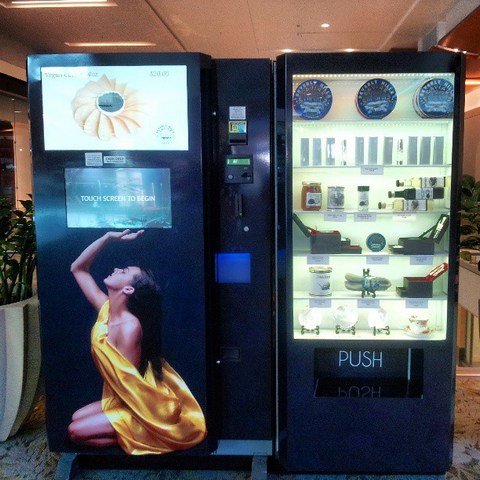 In case the image doesn't tell the story — it's super-fancy and what's going on isn't very clear —  it's a picture of a vending machine that is in a mall and sells caviar. And escargot and truffles for good measure, too.
And yes, it's real. In fact, there were once at least three of them. Per Eater, the machines were introduced in three Los Angeles-area malls — Westfield Century City, Westfield Topanga, and the Burbank Towne Center — in 2012. At the time, for as little as $4 or $5 or as much as $500 (!), a passerby with a taste for the expensive could pick up a snack. The machines, owned by a company called Beverly Hills Caviar, saw the mall caviar purchaser cohort as an untapped way to engage would-be fish-egg eaters. NBC News reported that the company's plan was to "reach customers in wealthy neighborhoods surrounding the malls who may not have convenient access to caviar and expose everyday shoppers to the delicacy, especially younger ones." And as Eater further notes, some of the malls are open late. Where else are you going to get caviar at 1:30 in the morning?
Would-be caviar buyers should probably read the FAQ on Beverly Hills Caviar's website before shopping, however. While the FAQ says that "boutiques are very simple to use," there are some things you should be aware of before making your purchase. First, the machines only take cash (but accept $1 bills up to $100 bills), so go to the ATM first. Second, you need exact change. Third, the caviar isn't quite ready to eat on the spot — it needs to thaw out first. And lastly, you need to get the caviar into a fridge within an hour and a half of its purchase; the company suggests that customers "keep the caviar out of direct sunlight during the drive" and "bring a portable lunchbox/cooler with them when getting caviar at the boutiques for easy and quick transport of the caviar."
But if you can handle all of those rules and if you're jonesing for some late-night caviar, you may want to make your way to one of the malls above. But call first — per Brian, a friend of mine with first-hand knowledge of the area, the Caviar Automated Boutique at the Westfield Century City mall, at least, is gone. In its place? It's something that may actually get used every so often — a bench.
Bonus Fact: Vending machines have been around a long, long time — about 2,000 years — and were used to sell holy water. The first known vending machine was invented by a Greek mathematician known as the "Hero of Alexandria," who lived around the year 50. Wikipedia explains how it worked: "When the coin was deposited, it fell upon a pan attached to a lever. The lever opened up a valve which let some water flow out. The pan continued to tilt with the weight of the coin until it fell off, at which point a counterweight would snap the lever back up and turn off the valve."
From the Archives: If You Build It…: The story of a mall that does not sell caviar — or much of anything else.
Take the Quiz: Name the candy by its non-candy description. (You'll see.)
Related: A vending machine of your very own. Caviar (or Snickers bars) not included.