The Man Who Bought (And Returned?) Stonehenge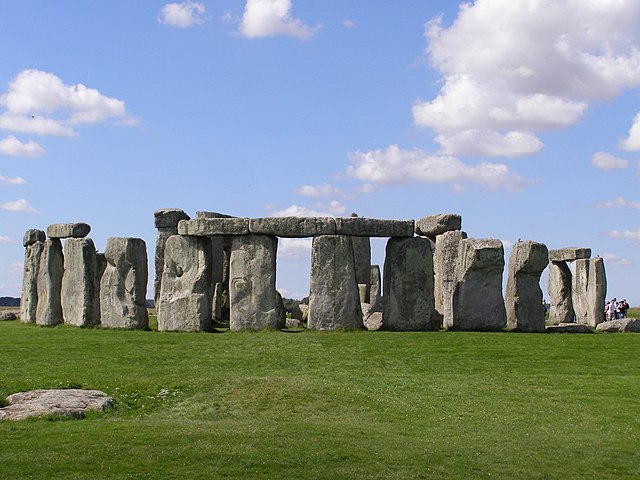 For many of us, buying gifts for your spouse or partner can create a ton of anxiety. While the rule is "it's that thought that counts," it's also a good idea to get them something that they may actually want. And if you've been in that situation, you know that is often easier said than done. A watch or jewelry may make for a good gift but comes with the risk of going unappreciated the other person's tastes. Tickets to that thing they love can be fun — but can be seen as an extravagant way to spend limited funds, given that the experience comes and goes. More durable items like furniture may be too practical to warrant giving as a gift.
And while it's a nice problem to have, gift giving can be even harder when money is no object. If you can spend like there's no tomorrow, your partner will likely just purchase whatever he or she wants — there's no need to wait for a birthday or anniversary. What do you get for the person who has everything?
If the story of Cecil Chubb is an example, the correct answer to that question is definitely not "Stonehenge."
Stonehenge, if you're not familiar with it, is the stone monument pictured above in the south of England. (Here's a map.) How the stones got there and why whoever moved them there did so is open to some debate but regardless of the how or why behind them, the "what" — big stones, placed intentionally, and in the middle of nowhere — makes Stonehenge famous. Stonehenge is now a UNESCO World Heritage Site operated by a group of British agencies and is open to the public — roughly a million people visit the structure each year.
But until a bit more than a century ago, Stonehenge wasn't a national park. From the time of Henry VIII until the early 1900s, Stonehenge sat on property that was privately owned. In 1820, the Antrobus family acquired that property, and the owner a century later, Sir Edmund Antrobus, died early in World War I. In 1915, the Antrobus' estate auctioned off the land, and the aforementioned Cecil Chubb stepped in. He was a very successful barrister who married rich — his wife, Mary, would later inherit several businesses and buildings from her uncle. Together, the pair was very rich. Mr. Chubb attended the auction of Stonehenge and purchased it "on a whim," according to Smithsonian Magazine for £6,600, or about $500k to $1m today. His reason? According to Quartz, he wanted a gift for his wife.
Unfortunately, Mary Chubb didn't want the rocks. As Heather Sebire, Stonehenge's curator (as of 2015) told the BBC, "It's said that Mary wanted Cecil to buy a set of curtains at the auction. And he came back with something rather different."
Cecil's purchase, though, wasn't all for naught — the gift-giving was only one of two of his motives, and the second one was still relevant. There were rumors that someone from outside of England was planning to purchase Stonehenge and relocate it, and Mr. Chubb didn't want to see that happen. By purchasing the monument (even if his wife didn't want it), he guaranteed that the Stonehenge stones would stay exactly where they were.
Three years after buying the site — and with his wife's apparent blessing — Cecil Chubb gave up ownership of Stonehenge. He didn't sell it, though; he donated i tt to the British government. Per History.com, he wrote a letter to announce the gift, stating "To me, who was born close to it and during my boyhood and youth visited it at all hours of the day and night, under every conceivable condition of weather—in driving tempests of hail, rain and snow, fierce thunderstorms, glorious moonlight and beautiful sunshine, it always has had an inexpressible charm. I became the owner of it with a deep sense of pleasure, and had contemplated that it might remain a cherished possession of my family for long years to come. It has, however, been pressed upon me that the nation would like to have it for its own, and would prize it most highly." (Certainly, more highly than his wife did!)
Ultimately — and not at all in a transactional way — Mr. Chubb got something out of the deal. In 1919, a year after he gave the stones to the government, Prime Minister Lloyd George gave Chubb an honorary title: he became the First Baronet of Stonehenge.
Bonus fact: Stonehenge is at least 4,000 years old and very likely a thousand years older than that. As the stones are huge (some weigh as much as 25 tons) and not common to the area, how the monument came to be is, as noted above, a mystery. But one man has found a way — not necessarily the way — to build a similar set of structures using tools that were available at the time. Wally Wallington from Flint, Michigan, as seen in this video here, has used relatively primitive tools to move huge rocks; he can move a one-ton block 300 feet in an hour — all by himself. He believes (although this is unproven, and perhaps unprovable) that this is how Stonehenge was originally constructed.
From the Archives: Georgia's Version of Stonehenge: Well, formerly. They were blown up in 2022!