The Man Who Did Well By Himself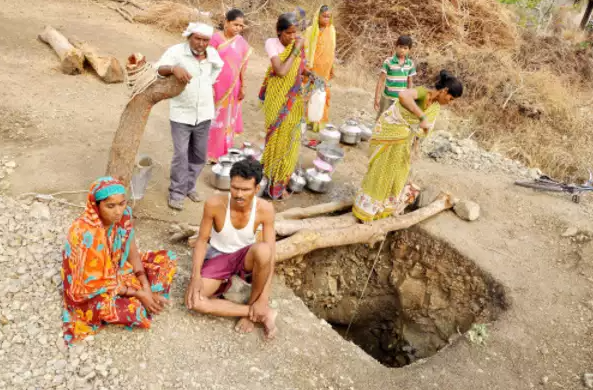 In 2016, Bapurao Tajne was living near the village of Kolambeshwar in the Washim district of Maharashtra, India. (Here's a map.) And his family and community were in trouble. A drought had struck the area and the local villagers weren't willing to help Tajne find water — discrimination was more important than alleviating human suffering. Tajne was a Dalit, the lowest of the castes in India's historical caste system. When his wife went to a nearby villager to ask if she could draw water from their still-functioning well, they refused.
While Tajne had some legal recourse available to him — in 1989, India passed the Atrocities Act, which, among many other things, outlaws discrimination like Tajne's wife experienced. But the legal system is slow to rectify such issues and, in any event, the solutions legally available wouldn't have solved the immediate issue: Tajne, his family, and his community of Dalits needed reliable access to water.
Instead, he took matters into his own hands — and started building a well. All by himself.
Tajne, a laborer with a limited education, didn't have the experience to tap into the groundwater table that may or may have not been below the surface of the land near his home. But he was determined not only to right the wrong but also to prevent future harm. As the Times of India (TOI) reported, "no one, not even his family members, helped him. Everybody thought he had gone crazy." And their skepticism was hardly misplaced: the terrain was rocky and, per TOI, "three wells and a borewell near the spot had gone dry," suggesting that Tajne's efforts, while well-intentioned, were likely to go nowhere.
Tajne was determined, though. He purchased some tools from a nearby village, picked a spot that intuition suggested would yield some water, and got started. For 40 days, he dug, all during his spare time. He couldn't miss work so, according to TOI, he "worked for four hours before leaving for work and two hours on return," in addition to his eight-hour workday. And in the end, he succeeded, as seen above.
As Tajne told India Express, he appreciated that his story is not just one about discrimination, but about perseverance: "I was ridiculed by my family among others, but I was determined." And it also helped bring attention to discrimination against Dalits. Per multiple press reports, after learning of Tajne's well, authorities investigated the community that turned Tajne's wife away. The results have that investigation, if any, have gone unreported. 
Bonus fact: When Indians from different castes fall in love and want to marry, they do so at a risk — the shame of having a child or grandchild marry outside of tradition may drive relatives toward violence. "Honor killings" — when the family of the young adult leaving the traditional system murders that young adult — are rare, but hardly unheard of, and other acts of violence are similarly not uncommon. In 2010, a group of human rights activists formed a non-profit organization to stop this. Called the "Love Commandos," the organization runs shelters for these young couples running from their families, helps the couples get government protection, and otherwise assists them in getting married without threat of harm.
From the Archives: Unmountain Man: Another story of an Indian man who built himself a solution. This one took years!