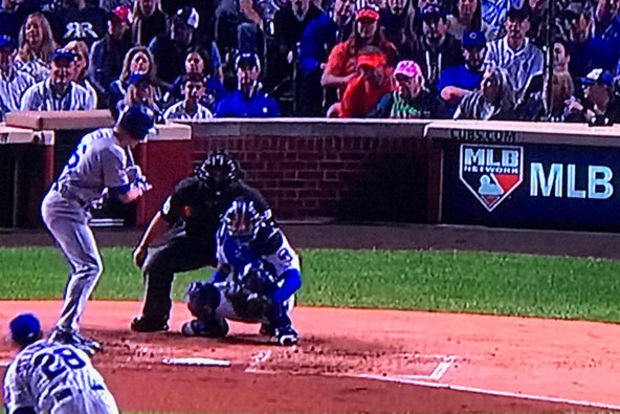 In 1989, fans of the movie Back to the Future were treated to the second chapter in the trilogy, Back to the Future II. Unlike the original (or the third movie in the franchise), Back to the Future II actually goes into the future; protagonist Marty McFly ends up in the year 2015. This gave the movie's writers and producers a change to make predictions about what the future would hold for all of us and, at the same time, make some jokes about it. If you're a baseball fan, you probably picked up on a joke made at the expense of the Chicago Cubs. A news report in the movie shows that the Cubs had just won the World Series, much to Marty's surprise. As of 1989, the Cubs hadn't won a World Series in over 80 years, and the drought had become a bit of a punchline.
Fast forward to the real 2015 and the Cubs still hadn't won a World Series since 1908. (They came close that year, but the Mets, a superior team by any reasonable measure, beat them soundly in four straight games.) Nevertheless, despite the lack of championships, fans flooded Wrigley Field (where the Cubs play their home games) each and every day, rooting for their team win or lose, wearing their blue Cub hats as a sign of their love of their hometown team.
But one Cubs fan didn't follow suit. He cheered as much as the rest, yes, but he didn't wear a blue baseball cap. His was pink, as seen above, just behind the brick wall and to the right (from his perspective) of the MLB Network ad. He was at many, many games over the few decades prior, wearing that same pink hat. He wasn't at every game, no, but enough where fans wanted to know: who is the pink hat guy? And why the pink hat?
It turns out that he's loyal to his Cubs, yes — and he's also loyal to his wife.
The Pink Hat Guy, formally known as Jim Anixter, has been a Cubs season ticket holder since 1966 or 1967. Those seats gave him access to tickets for the 1990 All-Star Game, hosted at Wrigley Field, and to the Home Run Derby (and "Workout Day") the day prior. Anixter, being the die-hard fan he is, attended both. And on Workout Day, the team handed out free hats to all attendees, as seen below. You'll note, right away, that it is pink.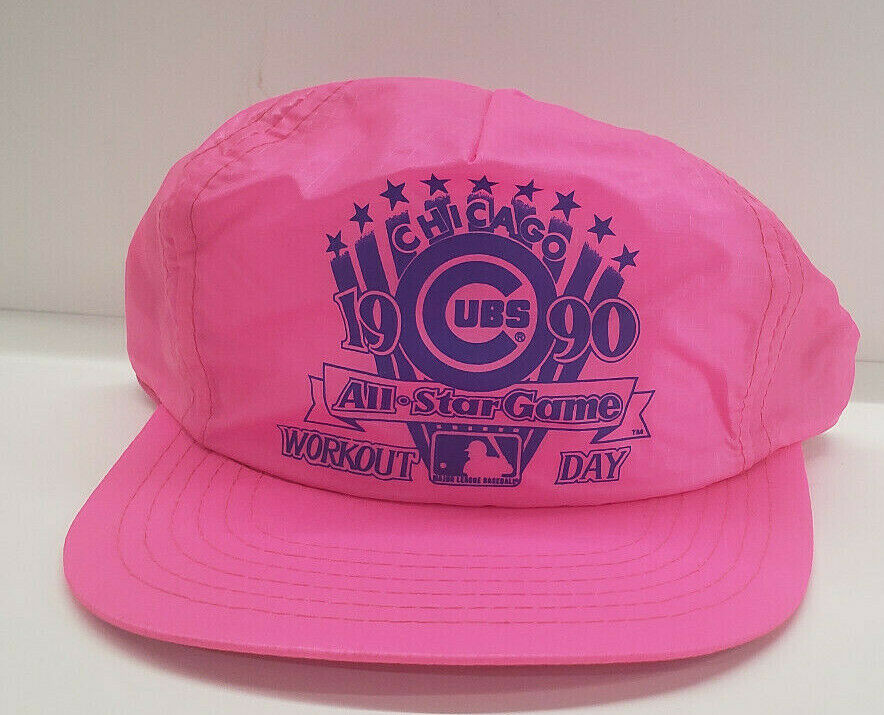 Anixter liked the hat enough to keep wearing it, as quickly saw it as a good luck charm, one that could help bring wins to his beloved Cubs. Over the years, he became a familiar sight at games — you don't tend to see a lot of all-pink hats there — and ultimately, he decided to embrace the hat as part of his identity. As he told Fox 32 in Chicago, in 2004, a relative said "why don't you make up a hat that says 'The Pink Hat Guy," so he did — and then, "all of a sudden," he continued, "I've become a celebrity."
But there's more to the story than just a fan with a unique sense of style and superstition. As Anixter explains, the hat (and his green shirt/sweater he pairs with it) make it easy for anyone watching at home to immediately pick him out. Which, he notes, helped keep his marriage strong. As Anixter told DNA Info, beyond being a good luck charm, he wears the pink hat "so my wife can see I'm really at the ballpark and I'm not fooling around."
A year after Anxiter's story made the news, his lifelong dream as a Cubs fan came true. On November 2, 2016 — a year after the Back to the Future II prediction — the Cubs finally won themselves a World Series. The pink hat had finally brought enough luck.
(And yes, as of last month, he's still going to games — and is still married.)
Bonus fact: In 2003, a Chicago Cubs fan named Steve Bartman became instantly infamous in Chicago. Bartman, in attendance during a Cubs playoff game, reached over the railing to try to catch a foul ball, but in doing so, prevented Cubs outfielder Moises Alou from catching it. (Here's a video.) The batter, Luis Castillo, almost certainly would have been out as a result, but instead, he got another chance and ended up safely reaching base. One thing led to another and the Cubs, who were winning before Bartman got involved, ended up losing.
While the loss obviously wasn't solely (or even mostly) his fault, Bartman became a scapegoat and reviled throughout the city. But in 2016, when the team finally won their title, the Cubs used it as an opportunity to show that he wasn't to blame: they gave him a World Series ring with his name on it, in an effort to "provide closure on an unfortunate chapter of the story that has perpetuated throughout [their] quest to win a long-awaited World Series."
From the Archives: Mr. Pee Hands: A gross story about Moises Alou, the man who Bartman interfered with.