The Problem With Speaking Too Soon
Hi!
On Wednesday, I made a mistake with the email I send you — and as a result, I sent you an update later that day. I'll discuss that in today's Week in Review, below. Why not at the top? Because late Monday, I made another mistake — one you didn't see. I wrote most of a story that turned out to be, well, false. Probably.
The short version: in marketing/communications, there's a cautionary tale called "the Osborne Effect." It's named after the Osborne Computer Corporation, a leading computer company from the early 1980s. Their first computer, the Osborne 1, was — well, here's how I described it in what I originally wrote but never published: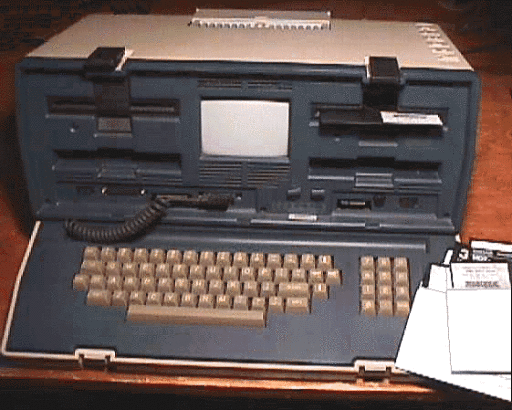 The device pictured above (via PC Magazine) is the Osborne 1, one of the first portable — or, at least, portable-ish — computers. Released in 1981, the computer cost $1,795 at the time — about $6,000 in today's dollars. It weighed 30 pounds, but its keyboard folded up and there was a handle on its flip side, so in theory, you could take it anywhere, and that was key to the marketing campaign behind the product. (Here, again via PC Mag, is an advertisement extolling the virtues of "a fully functional computer in a portable package the size of a briefcase.") Despite the seemingly high price and ridiculous portability claim, the product sold quite well; Osborne Computer Company reported sales of $1 million worth of units in September of 1981, just months after the machine was first available. Sales continued to be brisk through 1982.
What happened next is, well, boring. Sales slowed, the company cut prices, sales remained slow, inventory piled up, and by the end of 1983, the company was effectively out of business. The main reason was like any other — competition. Computing was a rapidly emerging space in the early 1980s, and Osborne's computer was really cool at the time, but cooler stuff came along.
There's not much of a Now I Know in that story — but there is in the mythical version of the Osborne Computer Corporation collapse. As (bad?) luck would have it, earlier in 1983, Adam Osborne, the founder of the company, gave some members of the press a preview of his company's upcoming plans. And he told them that the company was working on not one but two newer versions of the Osborne 1, called the Osborne Executive and the Osborne Vixen.
Coincidentally, sales of the Osborne 1 began to slump shortly after that announcement, and the downturn in sales of the 1 is often — but incorrectly — credited to Mr. Osborne's decision to pre-announce the next-generation product. The story goes, consumers decided to wait for the new, unreleased machine instead of forking over the dough to buy the still-useful, already available ones. And, again per legend, that meant no money coming in, and the company therefore went out of business. The tale has become a cautionary one for marketers and comms folk, and is now referred to as "the Osborne effect."
As someone with a marketing and comms background, I've known the story for a while. And on Monday night, I decided to write about it. But my process — writing and researching in parallel — failed me. I wrote the background up (as seen above) and as I read more and more about the Osborne effect, I realized that the company wasn't a victim of its media relations strategy, but of normal market forces. The Osborne effect is the stuff of legend — but not really based in fact. So I didn't finish my story. (And figured I'd share it with you today.)
The Now I Know Week In Review
Monday: How Atomic Bombs Blew Up the Counterfeit Art World: How carbon isotopes helped a famous museum determine that one of the works in their collection wasn't quite real.

Tuesday: How Photography Stopped Disney's Rollercoaster In Its Tracks: Fuji vs. Kodak in a very weird way.

Wednesday: David's Garden: An ecosystem in a bottle…. well, the second time I sent this email, at least. When writing Tuesday's email, I accidentally overwrote my template that I use for most of the newsletters. I realized it before sending Wednesday's email — or so I thought. My fix wsas only half a fix and instead of sendng you Wednesday's story on Wedneday morning, I sent you Tuesday's story (with Wednesday's headline, photo, and bonus fact) on Wednedsay morning. I also received a LOT of emails about this, so I re-sent the Wednesday email — the right one — on Wednesday afternoon. So yes, you got two copies of that email, but only the second one was the right story.

Thursday: The Triple-X Law Firm: Practing law or… doing something else? Meet the law firm that did the latter.
And some other things you should check out:
Some long reads for the weekend:
1) "A Small-Town Paper Lands a Very Big Story" (New Yorker, 16 minutes, July 2023). The subhead: "In Southeast Oklahoma, a father-son reporting duo's series on the county sheriff led to an explosive revelation."
2) "In the American West, a Clown Motel and a Cemetery Tell a Story of Kitsch and Carnage" (New Lines Magazine, 13 minutes, Spring 2023). The photos are worth the click — unless you're scared of clowns, in which case, do not click.
3) "The Race to Stop Africa's Elephant Poachers" (Smithsonian Magazine, 21 minutes, July 2014). As this is from 2014, it could use an update.
Have a great weekend!
Dan