The Singer Who Couldn't Really Sing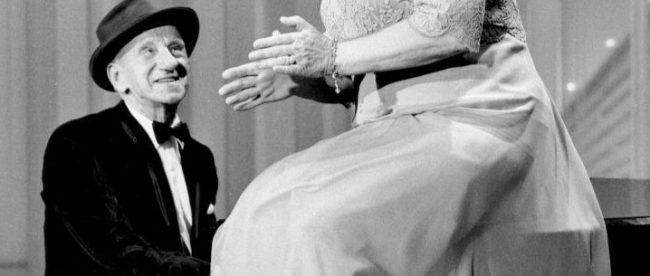 The best way to start this story is with some music — let's go with "These Boots Are Made for Walkin'," originally by Nancy Sinatra. That song, released in 1965, hit #1 overall on the Billboard Hot 100 list and had similar success around the English-speaking world. It still gets radio play even today, more than half a century later. It's also been covered by a lot of other famous singles — Billy Ray Cyrus, Jessica Simpson, Geri Halliwell of Spice Girls fame, and in 1966, Mrs. Elva Ruby Miller of Claremont, California.
Let's listen to Mrs. Miller's version. Here it is, below, via YouTube, but if that doesn't work, click here. Really, give it a listen and then come back — this email newsletter will still be here when you're done.
Miller's rendition is… interesting. She's off-key, the tempo isn't quite right, and to paraphrase a review found in the YouTube comments, her singing is reminiscent of Miss Piggy (particularly in that first verse). In other words, Mrs. Miller's version of the song isn't very good.

In general, bad singing isn't something worth writing about. But Mrs. Miller was an exception. That song appeared on her album, "Mrs. Miller's Greatest Hits." And that album sold 250,000 copies three weeks after its release in 1966. As bad as Mrs. Miller is, she had lots of fans.

Elva Miller was born in 1907 and, by the mid-1960s, was a housewife who, on occasion, recorded herself singing. She'd sell these self-made albums to raise money for a local orphanage — it's unlikely she ever expected to get a record deal, let alone cut a record that sold a quarter-million copies. But fate had different plans. Mental Floss explains:
Fred Bock, a conductor and arranger of religious music, heard Mrs. Miller's recordings and asked her to sing covers of contemporary pop songs. As a joke, Bock's friend, Gary Owens, a Los Angeles radio DJ, played Mrs. Miller's songs on his show. Bock then brought a demo of Mrs. Miller singing "Downtown" to Capitol Records, where A&R guy Lex de Azevedo gave her a record deal. (Lex was young but influential—his uncle was Capitol's president, Bill Conkling.)
The album sold fantastically well — but probably not because Mrs. Miller was a talented singer. You can judge for yourself: her rendition of "Downtown," originally by Petula Clark, can be heard here. It's worse than the Nancy Sinatra cover, easily. And yet, it was a smash hit; it made it to the Billboard Hot 100 list as well (peaking at #82).
Most likely, Miller's lack of talent is what drove sales; her singing is so comically bad that it's near-certain to evoke a laugh. That's probably what Capitol was aiming for, too. In a 1967 interview in Life magazine, Miller said that the recording studio, in retrospect, sabotaged her performance. According to Miller, the control room prompted her to start singing too early, slowed down the orchestra when she finally caught up and then sped them up again when she slowed down, and otherwise messed with her timing. And even though she did multiple takes of each song on her 11-track album, per Miller, Capitol published the worst take for each.
While Miller probably wasn't in on the joke until after the album was recorded, she seemed to be okay with it afterward — or, at least, she went along with it and took advantage of her fifteen minutes of fame. Before 1967 was out, Miller appeared on the Ed Sullivan Show (on the same episode as, coincidentally, Nancy Sinatra), performed for soldiers in Vietnam alongside Bob Hope, and appeared on a TV variety show in duet with Jimmy Durante, as seen here. And she agreed to let Capitol Records release three more albums as well.
But before the 1960s exited, so did Miller's career. In 1970, she released her final album — like before her moment of fame, this was a self-published one — but by then, the joke had run its course. Miller disappeared from the music scene after that.
Bonus fact: "These Boots Are Made for Walkin'" was a very popular song, but not everyone liked it — which is something the FBI banked on in 1993. That spring, the Bureau was locked in a nearly two-month standoff with members of the Branch Davidians cult in Waco, Texas. The cult's leader, David Koresh, was accused of a litany of crimes, including child abuse, and the government tried to bring him to justice. He and his followers resisted; a failed FBI raid of the Branch Davidians compound in February resulted in the death of six cult members and four FBI agents. For the next 51 days, the FBI tried less violent means of disrupting life inside the compound — and music was part of the plan. As Entertainment Weekly summarized, "In its continuing effort to get heavily armed pseudo-messiah David Koresh and his remaining disciples to surrender, the FBI is blasting this presumably annoying music through loudspeakers aimed at the Branch Davidian compound. (Agents get to wear earplugs.)" The playlist? Per EW: "Tibetan chants, bugle calls, Christmas carols, Nancy Sinatra's "These Boots Are Made for Walkin"' — and no commercials."
From the Archives: Making Money By Singing in Silence: Why sing poorly when you can just not sing at all?