The Skyscraper Without a View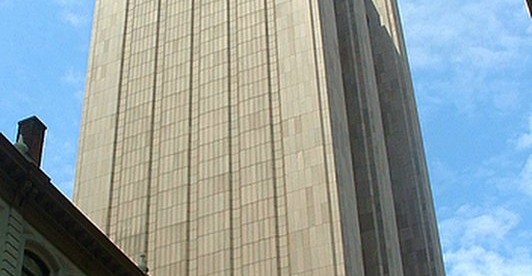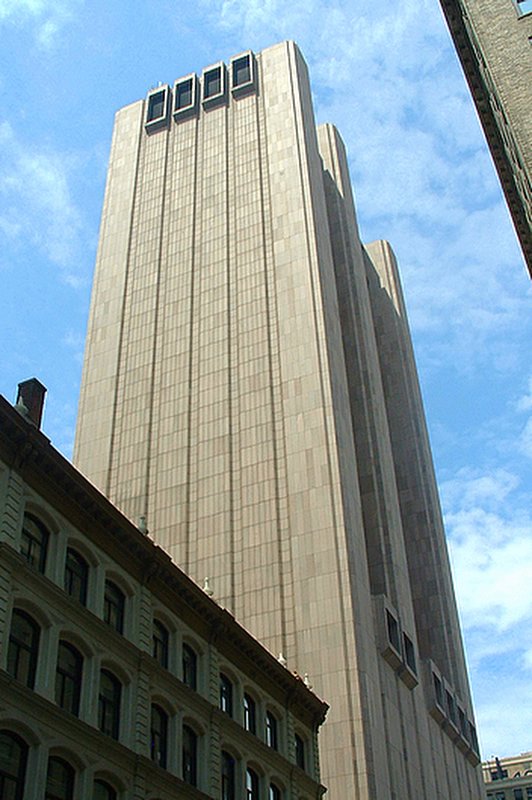 The building above is located at 33 Thomas Street in Manhattan. (Here's a map in case you want to visit.) Like many buildings in Manhattan, it's tall. But at 550 feet, it isn't all that tall by New York City's standards — it doesn't crack the top 100. Many people have certainly walked by it many, many times, not even giving it a second thought. But if you look closely, it's not like any other building.
It has no windows.
For an office building, that omission seems like a very bad one — no one wants to work in what is, effectively, an urban cave, bereft of sunlight. Thankfully, no one has to. The building, formerly known as the AT&T Long Lines Building at 33 Thomas Street, isn't an office building and no one works there regularly, at least not at a desk job. The Long Lines Building, as it is sometimes now referred to, was constructed in 1974 for a very specific purpose: to house telephone switching machines. As the New York Times described in a 1994 article about this curious item of architecture, the building "[was] filled with computers that switch and guide the electronic pulses of the human voice through the millions of miles of wiring that make up the nation's phone system" and was at the time responsible for directing 175 million calls on an average day.
Given the lack of humans involved in directing those calls, windows seemed unnecessary. And more to the point, given the critical infrastructure needs that those computers served, AT&T didn't want anything to go wrong. When AT&T hired an architect to design the building, they explained that the structure had to be resilient — able to survive a catastrophe, including (as was a common concern at the time) a nuclear event. Windows, as the Times pointed out, make a building "[more] vulnerable to terrorism or accidents," so by omitting the windows, the building became more secure. (The openings at the top and middle of the building are ventilation shafts.) Per some estimates, the building could remain in operation for two weeks after a nuclear attack.
In recent years, the building has become less and less integral to phone service as many of the switches have been moved elsewhere or otherwise made redundant by improvements in technology. However, companies looking for a secure place for their computer data have found a home at 33 Thomas Street — the building now hosts many computer servers. Some of them certainly run Linux, but there are likely others, perhaps ironically, which run Windows.
Bonus Fact: There's no universally agreed-upon height which makes a building a "skyscraper," but Wikipedia has a "list of cities with the most buildings taller than 100m." (That's 325 or so feet.) Hong Kong and Shanghai each have more than 1,000 such buildings, and New York tops the U.S. with nearly 800. The next U.S. city on the list is Chicago, which makes sense because it's the third most populous American city after New York and Los Angeles (which is rather spread out), and then Miami, which has a rather high population density and a booming hotel business. But fourth on the list may surprise you: it's Honolulu, Hawaii, even though Honolulu is only the 55th most populous city in the country. (Like Miami, tourism/hotels are probably a large reason for the tall buildings.)
From the Archives: Old York, New York: The hidden, tiny houses in Manhattan.
Take the Quiz!: Name the 100 most populous cities in the United States.
Related: "All the Buildings in New York (That I've Drawn So Far)" — a book which I wish I could write, but I can't because I can't draw anywhere near that well. 4.4 stars on 35 reviews and really, really neat.