The Slave Who Spied on the Traitor
In the summer of 1781, General George Washington led the American Continental Army on march southward toward Virginia. On September 29th, the Americans — with French support — engaged the British Army at what is now known as the Battle of Yorktown. The Americans were, ultimately, successful, and on October 19, 1781, the British surrendered. General Charles Cornwallis, the commander of the British forces at Yorktown, signed articles of capitulation, effectively ending the war — perhaps surprising even himself. The Americans seemed to have an information advantage — they were able to anticipate British troop movements with curious accuracy.
That's because they did have some extra information. There was a spy who was able to gain the trust of the British leadership — one that the British never suspected because they thought he was a runaway slave. His name was James Armistead.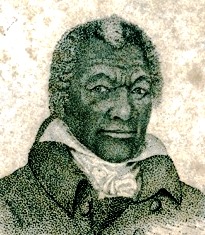 The details of Armistead's early life are unknown — a slave, no one really cared to keep good records as to his birth or upbringing. But we do know that, in 1781, Armistead — with his master's permission, as Wikipedia notes — joined the Revolutionary Army. Armistead served under Marquis de Lafayette, who in turn assigned Armistead with a difficult task: infiltrate the ranks of Benedict Arnold, the former American general who turned traitor and joined the British. As TIME reported, Armistead was successful: "[he] began his work posing as an escaped slave, entering Arnold's camp as an orderly and guide, then sent what he learned back to Lafayette." Of course, Arnold was never the wiser.
Armistead proved so trustworthy — or, at least, so harmless — that Arnold loaned him to General Cornwallis. Armistead quickly gained the favor of Cornwallis, giving the spy access to the British army's key secrets. Per the Army's website, "because of his race, James was often treated as 'invisible' by the white officers and they openly discussed their raids in front of him, ignoring him as if he were irrelevant." The only trick: Armistead had to get the information to the American forces.
It was Corwallis who gave him that opportunity — he, not knowing the truth of his situation, asked Armistead to spy on Lafayette. As TIME further explained, "by also being used as a British spy (who fed them inaccurate data), Armistead was able to travel freely between both sides." And, critically, through Armistead's efforts, the American military learned of Cornwallis' efforts to centralize his forces in Yorktown and planned accordingly.
The American victory over the British didn't earn Armistead his freedom, however; not immediately, at least. While the new nation's laws required the release of slaves who served as in the Revolution as soldiers, Armistead's service as a spy didn't count. A year or so later, though, Lafayette wrote a letter, here, asking that the slave turned double-agent be made a free man. In 1784, this request was granted. In thanks to Lafayette, Armistead took his last name as his own.
Bonus fact: Lafayette is heralded as an American hero (see the "From the Archives" item below), but technically, his heroism was originally in conflict with French law. When the British learned that the French were considering supporting the rogue Americans in their battle for independence, Britain threatened France with war. So, in 1777, France forbid Lafayette and others from joining with the Americans — at least, officially. Lafayette ended up going to the Americas anyway, and in 1779, temporarily returned home. Upon arriving in Paris, King Louis XVI placed Lafayette under house arrest for eight days for violating the 1777 decree. As Wikipedia notes, this was probably nothing more than a way for Louis XVI to save face, as Lafayette was otherwise treated as a hero in France — even by the king.
From the Archives: Senior Citizen: Why Lafayette's progeny can become President of the United States, even if they've never been to America.
Related: "A Spy Called James: The True Story of James Lafayette, Revolutionary War Double Agent," a children's book.