The Sleep-away Camp That Starts At Night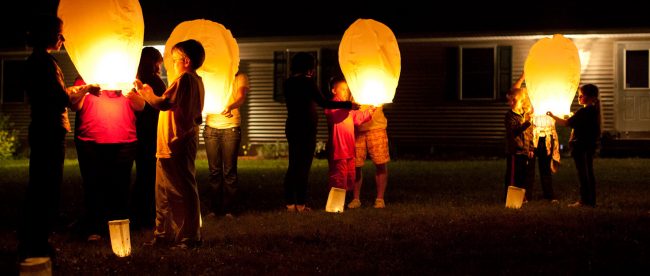 Right now, thousands and thousands of American children are attending summer camps. Some of those kids take a bus every morning; others sleep in bunks and wake up ready to play. By and large, though, the activities are the same — from morning until afternoon/evening, there are kids swimming, playing all sorts of sports, working on model rockets and arts and crafts projects, and eating hot dogs and hamburgers during a cookout. But there's one camp that's a bit different — because the kids are a bit different.
About one in a 250,000 Americans are afflicted with a condition called xeroderma pigmentosum, or XP. It's a genetic light-sensitivity disorder and perhaps the most severe one out there. Simply put, those with the condition can't tolerate ultraviolet light and, therefore, have to avoid sunlight. The New York Times describes how brutal XP can be:
The consequences of having X.P. can be both startling and lethal. Exposure to even a few minutes of sunlight can cause agonizing blisters. Deadly skin cancers develop with frightening ease: X.P. sufferers are 1,000 times as likely to develop skin cancers as other people. Forced to shun the sun, these "children of the moon" live topsy-turvy lives utterly quarantined from what others take for granted: daylight.
Which means, in normal circumstances, these children can't go to summer camp. Yes, that's the least of their worries, but it shouldn't be entirely discounted — imagine being a child who is medically unable to play outside.
That's, roughly, how Dan and Caren Mahar must have felt when their daughter, Katie, was diagnosed with XP. In 1995, the couple created the Xeroderma Pigmentosum Society, which aims "to provide the XP family support and information needed to cope daily with XP" per the Society's website's About page. A year later, their XP Society started Camp Sundown — a summer camp where the fun starts after dark.
For two one-week sessions each summer, children with XP and similar light-sensitivity disorders convene in Craryville, New York, a tiny hamlet about a two-hour drive north of Manhattan. During the day, they participate in activities held in a specially-designed building — per CBS New York, it has tinted windows, incandescent light bulbs, and a set of double doors which act as an air lock, but for light. When the sun is up, they have dance parties and the like, things that their typical counterparts are doing after-hours. On the flip side, when the sun goes down, the kids with XP go outside — swimming or using a Slip 'n Slide, per the Albany Times-Union, or going on field trips to mini-golf courses (whose owners extend their hours as a special exception for the kids). They get the full camp experience, only backward.
Approximately twenty children from around the world attend Camp Sundown in any given year, and the experience is free for them and their families — donors to the XP Society foot the bill. As the camp website summarizes, "turning night in to day, Camp Sundown provides a week of fun, friendship and activities.  For families and children dealing with XP on a daily basis, this is a dream come true."
Bonus fact: Summer camps for children with specific, special needs aren't uncommon. For example, there's a sleep-away camp in Georgia which caters to the needs of those with hemophilia. Its name? Camp Wannaklot. (Say it aloud.)
From the Archives: Camp AOL: Meet the guy who spent his summer eating, sleeping, and living at AOL's headquarters — without permission.