The Soccer Star Who Helped Someone Else Reach Their Goal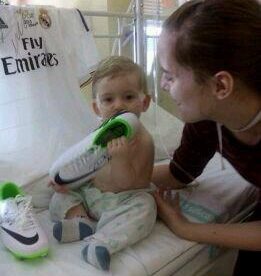 If you're running a fundraiser, a raffle is one of the go-to ways to get donations. And signed sports memorabilia is a great way to drive raffle ticket sales — so much so that there are a number of businesses that specialize in finding autographed items on behalf of schools, hospitals, and other smaller local community groups. But you can always reach out to the teams and athletes themselves. It may take a while, but a number of stars will gladly sign an item for a fan, for a good deed, or both.
And some go the extra mile.
Cristiano Ronaldo is one of the best-known soccer players in the world. He's a five-time winner of the Ballon d'Or (the "Golden Ball") — the sport's highest individual honor — and has finished among the top three vote-getters in 12 of the last 13 years. He's the captain of the Portuguese national team and one of the most well-paid athletes in any sport. Suffice it to say that he has a lot of fans — which is what one community was banking on.
In 2014, ten-month-old Erik Ortiz Cruz from Villaluenga de la Sagra, Spain, was suffering from a brain condition called cortical dysplasia. The condition, according to USA Today, could cause as many as 30 seizures a day, and Erik needed surgery. But that was expensive — at an estimated €60,000 ($83,000 USD), the procedure was well outside of Erik's family's budget. Friends of the family organized a charity auction to raise money for Erik and got to work sourcing special items to put up for raffle. One of these volunteers was able to make a connection with Ronaldo, asking him to sign a pair of boots (soccer cleats, not something you'd wear in the rain) or a jersey, or something like that. The item would be auctioned or raffled off along with the items donated by others in hopes of reaching Erik's goal.
Ronaldo decided to help out — but not by participating in the raffle. Instead, he made the entire effort moot. As ESPN reported, "Ronaldo went ahead and pledged the full cost of Erik's treatment out of the goodness of his heart."
The surgery was reportedly successful. And Ronaldo signed a jersey and pair of cleats for Erik anyway — as keepsakes for the recovering kid himself. As seen here, Erik seemed to enjoy his gifts (or, at least, the taste of the shoe).
Bonus fact: Ronaldo's generosity manifests in other ways — sometimes in more extravagant ways which aren't charitable per se. In 2015, for example, his agent, Jorge Mendes, got married. Ronaldo's gift? Per the BBC, the soccer star bought Mendes a small, private, Greek island.
From the Archives: Inked Red Handed — check out the bonus fact.