The Town in Alabama That Has Huge, Random Sculptures
The town of Elberta, Alabama is located just off the Gulf of Mexico, about an hour's drive southeast from Mobile and about 30 minutes west of Pensacola, Florida. (Here's a map.) Elberta is home to about 1,500 people and has seen a population boom over the last few decades; in the 1990s, only about 500 people lived there. But it's still pretty small and unless you know someone there, you're probably not going to swing by.
But you may want to. Where else can you see something like this?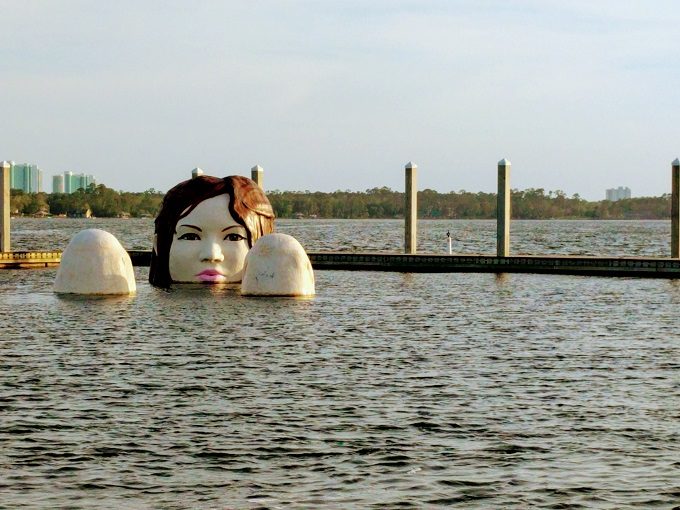 Yes, that's a sculpture of a woman bathing. But she's not in the bath — no bathtub would hold someone of her size. She's hanging out in the Barber Marina bay. And she's not alone.
The Lady in the Bay, as she's usually called, was created by a sculpture artist named Mark Cline. Cline runs a business called Enchanted Castle Studios, which creates these large sculptures for all sorts of businesses — theme parks, mini-golf courses, museums, trade shows, etc. The sculptures' price tag, like the sculptures themselves, is huge, so most of us couldn't just call up Cline and ask him to make us a lawn ornament or two.
So when Cline received an inquiry for exactly that a few decades, he almost ignored it — almost. As Alabama news site AL.com explains, one day in the early 1990s, "a man in a beat-up pickup truck pulled up to Cline's studio and asked to buy some dinosaurs like the ones displayed in the studio yard. Cline, who had made the items for a dinosaur park, thought the man was joking and quoted the hefty price of $25,000 for several dinos." The man, it turned out, wasn't joking. According to Roadside America, "two weeks later the man called back. He said that his brother-in-law, billionaire George Barber, wanted seven Mark Cline dinosaurs."
Barber — the son of a dairy magnate — had a huge "lawn," as Roadside America notes; the expanse was roughly 10,000 acres. The seven dinosaurs, made of fiberglass with realistic-looking glass eyes, remained on Barber's property until 2011. That year, Barber relocated four of the dinos — a T-Rex, a stegosaurus, a triceratops, and a brontosaurus — to a public space in Elberta, calling the free experience "Dinosaurs in the Woods." Today, visitors can walk through the wooded area and come across the four sculptures, standing around waiting for an ice age or meteor strike or something. (Here's a blog post with some pictures if you don't want to make the trip yourself.)
And Barber was just getting started. He'd later commission the creation of a fiberglass replica of Stonehenge, now called "Bamahenge," as seen here, a short walk from the dinosaurs. Barber also commissioned Cline to create a giant sundial, a giant spider, and some sculptures of knights, all of which are now found in the same general vicinity. And, of course, there's the 50-foot Lady of the Bay, above. You can visit them all today, if you'd like, except perhaps for the Lady. She was damaged by a hurricane in 2019 and needed repairs, which were supposed to be completed by spring 2022, but appear to have been delayed.
It's unclear if Barber will continue his partnership with Cline; he's apparently paying for the repairs to the Lady but hasn't commissioned anything new in the last few years. 
Bonus fact: Barber isn't the only billionaire who has a collection of huge dinosaur statues. In 2013, an Australian billionaire and politician named Clive Palmer bought a hotel and ordered 160 animatronic dinosaurs for the site that, according to Sunshine Coast News, "not only roared, but moved heads, limbs and mouths and even blinked at visitors." Billed as the "largest dinosaur park in the world," Palmer priced admission at AU$100 per family — which proved too expensive. The park shuttered in 2015 due to a lack of interest. (There are some nascent plants to reopen it, but we'll see.) You can watch a short video walk-through of the experience here, but be forewarned: it's underwhelming and probably a waste of your time.
From the Archives: Georgia's Version of Stonehenge: A story from 2017 that needs updating — in July of 2022, someone bombed the site, destroying the sculptures. (Here's a video of the explosion.) Also, the bonus item in this story references Cline.