The Weekender, December 15, 2017
1) "Can You Say . . .  Hero?" (Esquire, 34 minutes, November 1998). A profile of Mr. Rogers.
You were a child once, too. That's what Mister Rogers said, that's what he wrote down, once upon a time, for the doctors. The doctors were ophthalmologists. An ophthalmologist is a doctor who takes care of the eyes. Sometimes, ophthalmologists have to take care of the eyes of children, and some children get very scared, because children know that their world disappears when their eyes close, and they can be afraid that the ophthalmologists will make their eyes close forever. The ophthalmologists did not want to scare children, so they asked Mister Rogers for help, and Mister Rogers agreed to write a chapter for a book the ophthalmologists were putting together—a chapter about what other ophthalmologists could do to calm the children who came to their offices. Because Mister Rogers is such a busy man, however, he could not write the chapter himself, and he asked a woman who worked for him to write it instead. She worked very hard at writing the chapter, until one day she showed what she had written to Mister Rogers, who read it and crossed it all out and wrote a sentence addressed directly to the doctors who would be reading it: "You were a child once, too."

And that's how the chapter began.
2) My other site: AwesomeClaus — curated gift ideas for $20 or less. It's Star Wars Day — the Last Jedi is here! — so here are some Star Wars suggestions: a Vader cake mold, a Yoda desk sitter (pictured below, and as a proud owner of one of these, I can say it's great), and lightsaber chopsticks. The Yoda sitter was $15 a few days ago but is now at $70 for some reason, so maybe give that one a couple days.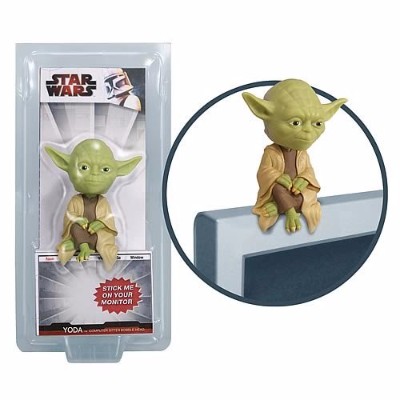 3) The Now I Know Week in Review:
4) "How to Tell If a Dinosaur Is Fake​" (The Atlantic, 8 minutes, December 2017). It's about fossils.
5) "In Portland, You Can Steal Cars Over and Over—and Get Away With It. Here's How" (Willamette Week, 12 minutes, November 2017).
In May of this year, Ashley White set a record.

The homeless woman was busted after crashing a stolen 2007 Chevrolet Colorado just outside Northeast Portland.

The pickup was allegedly the ninth stolen vehicle White had been caught driving in the previous seven months. Police records show that makes her the most prolific car thief in Portland.

The amount of time the 23-year-old redhead had served for all of those arrests?

Zero.
6) "Eastern Europeans Tire of Being Sold Inferior Products" (Spiegel Online, 7 minutes, December 2017). The subhead: "Why does Nutella in Hungary contain less cocoa than the same chocolate spread in Germany? Why do fish sticks in Prague have less fish? Eastern European are tired of being served inferior products — and the EU is finally addressing the issue." Who knew?
Have a great weekend!