The Weekender, June 5, 2020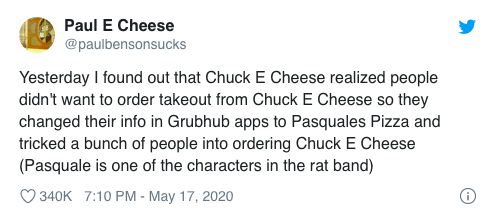 Hi!
Every so often, I come across a really great fun fact that I hope to share, but as I research it a bit more, I decide to not write about it. Here's a story about one such non-story.
A few weeks ago, I came across the following post on Twitter.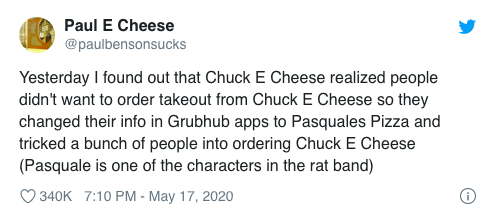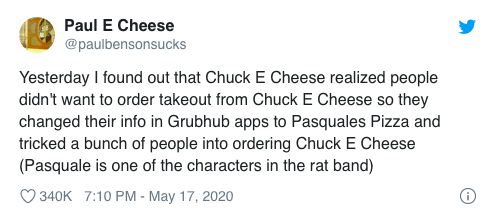 As you can see from the "340K" next to the heart icon, that message proved popular — hundreds of thousands of people were intrigued. I was not one of those 340,000 but I was similarly interested in learning more.
If you're not familiar with Chuck E. Cheese, it's basically an arcade geared toward kids combined with a fast-food pizza restaurant. Its mascot and namesake is an anthropomorphized mouse named, you guessed it, Chuck E. Cheese; he and some other characters appear throughout the experience, and at some points as either huggable 6-foot walkaround characters and/or as animatronics. The experience can be fun but it can also be creepy. (Here's a video with some examples of the robot Cheeses breaking down.) But in no case do you go to Chuck E. Cheese's for the pizza. It's… not very good pizza, let's say.
A few weeks ago, CEC Entertainment, the company that operates Chuck E. Cheese, opened up a few takeout pizza places called Pasquale's Pizza. As the guy above noticed, these new pizza places were co-located with Chuck's, and coincidentally opened at about the same time that a global pandemic shut down entertainment destinations like Chuck E. Cheese. It seemed like, at first blush, CEC Entertainment was just selling its kind of gross pizza under a different name, hoping to hide the fact that you're getting the same pizza you didn't want at Chuck E. Cheese's.
It's a really great Now I Know story, right? A business in sudden disarray, losing its main revenue stream. A product that they can still sell but isn't very good. A sneaky way to bridge that gap. And a random person on the Internet foiling the ruse.
So, why didn't I write about it? All the facts are clear. CEC Entertainment needed new revenue streams. They can't sell Chuck E. Cheese pizza under the Chuck brand, because no one would order that for takeout or delivery (save for some nostalgia purchases). And they — understandably — didn't announce that Pasquale's was the same as Chuck E.'s, and that sure sounds nefarious. The problem I ran into is that their statement made a ton of sense. Here's what they told Food & Wine:
CEC Entertainment, Inc. recently launched Pasqually's Pizza & Wings nationwide. The inspiration was rooted in the desire to create a premium pizza while staying true to the CEC brand. Pasqually's Pizza & Wings, named after another favorite member of Munch's Make Believe Band, shares kitchen space with the Chuck E. Cheese restaurant, ensuring high-quality, fresh ingredients. Pasqually's Pizza & Wings' recipes use fresh, homemade pizza dough, just like Chuck E. Cheese, but it is a different pizza that features a thicker crust and extra sauce, giving consumers a more flavorful, more premium pizza experience. While Pasqually's Pizza & Wings recipes are currently only available for delivery, select items might be added to the Chuck E. Cheese menu in the future.
Seems like a case of bad timing, right? I mean, it could be sneaky, but it could just be a coincidence. Without any evidence to them scheming, the story shifts from a corporation trying to pull a fast one, to a story about a corporation getting bad PR because of a global pandemic. And that's not a very fun, or worthwhile, story.
I think it's important to not try and hoist a narrative onto a set of facts. I'm sure I'm guilty of that at times, but I try to avoid doing that — and this would have been an example of me doing that. So, I refrained. 
The Now I Know Week in Review
Monday: The American Civil War of World War II. Thanks to everyone who wrote in sharing their appreciation for the timing behind my sharing of this story.

Tuesday: Cherries, Helicopters, and Hair Dryers. The weird reason why cherries are so expensive.

Wednesday: They Called it "Massive Resistance." Thanks to everyone who wrote in sharing their appreciation for the timing behind my sharing of this story. To the one person who wrote in to accuse me of rather nasty things which I won't reprint here, thank you for confirming that it is important to share stories like the ones I did on Monday and Wednesday.

Thursday: The Boy Who Captured the Wind: A few people wrote in to tell me that Netflix has a similarly-named documentary about this young entrepreneur, titled "The Boy Who Harnessed the Wind." I didn't take their title, I promise — and I can prove it. Their docu came out in 2019; mine was originally written in 2017. Go me!
And some other things you should check out:
Some long reads for the weekend.
1) "Massive Resistance in a Small Town" (National Endowment for the Humanities, 19 minutes, September/October 2013). This is one of the major sources I used for Wednesday's email, and it's incredible. It's sad, it's hopeful, it's detailed, it's documented. Please take some time this weekend to read it.
Also, please take a few minutes to read this article in The Atlantic, which takes a look at Prince Edward County today (well, as of 2015), to see the long-standing after-effects of its legacy of racism.
2) "She Gets Calls And Texts Meant For Elon Musk. Some Are Pretty Weird" (NPR, 5 minutes, May 2020). A few years back, Elon Musk changed cell phone numbers. Someone else got his old one, and Musk's old contacts still try to get in touch with him — with strange results. If you listen to the story, it's shorter, but then you don't get to scroll through the texts embedded in the story online.
3) "With the public locked out during coronavirus, stuffed animals ride this San Diego roller coaster." (Los Angeles Times, 5 minutes, June 2020). From reader John G., who sends me a ton of great ideas, comes this very fun little read. If the headline doesn't bring a smile to your face, I don't know what will.
Have a great weekend!
Dan