The Weekender, March 19, 2021
Hi!
For people new to the list, welcome to the Now I Know Weekender. On Fridays, I share a few thoughts about the newsletter (or sometimes, about my grandmother's ziti recipe or about some great causes to support). I also have a section of links to the week's stories, in case you missed any, and some selected long-reads for your weekend.
So, let's get started.
This week and the week prior, most of us marked the one-year anniversary of the pandemic — or, at least, how it changed our daily lives.
Strangely, the impact it has had on Now I Know has been minimal. The most notable change is that the email tends to hit your inboxes later in the morning — this should arrive at around 9 AM ET, when in the before-times, it arrived closer to 7:45 AM. That's entirely a function of my changing sleep and commuting schedules. Before COVID, I was commuting into New York City each morning and was typically on a train (or, in the least, on my way to the train) when the newsletter arrived in your inbox. So I'd put the finishing touches on just before that and schedule it to go. Now, I have a lot more flexibility in the mornings.
But I also don't have the commute itself, and I was doing a lot of writing on the train, particularly in the earlier days of Now I Know. So there's less time to write during the day. I get most of the newsletter done in the evenings but that depends a ton on how the day went. All in all, I end up doing a bit more work for each day's newsletter in the mornings. As a result, everything's later.
I honestly do not know what impact this has had on reader experiences, though. A few people have replied to ask why it's later, some of whom also expressed the desire that it comes earlier again. And part of me wants to put out a survey to see what you all prefer — but I know better. As much as I would like to deliver this as the time best for you, I have to do so at the time best for me.
That's not an apology, by the way. It's an observation. The pandemic-driven world we're in has been about finding ways to keep others safe, often by giving up something we'd normally do in a very different way. We look for ways to put others first. But at the same time, we need to keep ourselves happy, sane, and safe as well. So we put ourselves first in tiny ways that we never even thought about before. I think that's a good thing, ultimately. 
---
Before we get onto the Now I Know Week in Review, I wanted to also suggest that you read the book my neighbor wrote. While the world stopped, her son's nuptials went forward. And pulling off a COVID-safe wedding was a feat. The experience is a funny and heartwarming story — and she turned it into a great book. And don't take my word for it! It has 70 reviews on Amazon averaging 4.9 stars, which, as she kindly has never pointed out, is a higher average than my book has.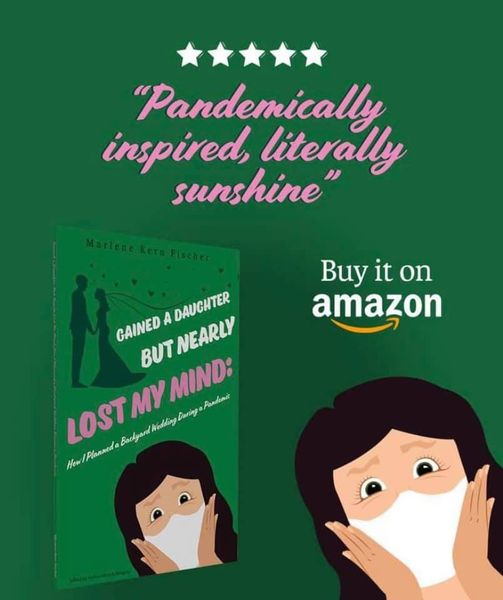 It's called "Gained a Daughter But Nearly Lost My Mind: How I Planned a Backyard Wedding During a Pandemic" — and it truly is great. I'm glad to endorse it.
You can get it at that link. (And you should!)
---
The Now I Know Week in Review
And some other things you should check out:
Some long-reads etc. for the weekend
1) "Tadpoles: The Big Little Migration" (YouTube via Kottke.org, 8 minutes, March 2021). From Kottke.org: "For four years, Maxwel Hohn filmed the movements of millions of tadpoles in a small lake in British Columbia, resulting in an 8-minute short film called Tadpoles: The Big Little Migration. The underwater cinematography in this is absolutely incredible."
2) "The Radicalization of Kevin Greeson" (ProPublica, 8 minutes, January 2021). The subhead: "How one man went from attending President Barack Obama's inauguration to dying in the mob protesting Donald Trump's election loss during the Capitol insurrection."
3) "The Stories Behind 15 Pasta Shapes" (Mental Floss, 9 minutes, March 2021). Reader John G., the prolific recommender of long-reads I've cited many times, provides us all with another great one.
And a bonus, because it's not a long-read per see: Photographer Spends 12 Years, 1250 Hours, Exposing Photo of Milky Way" (PetaPixel, 1 minute if you read it, forever if you get lost in the stars, March 2021). You've never seen a photo like this before. It's awe-inspiring.
Have a great weekend!
Dan