The Weekender, May 10, 2019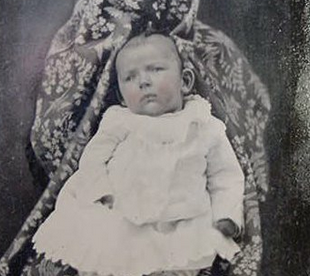 1) "Why Our Ancestors Drilled Holes in Each Other's Skulls" (BBC, August 2016).
For a large part of human prehistory, people around the world practised trepanation: a crude surgical procedure that involves forming a hole in the skull of a living person by either drilling, cutting or scraping away layers of bone with a sharp implement.

To date, thousands of skulls bearing signs of trepanation have been unearthed at archaeological sites across the world.

But despite its apparent importance, scientists are still not completely agreed on why our ancestors performed trepanation.
2) "Maligned in black and white" (Poynter, 35 minutes, May 2019). The subhead: "Southern newspapers played a major role in racial violence. Do they owe their communities an apology?" Thanks to Ren L. for the suggestion!
3) The Now I Know Week in Review:
Monday: When a Truck Driver Had a Very Delicious Meltdown — a brief history of soft-serve ice cream.

Tuesday: A Glass Loophole — The story behind what may be a scam.

Wednesday: Why Do I Keep Getting Calls from Slovenia?! — The story behind what is most definitely a scam.

Thursday: Invisible Mothers — the old-timey trick to keep babies to sit still for picitures.
4) "The Trippy, High-Speed World of Drone Racing" (New Yorker, 28 minutes, February 2018.)
I first saw Jordan and Zach race on August 7, 2016, at an event billed as the U.S. National Drone Racing Championships, put on by the Drone Sports Association. At that time I knew only their racing names. The Drone Sports Association, or D.S.A., seemed to exist mainly online; its publicity said that a number of tryouts around the country had produced the group of thirty or so top pilots who would compete that day. The racecourse, marked with plastic hoops, gates, and feather flags, was on a crabgrass field on Governors Island, in New York Harbor. According to the event's announcer, Wilbur Wright took off from this very field in 1909 on his famous flight around the Statue of Liberty and up the Hudson River. Today would be just as historic, the announcer said.

Spectators filled the bleachers that had been set up at the finish line, sponsors' banners decked the racecourse and the platform where the pilots sat, drone-related commercial booths lined one side of the venue, and big split-screen monitors showed what the drones were seeing as they raced. There was a V.I.P. tent, mostly unoccupied. At one point, Dr. Scot Refsland, the founder of the D.S.A., made a speech celebrating the day's first-ever broadcast of a drone race by ESPN, the sports network, and proclaimed drone racing "the new Nascar."

But the event was kind of a catastrophe.
5) "There's no reason to cross the U.S. by train. But I did so anyway." (New York Times, 96 minutes, March 2019).
Tell your fellow Americans that you plan to cross the United States by train, and their reactions will range from amusement at your spellbinding eccentricity to naked horror that they, through some fatal social miscalculation, have become acquainted with a person who would plan to cross the United States by train. Depending how you slice it — time or money — there are either 61 or 960 immediate reasons not to travel by Amtrak trains from New York City to Los Angeles. Those are the extra hours and dollars, respectively, that you might reasonably expect to forfeit if you forgo a six-hour $129 nonstop flight and opt instead for an Amtrak sleeper car. Covering the interjacent 2,448.8 miles can easily consume some 67 hours for a mind-boggling $1,089.

[ . . . ]

As I quickly learned, there are no passenger rail routes that cross the entire United States in a single trip, nor are there likely to be any soon. Even proponents of the high-speed railway systems much lauded in Asia and Europe (and tentatively proposed in Congress's Green New Deal resolutions) generally give the competitive edge to planes for travel across distances greater than 600 miles. At present, reaching California by rail from New York requires at least two trains, one of which will depart from New Orleans or Chicago, all of which, like most lines operated by Amtrak, have names so sumptuously picturesque (Maple Leaf, Coast Starlight, Sunset Limited) they make the storybook "Polar Express" sound as sterile as "Amtrak" by comparison. To book tickets, a person must first complete a battery of tests measuring her patience, hand-eye coordination and aptitude for deductive mathematical reasoning, in the guise of Amtrak's impossible-to-use online trip planner. (While the trip planner cannot identify the train station nearest to an address, or even a city, it can tell you the name of the city you have already typed into its search bar, provided there is an Amtrak train station there.) The fastest way to complete this slow journey is to take the Lake Shore Limited to Chicago's Union Station, then board the Southwest Chief to Los Angeles, one of sunny Southern California's much-hyped premier attractions.
6) "Inside the World's Only Museum Dedicated to Ventriloquism" (Smithsonian, 4 minutes, May 2019). It's a museum for dummies. (Sorry, couldn't resist.) Thanks to reader John G. for the suggestion!
Have a great weekend!