The Weekender: October 23, 2015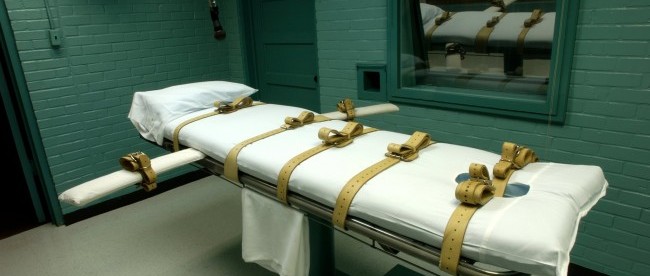 1) "This Is The Man In India Who Is Selling States Illegally Imported Execution Drugs" (Buzzfeed, 18 minutes, October 2015). Yes, it's from the website famous for cat gifs and listicles, but once you get past that, this story is astounding.
Eight thousand miles from the execution chamber at the Nebraska State Penitentiary is Salt Lake City — a planned satellite town in Kolkata, the capital city of India's West Bengal state. It's a modern mecca of swanky office complexes, colleges, shopping malls, and restaurants. Here, on the eighth floor of a plush glass building overlooking a lake, is an office where Nebraska's lethal injection drug supplier says he makes his drugs.

A laminated paper sign stuck on the door of room 818 reads "Harris Pharma – manufacturer and distribution." The office, with powder-blue walls and a frosted glass facade, is one of 61 spaces on the floor rented out to various companies.

This is the facility in India where a man named Chris Harris, a salesman without a pharmaceutical background, claims his manufacturing and distribution business is based. He has sold thousands of vials of execution drugs for corrections officials in the U.S. who are desperate to find drugs to carry out the death penalty.

An employee who works at the facility, however, said the office is not being used to make drugs.
2) Via Patreon: Now I Know is supported by readers like you, via Patreon. A special thank you to this month's platinum supporter, Make Your Point, the free daily vocabulary email. They're recently come out with "New Word Order," a free print-and-play card game for anyone who loves words or history. You can learn the rules really quickly, and it's very replayable. Give it a try, and thanks!
3) "The Untold Story of the Texas Biker Gang Shoot-Out" (GQ, 19 minutes, September 2015). The article starts with a dateline: May 17, 2015. And then it jumps into the details:
Though it had been open less than a year, the Twin Peaks [a Hooters-like restaurant chain] in Waco was already a popular spot for Thursday Biker Nights. The Texas Confederation of Clubs and Independents—a kind of United Nations General Assembly for local motorcycle clubs—had never held its bimonthly meeting at Twin Peaks before, but the organization's state chairman was returning from a national convention, and he wanted to speak to as many Texas bikers as possible about various legislative initiatives. Waco is situated between Dallas and Austin, two of the most populous biker cities in Texas.

Afterward—after nine bikers were shot dead, 20 were wounded, and an unprecedented 177 people from at least five different clubs wound up in police custody—the Waco Police Department would claim that the bloodbath was triggered by the Bandidos and the Cossacks, a pair of rival "outlaw motorcycle gangs" (OMGs in law-enforcement vernacular), beefing over the things that OMGs tend to beef over: territory, respect. Months later, though, the Waco P.D. was still suppressing any video footage and ballistic analysis that could offer proof. Some of the 177 arrested (including four women) languished in jail for weeks, others for months, before they could afford to post bail. All of them, even guys who hid out in the bathroom while bullets flew, face up to 99 years in jail.
4) "1491" (The Atlantic, 40 minutes, March 2002). A look at life in the Americas before Columbus. From the sub-head: "Before it became the New World, the Western Hemisphere was vastly more populous and sophisticated than has been thought—an altogether more salubrious place to live at the time than, say, Europe. New evidence of both the extent of the population and its agricultural advancement leads to a remarkable conjecture: the Amazon rain forest may be largely a human artifact."
5) "
Online Dating Made This Woman a Pawn in a Global Crime Plot
" (Wired, 24 minutes, October 2015):
This past March, John F. Campbell, who commands American forces in Afghanistan, posted an unusual statement on his Facebook page, which normally features bland accounts of his official business. "I am happily married and my wife Ann is very much alive and my children do not need money for any medical procedures," Campbell wrote. "I will NEVER ask you to send money … I DO NOT use any dating sites, skype, google plus, yahoo messenger, or any other account."

Campbell felt compelled to issue this disclaimer after the Army discovered more than 700 fake online profiles that purported to be the general: the handiwork of inventive and industrious criminals who specialize in fleecing the lovelorn. These Internet con artists, known as Yahoo Boys in Nigeria, often masquerade as American military officers who are deployed in war zones, a ruse that gives them plenty of unassailable excuses should a victim wish to meet face-to-face. The scammers are also fond of posing as oil workers who spend weeks at a time on deep-sea rigs, another macho cover story that allows them to fade in and out of victims' lives at will.
6) "'Yankees Suck! Yankees Suck!'" (Grantland, 29 minutes, September 2015). As a Mets fan, I really liked the title. But that aside, this is still a great article. The author looks at the back alley t-shirt business outside Boston's Fenway Park, where entrepreneurial fans create t-shirts with slogans that the teams would never dare put on licensed products. It sounds like a great business idea — but then things get out of control.