The Weekender, September 28, 2018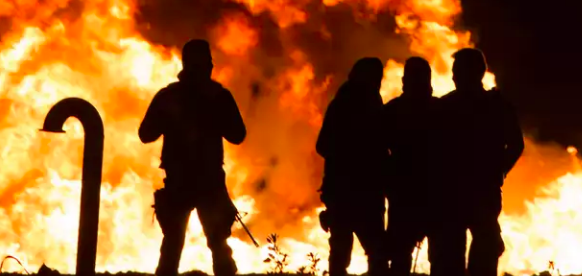 1) "Blood and Oil" (Rolling Stone, 30 minutes, September 2018). The subhead: "Mexico's drug cartels are moving into the gasoline industry — infiltrating the national oil company, selling stolen fuel on the black market and engaging in open war with the military. Can the country's new populist president find a way to contain the chaos?​"
In his white sweatshirt and hot-pink Nikes, the man sitting on a park bench in front of the cathedral in Orizaba looks like an ordinary 32-year-old, but he's talking about murdering people. He tells me he's done it eight times and explains the sort of thing that, in his line of work, gets a person killed. "Being a wiseguy," he says. "Acting tough. Going around like a badass. That obligates you to break them." He details his methods: "First, you give them an ass-kicking," he says. "Then, you finish them with a head shot. Or you torture them, so they sing what they know, who they've been talking to. You use knives, an ax, whatever you have at hand. A machete. This business we're in obligates you to do that. That's the life we live."

It's not the life of a narco-trafficker he's describing, though this part of Mexico is dominated by organized crime. He does not produce or transport drugs, and he's never smuggled anything across the border. He's the field boss of a gasoline-stealing mafia, one of perhaps half a dozen based here in the lawless Eastern Sierra Madre. His gang of 25 fuel thieves rides around in five pickup trucks with 1,000-liter pallet tanks and a pile of tools, drilling illegal taps in underground pipelines. They sell the stolen product to taxi drivers, bus companies and long-haul truckers at a significant discount to the price at gas stations run by Petroleos Mexicanos, better known as Pemex, the national oil company. On a good day, he says, he can gross more than $10,000. "The way I look at it, this is my town," he says. "The gasoline flowing through here is mine."
2) The Now I Know Week in Review:
Monday: Barbie's Secret Former Life as a, uh, Party Girl — Barbie's PG-13 history.

Tuesday: The Decoy Effect — The fake option that makes the other slook better.

Wednesday: Hawaii's Spam Scam — Why canned pig parts are a hot item in the 50th state, and why people break the law to get some.

Thursday: The Tomato Plant Versus the Volcano — When a tomoto plant grows in the middle of nowhere, you may want to, well, not bother with it. Unless you're a scientist.
3)  "The mind of an anthill " (Knowable Magazine, 8 minutes, September 2018). On Tuesday (see above), I re-ran an article about the decoy effect. Reader Paddy C. sends along this article which notes that the decoy effect applies to individual ants — but not on ant colonies.
4) "How Will Police Solve Murders on Mars?​" (The Atlantic, 17 minutes, September 2018).
If humans ever go to Mars, the worst of our impulses will accompany us there. The Red Planet will not rid us of murder, violence, and blackmail. There will be kidnapping, extortion, and burglary. Given time, we will even see bank heists. For generations, people have imagined life on the Martian surface in extraordinary detail, from how drinking water will be purified to how fresh food will be grown, but there is another question that remains unanswered: How will Mars be policed?

Suppose, at some date in the future, Mars has been populated for long enough that at least three generations have been born there; that's at least three generations who have never known life on Earth. In this scenario, the human population on Mars is also large enough that a person can run into at least three strangers—three people they have never seen before—every day. And, finally, there are enough settlements on Mars—villages, farms, industrial plants, scientific labs, whole cities—that 90 percent of the population has at least one community they have yet to visit in person. What criminal possibilities will emerge in this scenario? Who will be tasked with tracking down vandals, thieves, and saboteurs, let alone rapists and serial murderers?

When similar demographic milestones were reached here on Earth, our methods of policing adapted accordingly. We introduced publicly funded streetlights. We opened police precincts in new, far-flung neighborhoods. We trained a veritable army of professional detectives, including those who would work undercover. We gave cops access to the most advanced technologies we could justify, from hand-me-down military vehicles to drones. We began investigating the police themselves through the implementation of body cameras and the innovation of Internal Affairs. With Martian crime, however, the promise is that we can figure all this out ahead of time. We can design a Mars Police Department before we get there, knowing that we'll need its investigatory and carceral powers to help keep human settlers safe.
5) "The Cobalt Pipeline" (Washington Post, 19 minutes, September 2016). Your smartphone has a battery. This is the story of where it comes from. It's not good.
6) "The bridge that crossed an ocean" (BBC, 27 minutes, September 2018). This is the story of London Bridge and the guy who bought it and moved it to Arizona. The format is a little annoying but the story is pretty good. Thanks to reader Kielo S. for sending it over.
Have a great weekend!