The Winning Wine List that Wasn't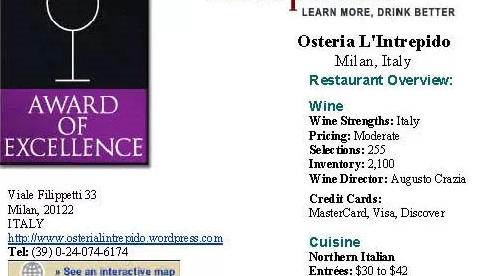 If you're a wine fan, Wine Spectator is probably on your go-to list for magazine reading. Fifteen times a year, it hits newsstands and subscriber mailboxes with ratings and reviews of various vintages and types of wine. And once a year, the magazine announces its "Restaurant Awards," an honor for — you guessed it — restaurants. Wine Spectator's website sets it up thusly: "Attention restaurateurs: If you've got a good wine list, you deserve the credibility and publicity that comes with a Wine Spectator Restaurant Award." For example, here's a screenshot of Milan restaurant Osteria L'Intrepido's honor on the Wine Spectator website from 2008: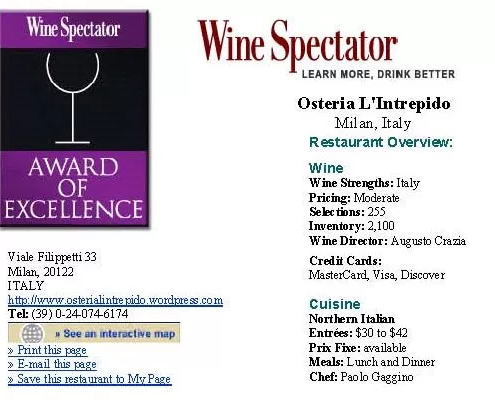 The cuisine type, the price range, a top-line summary of the wine available, and of course, some contact information for the restaurant itself. If you're looking for a $70 dollar dinner for two while in Milan, and you're willing to fork over a moderately extra amount for the wine, Osteria L'Intrepido may be for you. With more than 250 wine selections, you're likely to find something that enhances your experience — or at least, that's what the "Award of Excellence" would imply.
But just to be sure, let's look at a picture of diners drinking wine and having a generally glorious time at Osteria L'Intrepido itself: Don't see anyone in that second image? That's OK — it's accurate. You won't find any photos of customers revelling at Osteria L'Intrepido. That's because Osteria L'Intrepido doesn't exist  — and never has.
Osteria L'Intrepido was the brainchild of American author Robin Goldstein, a noted skeptic of the wine industry. Goldstein, in a 2008 blog post, explained that he had "become curious about how Wine Spectator magazine determines its Awards of Excellence for the world's best wine restaurants" so he set up a fake eatery:
I submitted an application for a Wine Spectator Award of Excellence. I named the restaurant "Osteria L'Intrepido" (a play on the name of a restaurant guide series that I founded, Fearless Critic). I submitted the fee ($250), a cover letter, a copy of the restaurant's menu (a fun amalgamation of somewhat bumbling nouvelle-Italian recipes), and a wine list.

In order to make the application appear genuine, I also obtained a Milan phone/fax number, as required by the application, and established a small online presence.
Goldstein also set up an outgoing voicemail which alerted callers that the restaurant was currently closed as its proprietors were on vacation, and made up a couple of fake reviews on restaurant and food review site Chowhound. But at no point did Osteria L'Intrepido actually open its door to customers. Except for the (fake) information submitted to Wine Spectator, that voicemail, a website, and those reviews, there was no Osteria L'Intrepido.
And yet, the fake restaurant and its fake wine list won Wine Spectators "Award of Excellence" honor.
The discovery that the award was seemingly fraudulent set off a firestorm in the media, garnering coverage in the New York Times, Los Angeles Times, CBS Moneywatch, Consumerist, and more. Wine Spectator responded by calling Goldstein's ruse a "publicity-seeking scam" and accusing the author of perpetuating an "elaborate hoax." (Goldstein had just published a book claiming that even the most discerning wine drinkers couldn't tell the difference between expensive wine and cheap wines.) Goldstein admitted that he was a skeptic of how wine was priced but shot back saying that "the deception was hardly elaborate" and that "everything [he] did took only a couple of hours."
But perhaps Goldstein — and the press — shouldn't have been so surprised. Wine Spectator's vetting process wasn't very rigorous — at least not for the "Award of Excellence" — a fact they've been open with since at least 2003. An article in the New York Times (which Goldstein probably should have read before his scam experiment) explains:
Of the 3,360 awards granted this year, from a pool of 3,573 entrants, 2,808 received the basic award. Only the winners of the Grand Award, the magazine's top award, of which there are 89 this year, are ever inspected; 3,271 restaurants simply sent in copies of their wine lists and menus, a cover sheet describing their wine programs and a check for $175 — and walked away winners.
Wine Spectator justifies the program as an attempt "to bring people into a wine consciousness," according to the Times — a way to bring more awareness to the value of wine in the dining experience. Goldstein, though, saw the award as a backdoor advertising campaign, one which misleads consumers into thinking that the restaurant has something special going on.
Reasonable minds may differ, but one thing is certain — it's a great program for Wine Spectator, even today. In 2016, Wine Spectator announced more than 3,500 winners of the awards, each of which paid roughly $300 for the privilege of being (somewhat) evaluated. Even if one assumes that no other entrants were declined, the awards generated more than $1 million in entry fees alone for Wine Spectator.
Bonus fact: Bobby Flay Steak at the Borgata Casino and Hotel in Atlantic City is also a Wine Spectator honoree (at the second level, one higher than the fictional restaurant described above). Unlike Osteria L'Intrepido, it exists and has a lot of wine selections. But in 2014, one diner found the experience less than excellent — getting some sticker shock when the bill came to north of $4,000. Joe Lentini, the customer in question, took ten business associates out to dinner there and, as he tells it, asked his server for a wine suggestion. When she recommended a bottle that cost "thirty-seven fifty," he agreed — expecting the bottle to cost $37.50. Unfortunately, the decimal point wasn't there, and he and his guests enjoyed a $3,750 bottle of wine. The Borgata, which disputed Lentini's account of the events, agreed to discount the bottle to $2,200. (Some of Lentini's guests helped him pick up the tab.)
From the Archives: Winning the Wine Lottery: Why Trader Joe's $2 wine can be a big winner.
Related: For cynics, Robin Goldstein's book, the Wine Trials. For everyone else, a Wine Spectator subscription.