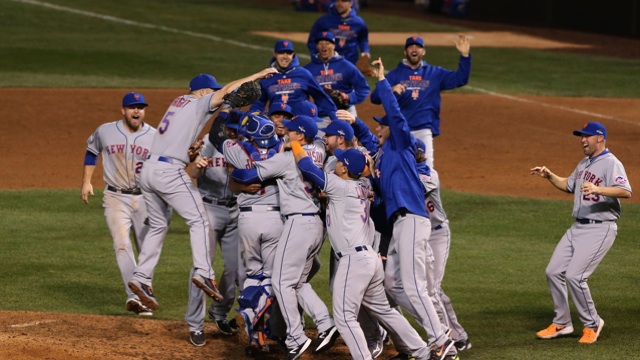 I write trivia — I even have an email newsletter which is all trivia, all the time.
And I love the Mets.
So, here is some Mets trivia:
Curtis Granderson grew up in Chicago, but he didn't grow up a Cubs fan. Like most children of the 1990s, he loved Saved by the Bell, and would run home to watch it after school. Unfortunately, the Cubs games often pre-empted the blissful half-hour of Zack, Kelly, Jessie, and the rest, and Curtis wasn't so excited to see Mark Grace and Ryne Sandberg on his TV. He became a Braves fan instead.
Through 2007, David Wright's career MLB earnings were a bit under $2 million, with most of that ($1.25 million) earned during that season. That's a lot of money, but it was nothing compared to what Wright made in May of that year. As part of his endorsement deal with VitaminWater, Wright received 0.5% of the company. Coke bought VitaiminWater in May 2007 for $4.1 billion, earning Wright a bit more than $20 million.
When he was 11 years old, Daniel Murphy told his school's yearbook editors that he wanted to be an "insurance person," and we have the picture to prove it.
In 2012, ten members of Yoenis Cespedes's family defected from Cuba. While they were ultimately successful, the attempt almost ended tragically. For two days, the party was marooned on a tiny island in the Caribbean without food and no way across the sea. They ended up catching an iguana and seagull and cooked them up, and were thankfully saved by a passing-by yacht.
Travis d'Arnaud grew up near Los Angeles as a Dodgers fan. His favorite player when he was a kid? Mike Piazza.
He doesn't have an Instagram account, but Lucas Duda is still a minor Instagram celeb. Why? Curtis Granderson (and to be fair, John Mayberry Jr. and Danny Muno) started an account called "wefollowlucasduda" which tracks the first baseman, sometimes surreptitiously, and broadcasts his activities to tens of thousands of followers.
Michael Conforto's mom doesn't have a World Series ring, but she does have two Olympic gold medals and one silver — all earned in synchronized swimming.
During the 2012–2013 off-season, Jacob deGrom suffered an injury which would plague him for much of the subsequent season. The injury wasn't baseball related, though; he was helping a neighbor castrate a calf (!) when the other person slipped and the bull kicked deGrom, breaking a finger on his left hand.
Coming out of high school, Matt Harvey was drafted in the third round of the MLB amateur draft by the Los Angeles Angels. They offered him $1 million as a signing bonus but he declined.
Noah Syndergaard's mom has a dog. The dog's name is Thor.
Steven Matz is really good at spinning things on his fingertip.
Jonathon Niese was born on October 27, 1986. That night, the Mets beat the Red Sox to win their second — and most recent — World Series title.
Of the ten pitchers to start a game for the 2015 Mets, only one — Bartolo Colon — was alive to see the last time the Royals won the World Series (1985).
Take all Mets players with five or more plate appearances this year, and your batting average leader is Sean Gilmartin. He's 2-for-6 (.333) with two singles, three strikeouts, and a run scored.
In Hansel Robles Major League debut, he faced Mark Teixeira, Brian McCann, and Carlos Beltran with the bases loaded. He retired all three without giving up a run, striking out McCann and Beltran to retire the side.
Addison Reed is a well-known ballet dancer and — oh, that's a different Addison Reed.
Tyler Clippard does the Stanky Leg.
He can throw a nasty slider, but Jeurys Familia has questionable taste in movies. His favorite? Will Ferrell and John C. Reilly's Step Brothers.
The Mets selected Kevin Plawecki with one of the draft picks they received as compensation when Jose Reyes left for the Marlins via free agency. The other was Matt Reynolds. Neither has played in a postseason game so far.
In fact, Matt Reynolds has never played a Major League game at all, but both he and Plawecki will get a World Series ring if the Mets win.
"Kirk Nieuwenhuis" is really hard to spell. But he played football in high school.
Jesse Orosco was on the mound when the Mets won the World Series in 1986. He through his last MLB pitch on September 27, 2003, as a member of the Minnesota Twins. The guy playing third base behind him? Michael Cuddyer.
If you look at Juan Lagares's glove starting in 2014, you'd see the words "J. Lagares Jr." stitched into it. Lagares doesn't love his glove like a son, though — those words are there in honor of his actual son, Juan Lagares, Jr., who was born in September 2013.
In August of 2011, Kelly Johnson was traded by the Arizona Diamondbacks to the Toronto Blue Jays, but failed to report the next day. He was denied entry into Canada had forgotten his passport and had to go back to get it. He reported a day late.
Wilmer Flores is going to the World Series. Carlos Gomez isn't.