When It Feels Good to Pay More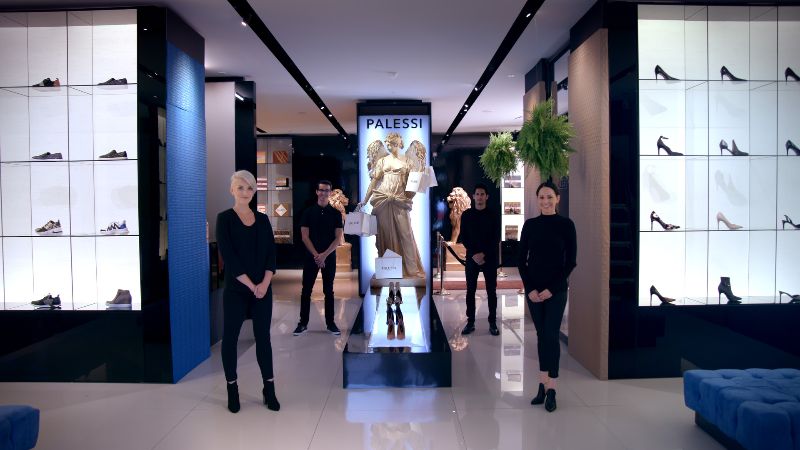 The store pictured above was located in Santa Monica, California, at the high-end Santa Monica Place mall. If you walk through their halls today, Tiffany & Co., Louis Vuitton, and Rolex stores, a Telsa and Peloton showroom, and a bunch of other name brands that scream "expensive" (and a Cheesecake Factory). You won't find an Armani Exchange — it closed a few years back — but that's OK because a few years ago, the store pictured above opened in its place. It's a high-end shoe store, as you can obviously see from the image above. Minimalist design, model-level employees in all black, a sculpture of an angel in the center, and an Italian-sounding name in "Palessi." It's the type of place you'd expect to pay a couple of hundred dollars or more for a pair of shoes.
And that's exactly what happened — well, almost.
Palessi opened its doors for the first time in October of 2018, inviting fashion influencers to attend a launch party. Camera crews were on hand to get their impression of the pumps and boots offered for sale, and the responses were glowing. Here are some quotes from shoppers, via the Washington Post:
"I would pay $400, $500. People are going to be like, 'Where did you get those? Those are amazing,' " a woman said as she tried on a pair of bright-gold sneakers with leopard prints.
"Palessi is just such high quality, high fashion, taking your shoe game up to the next level," said one man wearing spiked necklaces, holding a knee-high boot. "It looks really well made."
"It's just stunning. Elegant, sophisticated and versatile," said a woman, as she held a pair of floral stiletto heels.
High praise. And their fawning over the footwear didn't stop at mere words. Within an hour or two, Palessi sold more than $3,000 worth of shoes, with prices ranging from as low as $200 and as high as $640.
They immediately regretted it.
"Palessi," it turns out, isn't Italian or anything like that, and it certainly isn't high-end. It's just a gentle rebranding of a better-known shoestore: "Payless." Founded in 1956, Payless is a discount shoe retailer which, as of 2016, had about 4,000 stores across the world. Its shops were typically packed to the extremes with shoes — narrow walkways flanked on either side by shelves, six to ten rows high, displaying shoes for sale in their boxes. On top of those shelves, as seen below were even more shoeboxes, filled with even more shoes. The already-discounted shoes were often sold with volume deals; buy-one-get-one was a common refrain. The stores were self-service and typically staffed by only two or three people — enough to cover the cash register and to restock the shelves. It wasn't a high-end option, but Payless was a great place to get a lot of shoes while, as the name suggested, paying less than you would elsewhere.
Payless was a good business for decades but when e-commerce became increasingly common, their brick-and-mortar model suffered and the company wasn't able to make the transition to a more digital shopping experience. In 2017, unable to handle more than $400 million in debt, the company declared bankruptcy and closed roughly 20% of its stores. The next year, looking for a way to revitalize their value proposition, Payless's marketing team came up with the Palessi stunt.
While Palessi shoppers thought they were buying pricey shoes spun from gold in artisanal villages in the Alps or something like that, what they really were buying were the same shoes you could get at Payless, but for about 10 times the price or more. The camera crews documenting the launch party were actually filming footage for an advertising campaign, one that would highlight the quality of the goods while also getting the viral lift one would expect from such a prank. And it probably got the attention that Payless wanted: you can see one of the 30-second ads here, and it has over a million views on YouTube.
Ultimately, the shoppers in the ads — while fooled — probably didn't mind. Payless/Palessi refunded their money and let them keep the fancy-not-fancy shoes they intended to buy, so they came out ahead in the end. Payless, though, didn't get enough out of the campaign to save their business. In 2019,  the company declared bankruptcy for a second time, shutting all its U.S. stores in the process. It's now an online retailer only.
Bonus fact: The New York City Ballet probably wishes it could pay less for shoes. As the New York Times reported in 2013, when performing the Nutcracker, "dancers regularly go through 10 or 12 pairs a week." Other shows are less shoe-intensive but pointe shoes — the ones ballet dancers typically wear — can cost easily cost $100. The Ballet's annual shoe budget, as of 2013, was $650,000 per the Times and are likely higher today; in 2018, a dance blog reported that the budget topped $750k.
From the Archives: The Slippers That Slam Dunked on Loopholes: Why Converse have a funny underside.