When It's Better to Be in Fourth Place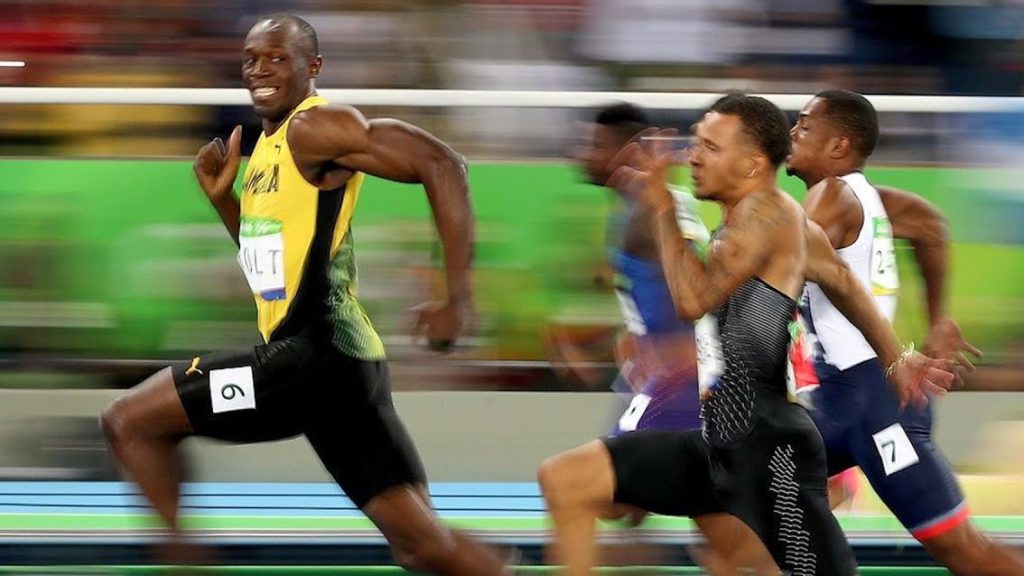 Usain Bolt is probably the most accomplished sprinter in history. During his career, he amassed eight Olympic gold medals and 11 golds at the World Championships. He holds the world record for the fastest time in the 100 meter dash, the 200 meter dash, and in the 4×100 meter relay. And for good measure, he also has Olympic records in all of the above, including the second-fastest time ever in the 100 meters. In his prime, Usain Bolt was so fast that he could literally turn his head and smile, as seen above, and still win rather easily. When it comes to the world of sprinting, there is Usain Bolt — and then there is everyone else.
But despite Bolt's dominance in the sport, race organizers didn't think it was prudent to award him the gold, silver, and bronze in the races he so easily won. Other people were able to take the medal stand with him. And in one case, there was a very strange controversy — and one that ended with an extraordinary act of kindness and sportsmanship.
At the 2008 Olympics in Beijing, Bolt rather easily won the men's 200-meter race; you can watch it here, and I've put a screenshot of the finish line below. That's Bolt, in the yellow top and green shorts, well beyond the pack. (He won the race in 19.30 seconds, an Olympic record that still stands, and at the time, the World record. He shaved 0.11 seconds off his own record in a race a year later.) The rest of the pack, though, is where we need to spend a bit of our attention.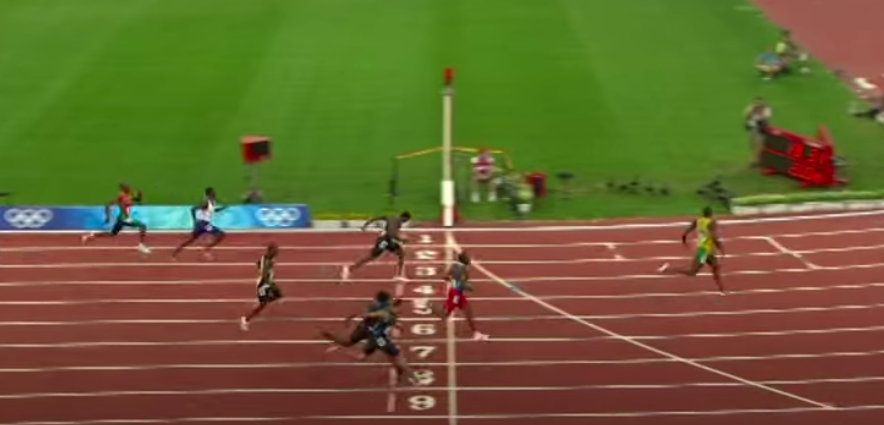 The only other runner across the line at this point is Churandy Martina in lane 7. Representing Netherlands Antilles, this was Martina's only medal-level finish in his career to date. But then something went wrong.
While the picture above doesn't make it clear who came in third, that — originally — went to American sprinter Wallace Spearmon in lane 9, with a time of 19.95 seconds. But it was definitely a photo finish. In fourth and fifth place were Shawn Crawford (lane 4, 19.96 seconds) and Walter Dix (lane 8, 19.98 seconds). Unfortunately for Spearmon, shortly after the race was over, the judges disqualified him — he had momentarily stepped out of his lane. (In the video linked above, at about 2 minutes in, you can see him celebrating, and then moments later, he's told the bad news.)
The DQ was somewhat controversial, though. Spearmon was in disbelief; as the New York Times reported, "of the replays he had watched, Spearmon said he had yet to see a definitive camera angle that revealed when he stepped on the line." And further, there was some ambiguity around the rules. The Times continues:
Spearmon was under the impression that, as is the case in the United States, runners are disqualified only after touching the line with three consecutive steps. International rules, though, maintain a one-and-done policy. Spearmon, who said he was not told about the rules by his coaches, asked some sprinting friends from Jamaica and Trinidad, and they told him they did not know about the rule, either.
The United States Olympic officials immediately filed a protest, arguing that the disqualification was improper. But in reviewing the race film, they noticed something the race organizers had missed. Spearmon may have exited his lane, yes, but he wasn't alone in doing so. Martina, nominally the second-place finisher, had as well.
Instead of continuing with a likely fruitless effort to reinstate Spearmon as the bronze medalist, the American officials realized they could get two of their races on the medal stand. They pointed out Martina's error and, about an hour after the race was finished, he, too, was disqualified. Officially, the medal winners in the 200 meters at the 2008 Games are Bolt (Jamacia), Crawford (USA), and Dix (USA).
But this didn't sit right with Crawford. The sprinter, who had won gold in the 200m four year prior, immediately felt off about earning a medal from that race; once he learned that Spearmon was disqualified and that he'd get the bronze, he told reporters that "every time I look at it, I'm going to be like: 'This medal was given to me. I don't deserve it.'" As that was how he felt about a photo finish, you can imagine how he felt hours later, when he learned that he, and not the guy who clearly finished ahead of him, was taking home a silver medal.
So, Crawford made things as right as he could. He gave Martina the medal.
In 2009, he explained his decision to the Associated Press:
I'm like, if a guy is 10 meters in front of me, I don't care if he stayed in the middle of his lane. He was going to beat me anyway. He didn't impede in anybody's race.

It wasn't about doing the right thing. It's just me as an athlete – I feel like we all compete and train for four years to get to the Olympic Games," Crawford said. "We got there, he was told he finished second after all that, he took a victory lap. I can understand his humiliation and embarrassment and all that.

Me being an athlete, I know how he feels, so I feel like it was up to me to give it to him.
Martina, per Crawford, truly appreciated the gesture; per another report, Crawford said that Martina phoned him in thanks and "was almost speechless. He was very moved." According to Olympic organizers, that doesn't matter, but the medal's location — and the two men's approaches — suggest otherwise.
Bonus fact: In 2002, Crawford has his own moment of lane-leaving, but in his case, it was very clearly his fault. The San Diego Tribune explains: "in a meet in Milan, Crawford appeared in the starting blocks wearing a Phantom of the Opera mask. With the mask obscuring his vision during the 200-meter race, Crawford crept into the wrong lane and was disqualified.
From the Archives: A Nugget of Speed: Usain Bolt is a world-class athlete. So he has to be eating a diet primarily of lean proteins and other generally healthy foods, right? Nah.