When Yellow Cars Became Protest Vehicles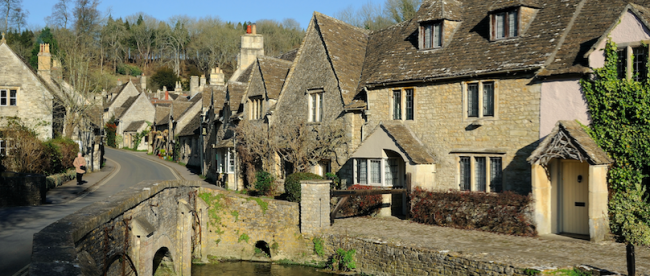 If you can conjure a mental image of an idyllic English village, chances are it resembles something like the above. That's a photo from the Wikipedia entry of the Cotswolds, a series of rural villages about two hours drive west of London. The Cotswolds stand out in England; their website proclaims that the area of "gently rolling hills" is "famous for quintessentially English market towns and villages built from honey-colored stone." And there's no need to take their own website at its word. The area attracts hundreds of thousands of tourists each year, as visitors swing by for a day or two for an authentic British countryside experience — and in hopes of getting a great photo or two.
But what happens when something gets in the way of that perfect photo? Like, a bright yellow car?
Bad stuff — that's what. Just ask Peter Maddox, who in the spring of 2017, was the owner of a 17th century-built cottage in Bibury, a parish in the Cotswolds. And he was also the owner of a bright yellow Vauxhall Corsa, which he'd park near his cottage. At age 84, his neighbors didn't mind — who would object to a retiree parking his car outside his own home? But some visitors saw things differently. The car, as seen below, stands out rather prominently against the serene background of Maddox's block.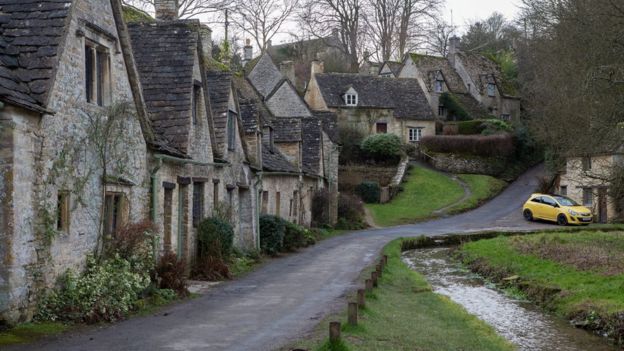 While most people would either crop the photo or find a way to position the vehicle out of frame, some people find humor in the juxtaposition. As early as October 2014, a Bibury-area resident (and Cotswolds booster) tweeted out a photo of the car, calling it "Bibury's elephant in the room" apparently out of appreciation for the vehicle. Others have tweetedsimilarly, showing a love for the seemingly out of place vehicle.
But not everyone found the car so endearing. Some would gently complain to themselves, which is not a big deal. Others were more aggressive. On more than one occasion, a jerk would leave notes on his car, suggesting that Maddox find somewhere else to park. And in February of 2017, one such unmentionable went way too far. According to the Telegraph, the malcontent scratched the word "move" into the car's hood, keyed the side panels, and smashed in the driver's window and rear windshield. In total, the estimated damage to the car ran about $7,500 — likely more than the three-year-old vehicle was worth.
The outrageous story made the press and spread, catching the attention of a man named Matty Bee. And Bee, like his last name suggested, was a fan of yellow cars — perhaps the biggest fan. Bee, per the BBC, ran a Facebook group of more than 1,500 owners of yellow cars, organized a rally in support of Maddox. The goal was to find dozens of such cars to drive through the streets of Bibury on April 1st and, despite the date, few of the yellow car aficionados thought it to be a joke. Hundreds of drivers applied to be part of a planned parade and for safety reasons, only 100 were selected. A video of the resulting convoy can be seen here — and yes, the route included the road which goes right by Maddox's cottage.
As for Maddox himself, he ultimately decided to get a new car — another Vauxhall, but this time grey, to not tempt fate. But his contribution to the lore of yellow cars remains. While Maddox's new car isn't yellow, future yellow cars may be Maddox. According to Drive Mag, the Vauxhall company decided to rename a shade of yellow "Maddox Yellow" after the aggrieved octogenarian and his vandalized vehicle.
Bonus fact: If you're taking pictures in the Cotswolds, you don't have to worry about bright yellow or deep red fire hydrants messing up your Instagrammable moment. Throughout most of the UK and Ireland (and in many other parts of the world as well), hydrants are below ground, likely placed that way to ensure that a car doesn't ram into one. The position of the hydrant, as seen here, is marked by a relatively subtle yellow sign with an "H" on it, informing people not to park their cars there.
From the Archives: Why Tennis Balls Are Yellow: They weren't always.