Where Should Axl and Slash Go Now?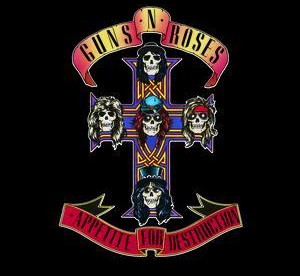 In the summer of 1987, a new band emerged on the American rock scene, when, on July 21st, Guns N' Roses released "Appetite for Destruction," their first studio album. Their debut album, while not an overnight success, is one of the best sellers of its era, amassing over 30 million copies sold. The album features some of the band's most recognizable songs: "Welcome to the Jungle," "Paradise City," and importantly for our purposes today, "Sweet Child o' Mine."
Sweet Child o' Mine was written primarily by the band's lead singer, Axl Rose, and if you read through the lyrics, it is basically a Valentine to his girlfriend at the time, Erin Everly. The song opens by referencing her smile which "reminds [him] of childhood memories where everything was as fresh as the bright blue sky," and then moves on to the rest of her for the next two verses — referencing Everly's smile, face, eyes, and hair. Then, Slash, the band's legendary guitar player, takes over. In the radio cut down version of the song, an incredible, minute-or-so long guitar solo fills the air. (The original version, on the album, is about twice that long.) Then the song descends into what's called a "breakdown" — a collection of rapidly repeating mini-solos cycling through the group. In the breakdown, the band keeps repeating the same line: "where do we go? where do we go now?"
And that, if you take a few seconds to think about it, makes no sense given the rest of the lyrics. Before the solo, Axl is singing the praises of his girlfriend. And after… they're planning a vacation? Or he's considering proposing? Or… what, exactly?
The answer: none of the above.
In his autobiography, Slash tells us the true history of the "where do we go" breakdown — credit goes to Spencer Proffer, a music producer that the band was considering for their album. Proffer was the one who thought that the song needed a breakdown after that guitar solo — the only question was what it would sound like. And then, Axl started thinking out loud, as recounted by Slash:
[Proffer] was right . . .  but we had no idea what we wanted to do there. All of us sat around the control room, listening to it over and over, devoid of a clue.

"Where do we go" Axl said, more to himself than the rest of us. "Where do we go now? . . . Where do we go?"

"Hey," Spencer said, turning the music down. "Why don't you just try singing that?"

And so became that dramatic breakdown.
The breakdown, therefore, is nonsense. It didn't seem to affect sales, though; at least not in a bad way. "Sweet Child o' Mine" is GnR's best performing single ever and their only song to top the Billboard Hot 100 list. Slash and Axl became famous and the whole band became pretty rich. Proffer, though — who is a famous music producer now anyway — didn't benefit much from his creative spark here; the band decided to go with another producer, Mike Clink, who ended up working on their first five albums.

Bonus fact: Duff McKagan was the original bass guitar player for GnR; other than Axl Rose, he was the last of the originals to leave the group. And while McKagan still played in various other bands over the years, that's not what he does now. In 1994, a few years before leaving Guns N' Roses, McKagan developed acute alcohol-induced pancreatitis and nearly died; as a result, the artist sobered up and went on an extended vacation from being a rock star. As Fortune reported, he "found himself with hours of free time and little to do," and ended up looking through his finances — and realized he had no way of making heads or tails of his financial reports. So, he decided to learn the ins and outs of investing — and also become an investment advisor. In 2011, McKagan opened and investment firm which caters to musicians.
From the Archives: Prisencolinensinainciusol  Lyrical nonsense by design is really, really weird. But vaguely English-sounding.
Related: Slash's autobiography. 4.3 stars on more than 600 reviews because, well, it's Slash. Also, Appetite for Destruction, for your listening pleasure.