Why Nike Makes Glowing Sneakers
Every four years, the attention of the world momentarily shifts to the Summer Olympics. And while we're rooting for the athletes and for our countries, advertisers and brands try to insert themselves into that picture. In 2007, for example, shoemaker and athletic apparel company Adidas announced that they had signed up to become the official sportswear partner for the 2008 Beijing and 2012 London Games (as well as the 2010 Vancouver Winter Games) — for the not-so-low price of $201 million.
Three years later — 2010 — a lifelong sportswear executive named Martin Lotti found himself in a new role: Creative Director over the Olympics line. Lotti having previously worked as a footwear designer and then a creative director over women's fitness lines, so he was certainly experienced. And given Adidas's investment in the Olympics, that sounds like a huge increase in responsibilities for Lotti, right? Well, there was one problem: Lotti didn't work for Adidas. He worked for Nike.
Nike, despite not being the official partner for the 2012 London Games, still wanted to make a splash. Lotti and team came up with an idea — glowing sneakers. They developed a lime-green color called Volt — #CEFF00 in hex — and gave Volt-colored Nike sneakers to their bevy of athlete endorsers. Here's a picture from the men's final in the 100-meter dash, for example; you'll note that half the field is wearing neon, yellow-ish kicks.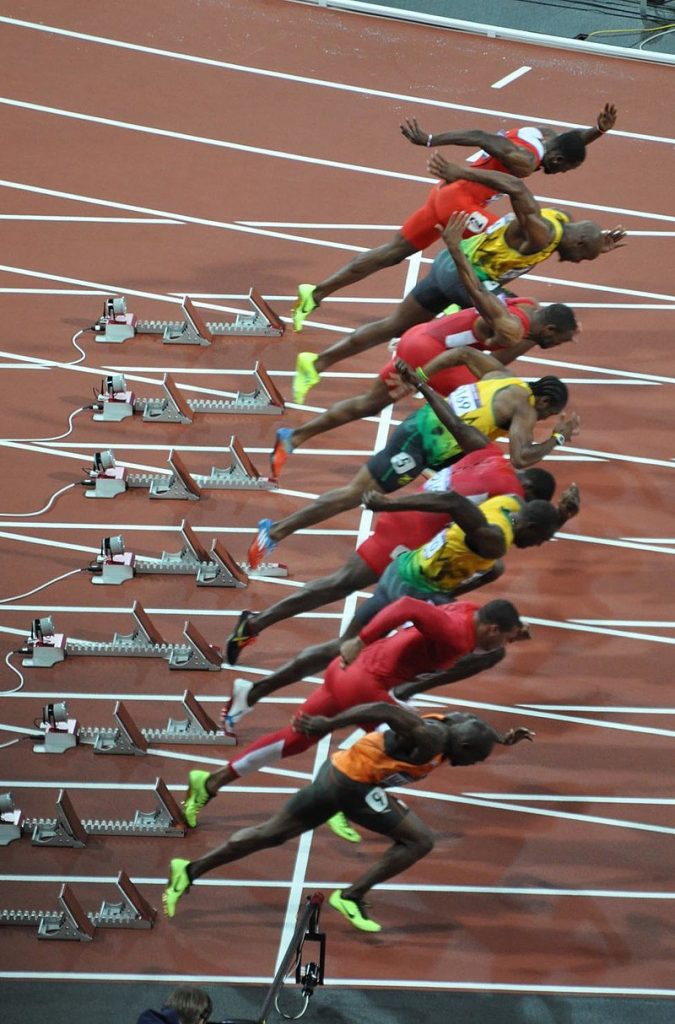 Kind of pops out, doesn't it? It was hard to ignore; as Gizmodo asked in a headline, "Why Are All the Olympic Athletes Wearing Bright Green Shoes?" The shoes were hard to avoid — as Canadian Olympic hurdler told the Toronto Star, "it's easy to notice when watching them on the track and they stand out."
That was the whole point. Lotti and team, during their extensive research, discovered that this color range is, as he told Ad Age, "the most-visible color to the human eye." And while the Olympics organizers dictated the uniforms that athletes wear, that was limited to jerseys, pants, shorts, etc. — shoes were exempt. And Nike didn't have to fork over $201 million as part of the process.
Nike had approximately 400 endorsers wearing Volt sneakers during the 2012 Games, allowing them to leverage Adidas's Olympics to establish Volt as their Nike asset. Today, Volt can be seen across their product lines, from Nike hoodies to their iconic Air Jordans.
Bonus fact: The 2012 Games were the first one in which every nation sent at least one female athlete. Per the Los Angeles Times, that year, Brunei, Qatar, and Saudi Arabia all sent women to the London Games, the first time any of them had female Olympians. And even that nearly didn't happen — the Times called the Saudi's decision "a dramatic last-minute turnaround."
From the Archives: Star Spangled Ad Banner: How Nike Olympians got around Reebok's sponsorship.