Why the Big Bad Wolf Wouldn't be a Good Baseball Player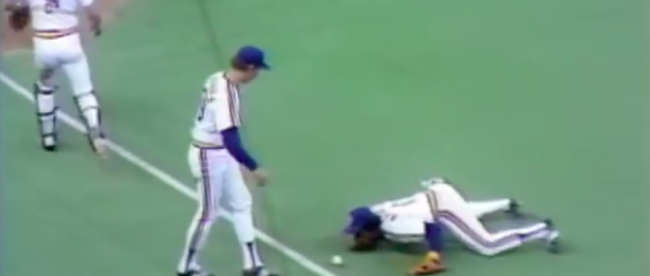 If you're not a baseball fan, you've almost certainly not heard of Lenny Randle. And if you are a baseball fan, chances are you've never heard of him either. Randle manned mostly second and third base over his 12 seasons and never made much of a mark — he was never an All-Star and never hit more than five homers in a season. His claim to fame, before 1981 at least, was one of infamy; in 1977, Randle, having lost his starting job to a rookie, got into a heated argument with his manager and then punched him in the face. He was fined, suspended, and ultimately traded.
By 1981, his career was winding down, but he wasn't quite done yet. On May 27th of that year, Randle was playing third base for the Seattle Mariners as they hosted the Kansas City Royals in the final game of a four-game series. The matchup promised to be entertaining, in a "comedy of errors" kind of way — the Royals entered the game with 12 wins but 24 losses, placing them fifth place in their division; the Mariners were a similarly terrible 15-28.
And the game didn't disappoint. Comedy was on the agenda.
It was the top of the sixth inning. The Royals were ahead, 7-4, with two outs a runner on first. Royals outfielder Amos Otis came to bat and tapped a pitch slowly down the third base line. The poorly-hit ball was a problem for the defense — there was simply no way that any of the fielders could get to it in time to throw Otis out. As Randle would later recount, pitcher Larry Andersen simply yelled "do something!,"
So Randle, as he'd later describe to WBUR's "It's Only a Game" podcast, "got on the ground and did something," as seen below.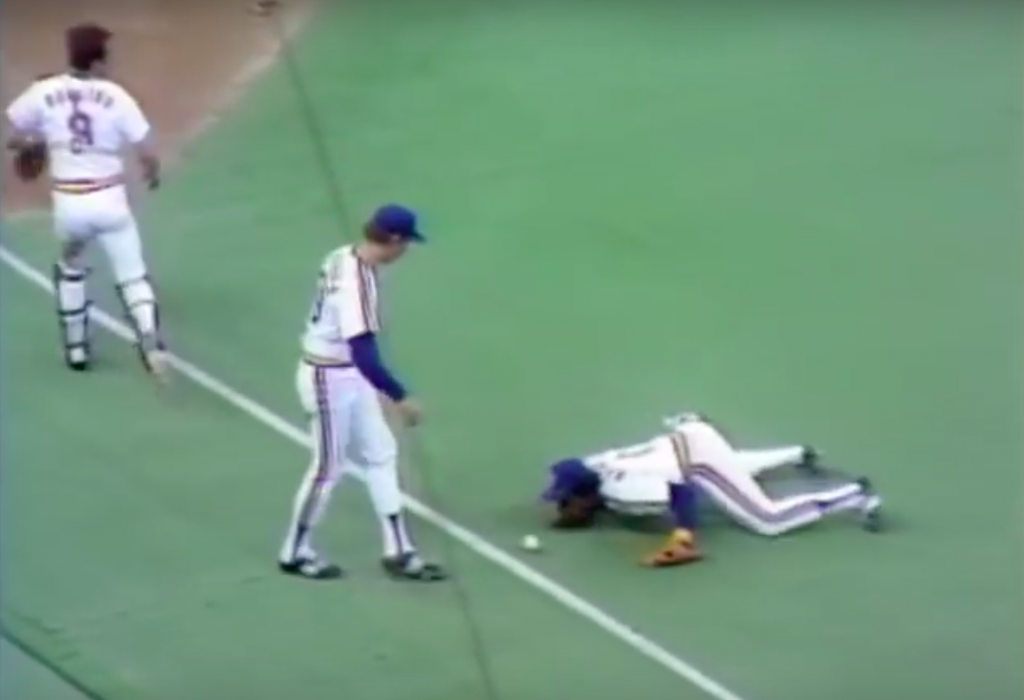 That's Randle, on his hands and knees. He huffed and he puffed and he blew the ball out of play. (You can watch a video of the above here.) Otis — who would have certainly had a hit otherwise — had to return to home plate to continue his at-bat.
Or, he would have, if Randle's gambit had worked.  As one would expect, the Royals' manager, Jim Frey, came out to argue. And unusually, the argument didn't fall on deaf ears. Even though there's nothing in the rulebook which specifically prohibits a player from blowing on the ball to change its direction, the umpires conferred and invoked the rarely-used catch-all provision which is now Rule 8.01(c): "Each umpire has authority to rule on any point not specifically covered in these rules." Otis was awarded a hit. (The Mariners escaped the inning without any further damage.)
Randle, despite the fact that Otis's dribbler proved harmless, didn't confess to blowing on the ball. Rather, he claimed he was just giving it encouragement. After the incident, the AP published his side of the story:  "I said, 'please go foul, please go foul.' I didn't blow on it. I just used the power of suggestion." And in the WBUR interview referenced above, Randle explained a bit further, admitted that maybe his breath, unintentionally, had something to do with the ball's shift over the line: "I did not brush my teeth. I have bad breath. The ball went over the line."
Whatever his motives or his oral hygiene habits, the end result was the same — the play had no impact on the final score (and Royals won, 8-5). The rules haven't formally been changed to address the loophole this game apparently discovered, but players, manages, and umpires alike know of the precedent, and an informal "Lenny Randle rule" has barred such antics ever since.
Randle, to his credit, has found humor in the incident. In his post-playing life, he runs a sports academy, teaching kids the ins and outs of baseball — including the Randle Rule, one expects — while encouraging them to continue their formal education. The sports academy's tagline? "Don't blow it, stay in school!"
Bonus fact: Randle's ploy didn't work because you could see it happening right in front of your eyes. But another effort to use air to blow baseballs one way or another may have. In 2003, Dick Ericson, the superintendent of the Metrodome in Minneapolis from 1982 to 1995, told the press that "he tried to help the Minnesota Twins by adjusting the ventilation system during the late innings of close games in an attempt to get baseballs to carry farther." And only for the home team. Ericson, long retired before the time the story ran, never suffered any consequences for his alleged activity, except to be called a liar; his superiors called his claim "a bunch of hooey."
From the Archives: No La Tengo: Another boneheaded baseball moment, but with historical significance.