Why There are Still Borders in Malaysia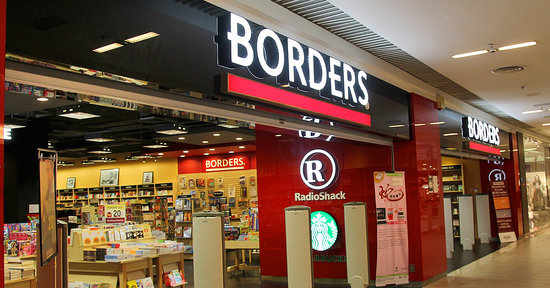 In 1971, a pair of brothers named Tom and Louis Borders started a bookstore in Ann Arbor, Michigan. That store, Borders, would become one of the world's largest booksellers within two decades, but now, it's gone. Don't take my word for it — here's the first paragraph of the company's Wikipedia entry, with a few items bolded to make the company's evaporation clear:
Borders Group, Inc. (former NYSE ticker symbol BGP) was an international book and music retailer based in Ann Arbor, Michigan. In its final year, the company employed approximately 19,500 throughout the U.S., primarily in its Borders and Waldenbooks stores.
All that past-tense grammar exists for a simple reason: In 2011, Borders filed for bankruptcy and was ultimately put into liquidation. Its IP was sold off — to Barnes & Noble, which notably also bought Borders' customer list — and shortly thereafter the company vanished from the Earth.
Except in Malaysia. (And some areas of the Middle East, too.)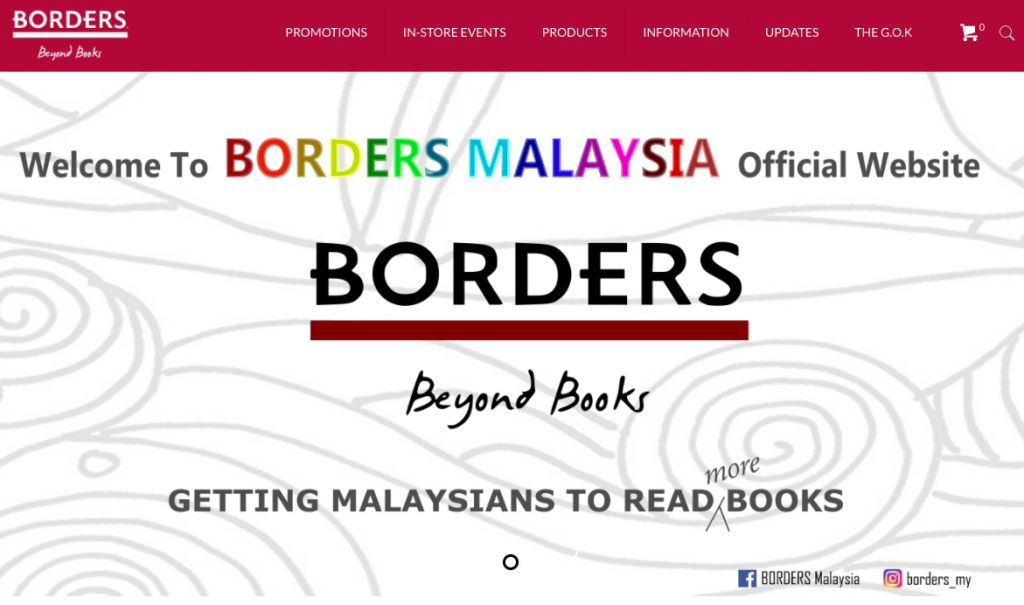 That's a screenshot from Borders' current website in Malaysia. Again, no need to take my word for it — you can click here to see it, up-to-date. As of this writing, though, that's what it looks like.
And yet, you won't find a Borders website in the U.S., UK, or virtually anywhere else. The U.S. site redirects to Barnes & Noble while the UK site is gone. So, what's going on in Malaysia?
When Borders was thriving, its corporate leadership wanted to expand but didn't have a great way to do so, particularly in emerging Asian markets. In 1997, developers in the Malaysian capital of Kuala Lumpur began construction on Berjaya Times Square, a monstrous building (still one of the world's ten largest) which, of particular interest for our purposes, included a shopping mall. The mall warranted the inclusion of a bookstore — a large bookstore — so Borders seized the opportunity by franchising one out to a local company. This was Borders' first foray into the franchising world and set a precedent for its business dealings in Malaysia; the franchisee, the Berjaya Group, opened more than a half-dozen stores thereafter.
When Borders went under in 2011, it shuttered its stores in the U.S. and elsewhere — except that it couldn't close those which were franchised out. The Berjaya Group had no interest in closing its Borders — per Atlas Obscura, there wasn't a lot of competition — so, it didn't. While Barnes & Noble bought Borders' IP in the United States, Berjaya outbid them for the Malaysian rights, forking over more than $800,000 for the privilege. (A similar thing happened to the Borders franchises in Oman and the UAE.)
So today, there are seven Borders in operation in Malaysia. And amazingly, the franchise outliving its franchisor thing isn't unique by any stretch. If you look up the location of the Borders at the Queensbay Mall in Malaysia's Penang Island (just click here and search for "Borders"), you'll see the picture above. You may notice a Radio Shack logo — there's one embedded in the Borders there. Radio Shack, like Borders, went through bankruptcy (and coincidentally, is poised to again), but it didn't affect the Malaysian store — those stores are franchises operated by the Berjaya Group.

Bonus fact: Borders' fall is often tied to Amazon's rise, which is fair but hardly the whole story — and it misses the fact that part of the Borders to Amazon transition was self-inflicted. As the Internet emerged, Borders, NPR reported, instead of investing in e-readers or even its own website, "expanded its physical plant, refurbished its stores and [comically, in retrospect] outsourced its online sales operation to Amazon."
Double bonus!: One thing you probably can't buy at the Borders stores in Malaysia is the 2001 movie Zoolander. In the film, Malaysia elected a new reform-minded prime minister who pledged to crack down on child labor. In response, fashion industry execs brainwashed the title character, Derek Zoolander, into attempting to assassinate the Malaysian leader. (He didn't. And it's fiction anyway.) In real life, Malaysia (and Singapore) banned the film.
From the Archives: The Lichen Loophole: How Amazon found a creative way to solve an inventory problem.
Related: Zoolander, the movie. More than 1,300 reviews averaging 3.9 stars.