Why You Can't Buy a Car on Nissan.com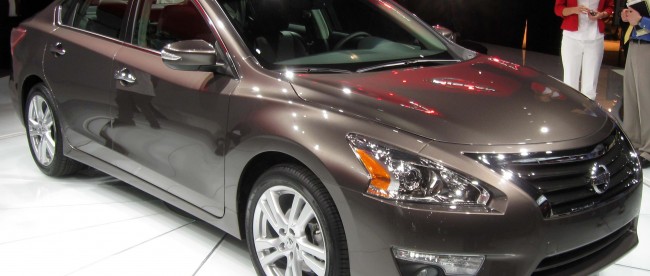 Imagine you're a small-town entrepreneur, looking to build a local business. You may end up using your last name as part of the company name; for example, you may be "Lewis Trivia Emails" (which is a terrible name, but you get the idea). That's all fine and good and rarely causes a problem. If you were really ahead of the curve — say, you knew about the Internet in the early to mid-1990s — maybe you even registered yourself a domain name, your last name followed by the now-ubiquitous dot-com. If you did, chances are you ended up something with a lot more valuable than you bargained for.
Unless your last name is Nissan. In that case, you probably ended up with a big headache — and a lot of legal bills.
Since the 1980s, Uzi Nissan — that's his real name — has owned a number of small businesses branded with his last name. In the early 1990s, he started the Nissan Computer Corporation. He registered the Nissan.com domain in 1994. Two years later, he still owned the site, and it looked like this, selling motherboards and video cards and modems. Two and a half years after that — April of 1999 — it looked similar, noting a change in location in big red letters. It was pretty clear that Mr. Nissan was using his website to sell his computer-related products and services.
But the other Nissan — the car company — they wanted the domain.
In October of 1999, the two sides met, hoping to find an amicable resolution. Mr. Nissan's argument was that the word "Nissan" was, truly, his last name, and he had been using it for his businesses for nearly two decades. Further, Mr. Nissan pointed out, the car company used the name "Datsun" in the United States until the mid-1980s, so there was no reason to believe that Mr. Nissan was acting in bad faith. Mr. Nissan reportedly asked for millions of dollars for the domain name, believing that he, and not the automotive giant, was in the driver's seat.
Unfortunately, Nissan — the car company — didn't want to spend their money that way. Instead, Nissan Motors decided to invest in lawyers. In December of 1999, Nissan Motors filed a lawsuit against Nissan Computer, arguing that the latter had diluted the former's trademark. Further, Nissan Motors claimed, Mr. Nissan had started to include advertisements for cars on its now-newsworthy website. (As it turns out, the latter part of the complaint was true — if you look at what the website looked like in November of 1999, you'll see ads for "Car Quotes" and "Autos" as well as a search box inviting web surfers to search for SUVs.) Nissan Motors' demand? Hand over the site, stop using the Nissan name for your business, and pay us $10 million for the trouble.
Mr. Nissan decided to fight. The case bounced around the court system for years — at one point, Nissan Motors asked the U.S. Supreme Court to address some of the issues in the case, even. (The Supremes declined.) Ultimately, he got to keep his last name, but at a pretty high price. First, the court told him that he can no longer host advertisements for cars or auto parts. And second, and probably more importantly, Nissan Motors was only ordered to pay Mr. Nissan $58,000 in attorney's fees, an amount he claims is "less than 2% of what the cost was to defend this case."
But Mr. Nissan kept his domain name. If you go to Nissan.com today, you'll see that there's nothing about the car company except for a pair of Nissan Motors logos in a red circle with a cross through it. Uzi Nissan still owns the site, and nominally uses it to promote his computer business. But central to the website are his ongoing efforts to tell his side of the story — as well as an attempt to make a some dollars off that web traffic: he's running an ad for insurance, including auto insurance.
Nissan Motors uses the domain name NissanUSA.com instead.
Bonus Fact: In 1994, a well-known law firm named Morgan Lewis and Bockius registered a domain name for itself — MLB.com. Today, MLB.com is the website of Major League Baseball. How much did Baseball pay the law firm for the very, very valuable domain? Nothing, according to the Society for American Baseball Research. Morgan Lewis transferred the domain to Major League Baseball in 2000 — a favor for its long-standing client. Morgan Lewis, it turned out, was one of Major League Baseball's outside law firms. (But don't assume that MLB hired MLB to get the domain name — the relationship pre-dates the MLB.com registration.)
From the Archives: Fogerty Versus Fogerty: When a famous musician sued himself (kind of).
Take the Quiz: Nissan models or Pokemon characters: Can you catch them all?
Related: "The Domain Game: How People Get Rich From Internet Domain Names," a book from 2008. It's not a how-to guide — it's a look at some of the historical examples of people making a pretty penny buying and selling domain names. 4.4 stars on 16 reviews.