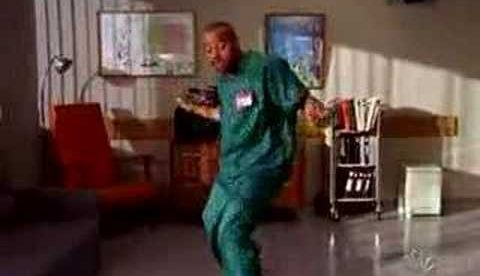 The TV show Scrubs aired for nine years, mostly on NBC and for two years on ABC. It was a comedy/drama which centered on the lives a handful of employees at a fictional teaching hospital, one of whom was surgeon Chris Turk, played by actor Donald Faison. On the episode which originally aired on November 9, 2004, Dr. Turk got something he was really proud of — a vanity phone number. Specifically, he obtained 916-CALL-TURK.
Throughout the episode, Dr. Turk excitedly tells his colleagues about his new number, saying that "if you call Turk, you get Turk." But as we know, his colleagues weren't the only ones to hear this. Viewers at home also got the message and some realized that unlike most phone numbers featured on TV shows, 916-CALL-TURK could be real; area code 916 is assigned to Sacramento, California. Convert the letters into numbers and you get 916-225-5887 (the "K" gets dropped), which looks a lot like a real phone number.
That's because it is a real phone number. And fans starting calling.
Using someone's real phone number seems to be a pretty dumb oversight on behalf of producers — the phone number plays such a prominent role in the episode, you'd think someone would notice that the number actually worked. But in this case, Scrubs didn't make a mistake. They used a real number intentionally — as a way to promote the show. As the Chicago Tribune reported, most people who called the number would be greeted by "a taped message from Faison, in character, thanking them for calling and encouraging them to keep watching Scrubs" — as well as a reminder the show was changing time slots. Oh, and the recording also asked fans to support the show in the upcoming People's Choice Awards.
Well, that's usually what happened. But not always.
Stunts like this are rare but not unheard of, and in this case, the cast and crew wanted to take it a step further. The way 916-CALL-TURK worked was simple — it was just a regular phone line with a regular voicemail and a regular outgoing message. Which means that, if someone picked up the phone before it went to voicemail, you'd have a regular conversation with whoever was calling. And in the beginning, that's exactly what happened. Cast and crew passed the phone around, answering it whenever the mood struck.
This caught many callers by surprise. A reporter from Defamer (a now-defunct) Gawker publication gave it a ring and the actor who played Ted the Lawyer on the show answered, in character, and tried to start a conversation. It didn't turn into one, though; the reporter was so flummoxed he could only muster a "Um, I didn't expect…to get a real pers—-gotta go!" And Defamer wasn't alone with this type of reaction, either. According to the Pittsburgh Post-Gazette, at least one other reporter did roughly the same thing:
A Zap2it.com staffer called the number Wednesday afternoon, only to hear this live voice on the other end: "You've called Turk, Dr. Kelso speaking." (Flustered by this turn of events, the Zap2it staffer mumbled something about having the wrong number and hung up as Dr. Kelso (Ken Jenkins) chuckled.)
Of course, their surprise just served as a warning for others. Word got out that if you're one of the lucky callers, someone may pick up and you may actually get to talk to someone who worked on the show, making the surprise less surprising but the phone number a lot more popular. As call volume spiked, the powers-that-be decided to just let all calls go to voicemail, which if you think about it is exactly what you'd do, too, if strangers kept calling you all hours of day and night.
All told, the phone number was a fun stunt, but not enough to carry the day — at least not if the true goal was winning some People's Choice Awards. While lead actor Zach Braff was a finalist in the "Favorite Male TV Performer" category, he lost to Friends star Matt LeBlanc, and the show received no other nominations. As for the phone number? As of this writing, it's disconnected.
Bonus fact: Scrubs hasn't been on-air for about a decade but part of it lives in — a dance made up by Faison/Turk. In season 5, Turk auditions for an "air band" — basically, a group that pretends to play instruments but doesn't — by dancing to the song "Poison" by Bel Biv Devoe. Faison was late to the set that day and didn't have a chance to practice anything, so he just made up the dance moves on the spot, and it turned out well enough to make the episode. Even if you're not familiar with the show, though, you may be familiar with the dance, which you can see here. Why? It's the basis for one of the default dances characters do in the video game Fortnite. (Check out a side-by-side here.) Fortnite asked Scrubs' producers for permission to copy it, which apparently was granted, but Faison, despite making up the choreography, doesn't get any royalties.
From the Archives: Here Comes Santa Claus: In 1955, Sears ran an ad inviting children to call Santa. But the phone number was wrong. What happened next still does.