The Weekender, November 16, 2018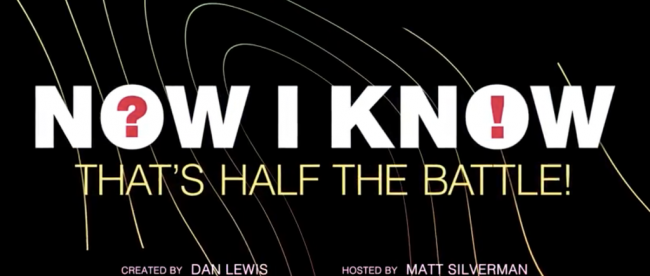 1) Now I Know, The YouTube Channel! I introduced this yesterday afternoon and you'll hear more about it over the upcoming weeks. Some people asked if the YouTube channel will be replacing the email newsletter — let me give you an emphatic "No." The newsletter's not going anywhere.
Here's how to watch!
Subscribe to the YouTube Channel: Click here to do that. My goal is 1,000 subscribers by the end of the calendar year. As of about 11 PM ET last night, I'm at just a hair over 200.

Episode 1: The Tree That Owns Itself (2 minutes, 54 seconds). There's a big oak tree blocking traffic in Georgia, but you can't cut it down because this tree kinda/sorta … owns itself?​

Episode 2: Where Does All the Lost Luggage Go? (2 minutes, 52 seconds). Every year, airlines lose about 100,000 bags. They go to Alabama. Here's why.​
And I want to make more videos. To get there, I need your help. Subscribing to the channel helps a bit because YouTube requires 1,000 subscribers before I can run ads. But that'll be a while. Which is why there's . . .
2) Now I Know on YouTube: The Kickstarter Campaign! First off, thanks to everyone who already pledged their support. The goal I need to hit is $8,750. The campaign got more than a third of way there in just a few hours! That's awesome.
If you haven't backed it yet, please consider doing so. If I don't hit that $8,750 goal, no one's credit card gets charged and the project doesn't move forward. The campaign ends on December 14th so there's plenty of time.
Okay, onto some "real" Weekender reads.
3)  "Killer Tulips Hiding in Plain Sight" (The Atlantic, 21 minutes, November 2018).
Nijmegen lies close to the German border, tucked against a river and folded into an agricultural landscape. There is nowhere in the Netherlands that is remote from farming—the densely packed country produces more food for export than any other nation save the United States—and you cannot drive far out of town without finding yourself next to a pig farm or a field of forage crops or a tractor taking up both lanes. Many of the diseases that affect humans come from animals and wildlife and the landscapes they live in, and infectious-disease experts such as [microbiologist Jacques] Meis spend a lot of their time drawing connections between their patients and the places where their illnesses might have come from.

About a decade ago, he and some of his colleagues faced a diagnostic puzzle. Some of their patients were sicker than they ought to be, but there was no clear connection to a cause.

[ed — Meis and team figured out part of the problem: the pathogens causing the sickness was resistant to medication. What they didn't know was why.]

By itself, resistance wasn't remarkable. If a patient takes an antibiotic or antifungal drug for a long time, there is always a risk that the organism causing their infection will mutate to make itself less vulnerable. But the infections in these patients were resistant from the start of treatment. They had never received azoles before, yet their infections did not respond to even the very first dose of drug.
4) The Now I Know Week in Review:
5) "How a Deal to Bring Autonomous Vehicles to Walt Disney World Blew Up" (Jalopnik, 10 minutes, November 2018). Thanks to reader Michael G. for the tip!
Walt Disney once mused that it's "kind of fun to do the impossible," so it's likely the animation mogul would've been impressed by last year's reports that fully-autonomous vehicles could soon be shuttling passengers around the amusement park in Florida that bears his name. Driverless cars are, after all, one of the most challenging—impossible, perhaps—technological tasks of our time. But the Disney project has fallen into disarray, Jalopnik found, after the companies aiming to bring the idea to fruition ended up in court accusing one another of stealing blueprints for the crucial technology needed to make driverless cars work.

And more than just an interesting look at how a new way to shuffle around the Magic Kingdom fell through, it's an example of just how contentious this technology is right now.
6) "Bill Gates is obsessed with redesigning the world's toilets" (Business Insider, 8 minutes, November 2018). The headline sounds like a joke. But it's not. As the article notes, "around the world, in places without proper sanitation or sewage systems, there's [a lot of] unsanitary human waste sitting around. 'That's what kids, when they're out playing, they are being exposed to all the time,' Gates said, noting the link between bad sanitation and disease, death, and malnutrition."
Have a great weekend!