A Creative Way to Turn Past "Experience" into a Job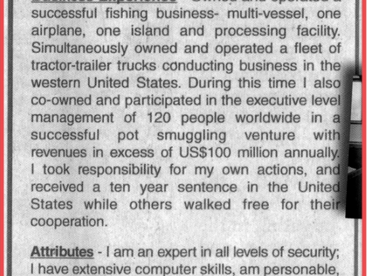 The Internet has made newspaper "Help Wanted" ads a thing of the past. But in 2001, before the future sent this form of advertising into obsolescence, an entrepreneurial (and seemingly desperate) job seeker named Brian O'Dea used the medium to reverse things. Instead of replying to a job ad, he took out his own, advertising his services and background. Here's a slightly-edited version of the "business experience" section of his ad:
Owned and operated a successful fishing business — multi-vessel, one airplane, one island and processing facility. Simultaneously owned and operated a fleet of tractor-trailer trucks conducting business in the western United States. During this time I also co-owned and participated in the executive level management of 120 people worldwide in a successful [business] venture with revenues in excess of US$100 million annually.
A business polymath with a history of success — that sounds like a great person to hire. So why did Mr. O'Dea need to advertise his own services? The secret is in the edit — the "successful [business] venture" he ran was a "successful pot smuggling venture." Here's an image of the actual ad, via O'Dea's website. You'll note the headline: "Former Marijuana Smuggler."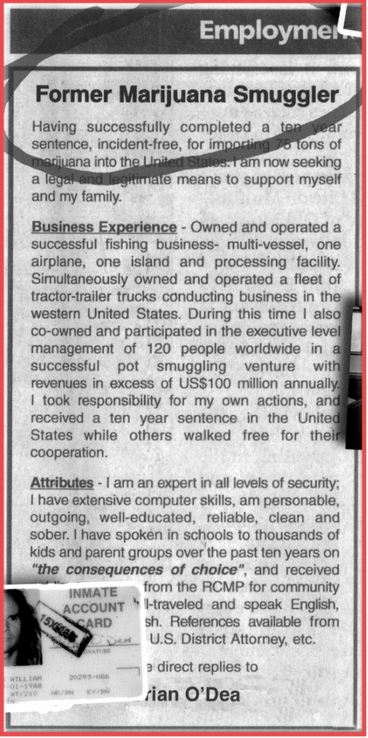 At least he was honest.
O'Dea's story begins in the 1980s, when — after battling with drugs both personally and professionally — he was arrested and incarcerated as part of a joint (pardon the pun) U.S./Canada drug enforcement effort. O'Dea was paroled in 1993 and made a drug-free living in Toronto for about a decade. But apparently, by the time 2001 came around, he was looking for more out of life — perhaps a new job, or maybe some fame. He approached Canada's two largest papers, the Globe and Mail as well as the National Post, asking to buy some space to take out the ad pictured above. The former rejected the placement, but the National Post accepted the ad and ran it for six days, costing O'Dea $1,300 (Canadian). If getting him some attention was the goal, it worked — the ad spread via word of mouth and then got picked up by the press, with most assuming that this was some sort of joke.
It wasn't. He told the National Post (republished and archived here) — and yes, that's the same publication that ran his ad — that his experience as a pot smuggler rivals the experience that one gets in business school and beyond:
"I don't have an MBA," Mr. O'Dea said during an interview in a Toronto coffee shop, "but I can do anything an MBA can. I don't have a PhD in business, however I have shown that I can accumulate wealth and operate and co-ordinate business as well as anyone.

"Maybe someone will read that ad and realize, jeez, not only did he operate that scheme, but he did it in secret. That shows tremendous co-ordinating ability."
His reverse-wanted ad didn't turn into a job, at least not immediately, but O'Dea did eventually find new business opportunities. According to his official website, O'Dea "is now gainfully employed as a film and television producer in Toronto, where he lives with his wife and son."
Bonus Fact: In 1951, Mickey Mouse and Goofy become drug dealers — in one comic strip, at least. In the comic, Mickey and Goofy drink a tonic — speed, basically — which gives them an unnatural burst of energy. They're so impressed that the want to start selling the stuff, and the manufacturer sends them to Africa to corner the market. The comic, seen here, was available via mail for fifteen cents and a Wheaties cereal box top. (At the time, many types of amphetamines were legal in the U.S., making the comic more of an anachronism than it is absurd.)
From the Archives: Losing the Rat Race: How a drug dealer tried to handle a vermin problem.
Take the Quiz: How many of Mickey Mouse's jobs can you name? (Drug dealer isn't on the list.)
Related: "High: Confessions of an International Drug Smuggler," Brian O'Dea's autobiography. 4.1 stars on 58 reviews.