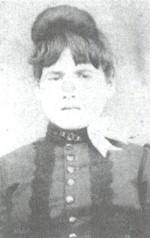 Zona Shue, pictured above, was found dead in her home on January 23, 1897 in Greenbrier County, West Virginia, by an errand boy. By the time Dr. George Knapp, Mrs. Shue's physician-turned-coroner, arrived about an hour later, Shue's husband, Edward Shue, was already by her bedside. He was distraught and somewhat erratic, as one would expect from a man who came home to such a scene, and angered when Dr. Knapp tried to examine the corpse. Nevertheless, Dr. Knapp was able to pronounced Zona dead, with "childbirth" as the official cause of death. But to Zona's mother, Mary Jane Heaster, the doctor's pronouncement was just plain wrong. Mrs. Heaster was convinced that Edward murdered her daughter.
Mrs. Heaster was correct. Four weeks after Zona's funeral and burial, Mrs. Heaster received a message detailing how Edward snapped her daughter's neck, ending her life in her mid-20s. That messenger? Zona's ghost.
Even leading up to the funeral, there was plenty of reason to believe that not everything was as it seemed. Before Dr. Knapp arrived on the night of Zona's death, Edward dressed her corpse (which typically happened after pronouncement), placing her in a stiff collar and a veil. During the wake, he didn't allow people to come close to the body, and had placed her head between a pillow and a rolled-up sheet, ostensibly to keep her comfortable in the afterlife. Mrs. Heaster managed to grab the sheet before Zona was buried, and when she washed it, it turned the water red. But Zona's burial went forward without an autopsy.
About a month later, over the course of a few evenings, Zona's ghost appeared to Mrs. Heaster, according to the grieving mother herself. The ghost, she claimed, told her what had happened: Edward was an abusive husband who, having come home to find dinner not to his liking, snapped Zona's neck in a fit of rage, killing her. This explained his odd behavior and the sheet, but with the self-alleged victim now six feet under, there was little other evidence out there. So Mrs. Heaster told the district attorney about her supernatural visitor in hopes of having Zona's body exhumed and a proper autopsy performed. After other townspeople joined Mrs. Heaster's cause, the DA agreed. And the autopsy revealed that Zona's death was caused by a broken neck.
At trial, the prosecution called Mrs. Heaster as a witness — to testify about the facts, not her ghost-sighting. She stuck to that, but on cross-examination, the defense asked her about her encounter with her dead daughter, asserting it was a dream. Mrs. Heaster, according to the West Virginia Division of Culture and History, was unwavering; she "firmly insisted it was no dream and that she was as awake when her daughter appeared as she was then in the courtroom." The jury believed her. Edward was convicted of the murder and sentenced to life in prison.
Bonus fact: The University of Virginia School of Medicine is one state over from where Zona Shue's ghost allegedly appeared — and perhaps the school would find her story interesting. Why? Because it is home to a group of researchers — the Division of Perceptual Studies — whose "researchers are dedicated to the use of scientific methodology in their investigation of a wide range of paranormal phenomena." In short, the division studies potential ghost sightings and other paranormal activity.
From the Archives: Into the Brier Patch: Greenbrier County's namesake hotel, The Greenbrier, isn't haunted. But it does have a secret.
Related: "The Man Who Wanted Seven Wives: The Greenbrier Ghost and the Famous Murder Mystery of 1897" by Katie Letcher Lyle. One review of five stars.