Hi!
As long-time readers know, on Fridays — like, you know, today — I do a week-in-review type of thing. Two weeks ago, I used this space to ask you to help a friend of my daughter's help fight cancer. The friend, an 11-year-old, was diagnosed with Rhabdomyosarcoma in June. As I said two weeks ago, she's currently undergoing 10 months of chemo and radiation. She can't do much else during that time period, so she's using the time to help others in her and similar situations. She's fundraising for Memorial Sloan Kettering by creating and selling inspirational bracelets.
A lot of you stepped up and bought a bracelet from Emily. She and her mom were effusive about your support! And they sent me this, which I wanted to make sure I shared with all of you.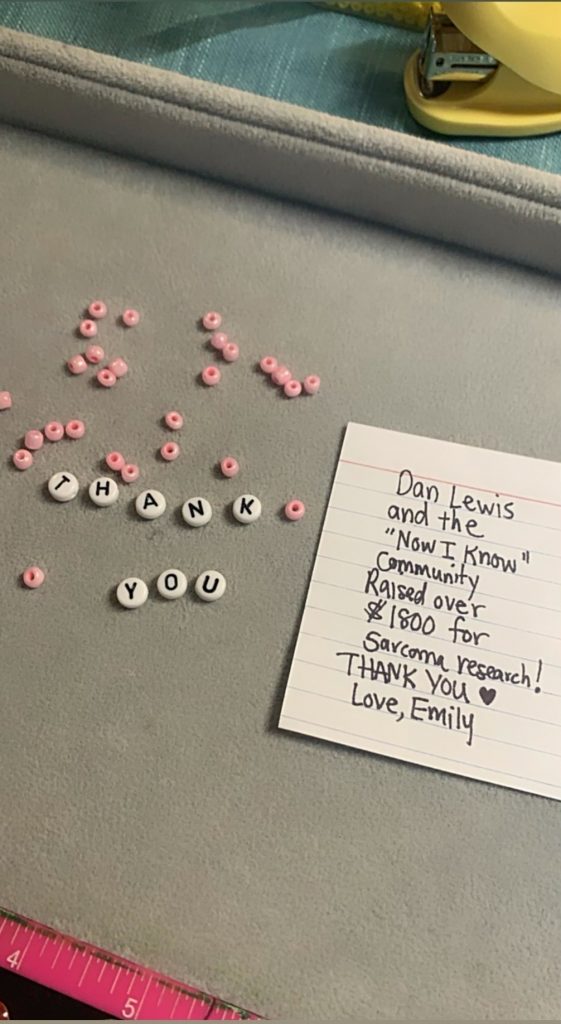 Thank you all for helping out here — it's really great to be able to help a young child in this way.
If you still want to help, all of the info you need is at this link. Emily has a lot of bracelets to make, though, so it may take a while! And for those who donated directly to Memorial Sloan Kettering and sent the gift acknowledgments to my PO Box, it often takes a few weeks for those to reach me. So please rest assured that your gift arrived and is appreciated.
Thanks again for supporting Emily. It means a lot to a lot of people here.
The Now I Know Week in Review
Before I go through these: I haven't checked my Now I Know email at all this week. So if I made any egregious errors, I don't know about them yet. Or anything else you may have pointed out.
Monday: You Actually Win Friends With Dirty Salad?: Similarly, I don't know if anyone wrote back to say "I got that reference!" in regard to my title. Or, even better, a reference to a magical animal.

Tuesday: Why You Might As Well Steal That Rolex Off Your Murder Victim: I wrote "TK everybody" at the top of this email. The next day, I tried to explain that… but I forgot to link to my explanation of what TK means. Here it is. I triple-checked the link this time. It works. 😃

By the way, I think that's the first time I used an emoji in the newsletter.

Wednesday: Cross Words: The story of a puzzling crossword puzzle.

Thursday: A Back-Alley Way To Create a Successful Board Game: My favorite part about this story is that it gave me a reason to link to my previous essay on why Monopoly is not a good board game. But in case you missed it — and because I can't help myself, I will also link to it again here.
And some other things you should check out:
Some long reads for the weekend.
1) "No Sprouts" (Tedium, 10 minutes, August 2021). The subhead: "Why the fast-casual sandwich shop Jimmy John's struggled with selling sprouts for so long, despite their obvious health risks." I didn't realize bean sprouts had an obvious health risk before reading this. Now, I am firmly anti-sprout.
2) "Are Cities Making Animals Smarter?" (The Atlantic, 19 minutes, August 2018). This is about a "mysterious wildcat in Sri Lanka," which sounds like a superhero (or supervillain?) origin story if I've ever seen one.
3) "Annie's Mac and Cheese is based in the Bay Area, but Annie is not. Here's her story." (SF Gate, 8 minutes, March 2021). The best way I can describe this story is "nice and oddly comforting, but not for everyone," which is to say, a lot like mac and cheese.
Have a great weekend!
Dan