All The News That's Fit to Wait for a While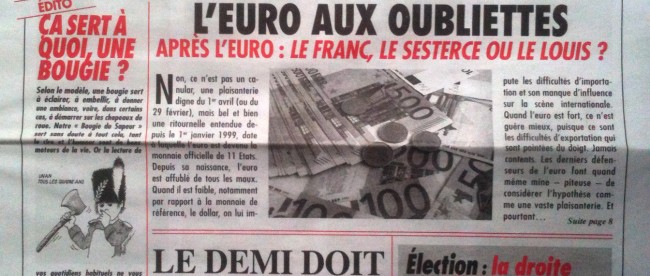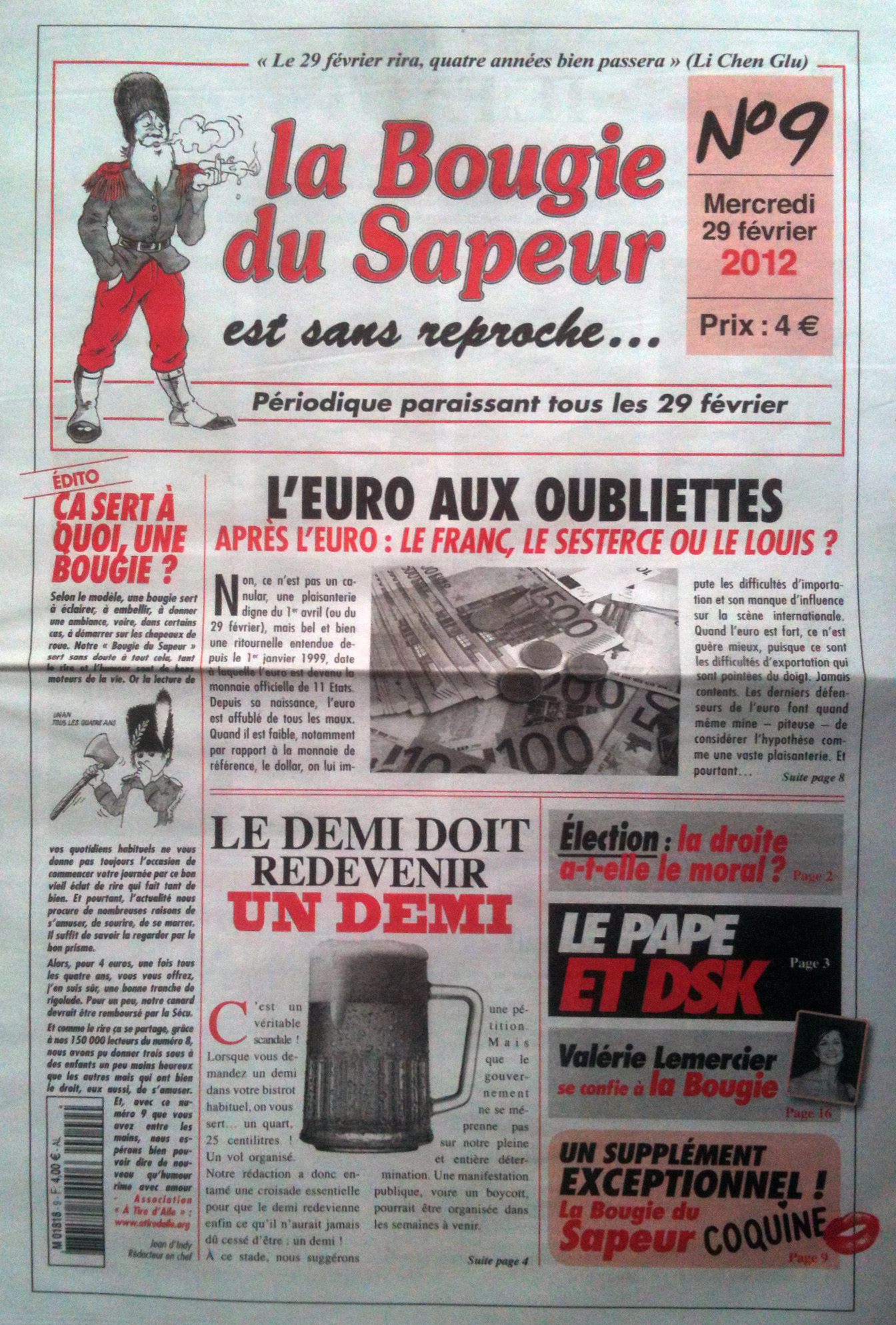 Pictured above is La Bougie du Sapeur, a French-language newspaper. If you don't speak French, that's OK (neither do I) — you're not missing a lot. Some of the articles featured in the edition above were focused on the alleged dangers of chewing gum, an editorial tirade about the changes in drink sizes, and a bunch of other items which don't seem all that critical to everyday life. The newspaper is further distinguished by the ads — there aren't any — and by its website — it doesn't have one. All of its revenue comes from its paid circulation. The one above cost four Euros.
Despite the weak editorial and the questionable business model, La Bougie du Sapeur does pretty well. Per various reports, the issue above sold about 200,000 copies; to provide a frame of reference, Le Monde and Le Figaro, two leading French newspapers, each have circulations of only about 50% larger than that. And they cover actual news.
So what makes La Bougie du Sapeur special? The frequency. The issue above is dated February 29, 2012, and was the ninth edition of La Bougie du Sapeur. The tenth came out today. La Bougie du Sapeur only publishes on Leap Day.
The paper was never supposed to be a serious project; the idea started as a joke between a couple of friends back in 1980, as the World Association of Newspapers and News Publishers reported. But the idea proved popular, and every February 29th since, it's been distributed throughout the country. The frequency, like the content, is intended to be funny but lightweight. As the editor of La Bougie told NPR, "we try not to be naughty; we just try to be funny. But we are not funny. Life is funny. So, it's the way of seeing life which is funny."
You can't subscribe to La Bougie, although the publishers considered it for a while; according to the French Wikipedia, before the 2012 issue, there was an option to pre-order a century's worth of the broadsheet for 100 Euros. The publishers ended that option when they realized the logistical nightmare inherent to a long-term, low-touch subscription service — the odds that your customer would move at least once during the time period was very high, and you'd have no way of knowing where to send their next issue.
And as above, La Bougie doesn't have a website — it wouldn't be updated all that often in the first place, and the perhaps Luddite approach to technology adds a bit of charm to the project. La Bougie does, however, have a Facebook page — but given the nature of the publication, that page isn't very popular; at the time of this writing, has fewer than 500 people connected to it.
La Bougie is typically made available in print for about a month, after which commemorative issues can be purchased for about 15 Euros. The paper aims to make enough money to pay for its publication costs but typically makes a little bit more than that. In 2008 and 2012, those profits were donated to an autism-related charity.
You can check out the front page of this quadrennial period's issue here.
Bonus Fact: In 2012, online shoe retailer Zappos announced an extension of their already-generous 365-day return policy. As usual, if you bought an item on February 28th, you'd have until the next February 28th to return the item — that is, you'd have a year. Similarly, if you bought an item on February 29th, you'd have until the next February 29th to return the item — four years. It's unclear whether the offer is still active, but at least one page of their site mentions it.
From the Archives: February 30th: It happened in 1712.
Take the Quiz: Identify these people born on February 29th.
Related: A gross amount of things that leap.