The Weekender: February 26, 2016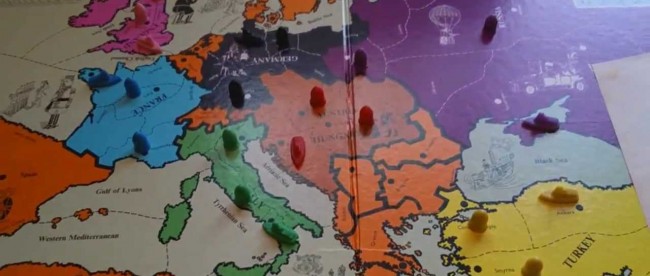 1) "The Immortal Horizon" (The Believer, 28 minutes, May 2011). This is one of my favorite articles ever. I've shared it in other contexts before (but not here), and it's one of the few must, must-reads I'll ever put out there. (That said, I'll be saying it again in the fifth slot today.) It's about the craziest marathon (which isn't technically a marathon) out there.
The first race was a prison break. On June 10, 1977, James Earl Ray, the man who shot Martin Luther King Jr., escaped from Brushy Mountain State Penitentiary and fled across the briar-bearded hills of northern Tennessee. Fifty-four hours later he was found. He'd gone about eight miles. Some might hear this and wonder how he managed to squander his escape. One man heard this and thought: I need to see that terrain!

Over twenty years later, that man, the man in the trench coat—Gary Cantrell by birth, self-dubbed Lazarus Lake—has turned this terrain into the stage for a legendary ritual: the Barkley Marathons, held yearly (traditionally on Lazarus Friday or April Fool's Day) outside Wartburg, Tennessee. Lake (known as Laz) calls it "The Race That Eats Its Young." The runners' bibs say something different each year: SUFFERING WITHOUT A POINT; NOT ALL PAIN IS GAIN. Only eight men have ever finished. The event is considered extreme even by those who specialize in extremity.
2) Sponsored (and awesome): Check out Harvard's new digital social science lab, which has studies on politics, race, geography, and much more. All you need is an email address and five minutes to join Harvard's digital research community and have a chance to win a $50 Amazon gift card each month. Get started here.
3) "Sarah Parcak Is a Space Archaeologist. Soon You Will Be Too" (Wired, 11 minutes, February 2016). Let's go right to the quote.
Among her other titles, Parcak is a space archaeologist. (Yes, she's aware of how cool that sounds.) This means she spends her days scrutinizing satellite imagery of Earth for clues that could lead to long-buried historical artifacts. In the metaphorical scenario unfolding at our table, the bowl is the artifact; and the napkin is whatever is on top of it. "What happens," she says, "is that any time you have anything buried, it's going to be covered by three things: vegetation, some kind of soil or sand, or something modern."
4) "License to (Not) Drive" (Backchannel, 22 minutes, January 2016). I'm very excited about self-driving cars — I think they'll be the most significant technological advancement in a generation (assuming that the advent of the Internet was this generation's, I guess). This article is "an exclusive look behind the scenes at Google's autonomous car testing center" per the subhead, and it doesn't disappoint.
5) "The Board Game of the Alpha Nerds" (Grantland, 27 minutes, June 2014). The board game is Diplomacy. If you haven't heard of it before, that's OK; I highlight that part below. And the first sentence quoted below is very, very true — you can play it with your friends, but only once (because they won't be your friends afterward, at least if you play to win).
If you've ever heard of Diplomacy, chances are you know it as "the game that ruins friendships." It's also likely you've never finished an entire game. That's because Diplomacy requires seven players and seven or eight hours to complete. Games played by postal mail, the way most played for the first 30 years of its existence, could take longer than a year to finish. Despite this, Diplomacy is one of the most popular strategic board games in history. Since its invention in 1954 by Harvard grad Allan B. Calhamer, Diplomacy has sold over 300,000 copies and was inducted into Games Magazine's hall of fame alongside Monopoly, Clue, and Scrabble.

The game is incredibly simple. The game board is a map of 1914 Europe divided into 19 sea regions and 56 land regions, 34 of which contain what are known as "supply centers." Each player plays as a major power (Austria-Hungary, Turkey, Italy, England, France, Russia, Germany) with three pieces on the board (four for Russia) known as "home supply centers." Each piece can move one space at a time, and each piece has equal strength. When two pieces try to move to the same space, neither moves. If two pieces move to the same space but one of those pieces has "support" from a third piece, the piece with support will win the standoff and take the space. The goal is to control 18 supply centers, which rarely happens. What's more common is for two or more players to agree to end the game in a draw. Aside from a few other special situations, that's pretty much it for rules.

There are two things that make Diplomacy so unique and challenging. The first is that, unlike in most board games, players don't take turns moving. Everyone writes down their moves and puts them in a box. The moves are then read aloud, every piece on the board moving simultaneously. The second is that prior to each move the players are given time to negotiate with each other, as a group or privately. The result is something like a cross between Risk, poker, and Survivor — with no dice or cards or cameras. There's no element of luck. The only variable factor in the game is each player's ability to convince others to do what they want. The core game mechanic, then, is negotiation. This is both what draws and repels people to Diplomacy in equal force; because when it comes to those negotiations, anything goes. And anything usually does.
6) "How an Episode of The Simpsons is Made" (The Verge, 15 minutes, October 2015). Showrunner Al Jean sat down with The Verge's Chris Plante to talk about the magic behind the magic.
Have a great weekend!