Baseball's Unluckiest Fan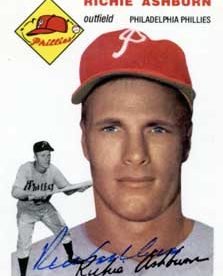 In most sports, when the ball (or puck or whatever) leaves the play and ends up it the possession of a fan, that's only temporary — the fan is expected to return the ball to the teams so that play can continue. Baseball, though, is an exception. If a player hits a ball into the stands — and this happens often — the fan who ends up with it can keep it as a souvenir. For a young kid or the die-hard fan alike, catching a ball can be a thrill.
And not all balls are created equal. Home runs typically are more sought after than foul balls, and you probably would prefer to get a ball hit by a star, all else equal. And milestone homers are particularly special. For example, on August 7, 2007, Barry Bonds hit his 756th career home run, breaking the mark held by Hank Aaron for decades. That ball fetched more than $750,000 at auction.
Almost fifty years earlier — almost to the day — nothing quite as valuable happened. In fact, the opposite was true.
Richie Ashburn had a fifteen year Major League Baseball career and was named to the All-Star Game six of those years. He only hit 29 home runs over that career so if you have a Richie Ashburn home run on your shelf, that's pretty rare (although there's not much of a market for it). But on August 17, 1957, Ashburn, then with the Philadelphia Philies, hit a ball hard enough to cause some damage — not to the other team, but to a fan. A foul ball off Ashburn's bat flew into the stands, striking a fan named Alice Roth (who was, coincidentally, the wife of a local newspaper editor). Play stopped as ushers tended to Roth; the ball broke her nose. They called for a stretcher and she was carried out of the stands.
But they didn't carry her quickly enough. When play resumed, Ashburn stepped back up to the plate and set himself a record. It wasn't as notable or valuable as Bonds' 756th home run, though. Ashburn proceeded to, once again, foul off a pitch. And once again, that foul ball flew into the stands — and once again, it hit Alice Roth. Even the stretcher, it seemed, wasn't a safe enough place for this star-crossed fan.
The team made it up to Roth as best they could. Ashburn himself visited Roth in the hospital while she recuperated, and after she was back on her own two feet, the team gave her the VIP treatment.  They invited her family to another game, for free (although she sat further away from the action), gave them a tour of the clubhouse, and gifted her an autographed baseball. Roth's grandkids were thrilled with the experience; per one book, one even asked, "Grandma, do you think you could go to an Eagles game and get hit in the face with a football?"
Unfortunately for them, Richie Ashburn never played in the NFL.
Bonus fact: In 1998, actor Charlie Sheen, who starred in the 1989 baseball movie Major League (and its 1994 sequel), decided he wanted a home run ball for himself. In April of that year, he bought 2,615 seats (for about $6,500 total) to the same game, encompassing, roughly, the 20 rows behind the left-field fence. He and four friends patrolled the area waiting for a home run. But one never came. Sheen and friends went home empty-handed.
From the Archives: Major League Baseball's Dirty Little Secret: Mud.