Bernie Madoff's Other Swiss Bank Account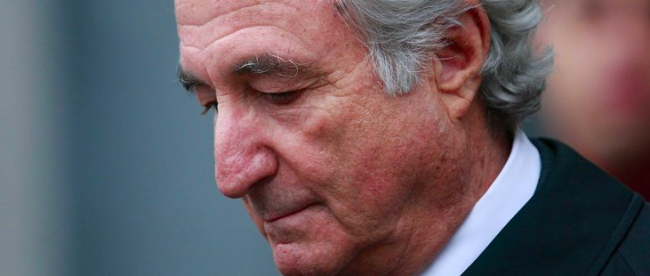 In December of 2008, federal authorities arrested financier Bernie Madoff, alleging that he had been running the largest Ponzi scheme in history. The scandal caught the world's attention — not only was it among the first major moments of a global financial downturn, but the details of the scheme were brazen. Through a complicated scheme, Madoff bilked his nearly 5,000 clients out of over more than $65 billion dollars. Madoff pled guilty three months later, was sentenced to 150 years in federal prison, and was ordered to repay $170 billion in restitution (which will likely never be repaid). And he also agreed to never act as a financial advisor or the like again.
But neither this agreement nor a prison sentence could stop Madoff from following his passion for manipulating markets.
In 2017, Audible released a podcast miniseries titled "Ponzi Supernova." The six-episode journey led by longtime Madoff reporter Steve Fishman explored Bernie's new life behind bars. In prison, Madoff wasn't just a normal inmate; as Fishman told Quartz, "he stole more money than anyone in history, and to other thieves, this makes him a hero." To the rest of the prison crowd, Madoff was a celebrity — their celebrity.
And he was also their only way to get some hot chocolate.
Madoff, no stranger to how markets work, "continued applying his business instincts in prison," Fishman told Marketplace. Noticing that his fellow inmates enjoyed the packs of Swiss Miss instant hot chocolate typically available at the prison commissary, Madoff sprang into action. Continues Fishman: "He bought up every package of Swiss Miss from the commissary and sold it for a profit in the prison yard. He monopolized hot chocolate! He made it so that, if you wanted any, you had to go through Bernie."
But how does a lowly prisoner do something like that? After all, one can't simply walk up to the commissary and demand that they give you all the hot chocolate packs in inventory; per Vice, "the limit per prisoner is eight packets,." Madoff, therefore, needed an inside man, someone working at the commissary who would skirt the rules on his behalf. And it turned out he had one: himself. In 2016, a year before Fishman's reporting hit iTunes, ABC News reported that upon entering prison, "Madoff was given a plum job in the prison commissary, selling snack items to other inmates" — and, apparently, selling himself more Swiss Miss than the rules would typically allow.
Bonus fact: In late 2008, a University of Colorado psychiatry professor, Stephen Greenspan published a book titled  "Annals of Gullibility: Why We Get Duped and How to Avoid It." The book — in at least one case, hailed as the definitive treatise on gullibility and avoiding it — was published just two days before Madoff was arrested. That's a coincidence, sure, but for Greenspan, it probably hurt his book launch. Why? Because as the Denver Post reported, the expert on gullibility turned out to be one Madoff's victims.
From the Archives: Zapped Chocolate: It's hot. It's chocolate. And it's an accidental discovery, all rolled into one.