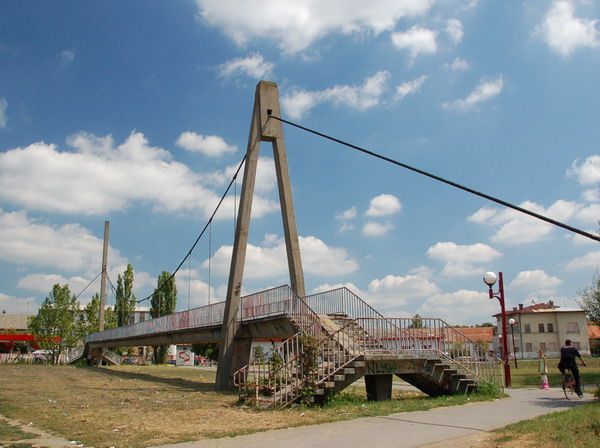 Zrenjanin, Serbia, is the sixth largest city in the country and home to 75,000 people and about a dozen bridges — it is called the "City of Bridges" by some. One of those bridges, though, is patently unnecessary. You can walk over it — it's a bridge, after all — but you can also walk around it and under it as well. It's perfectly useless and has been for decades. And it probably is going to remain so for years to come.
Meet the aptly named Dry Bridge.
The Bega River runs for about 150 miles (250 km) from Romania into Serbia. For years, one of its small, meandering secondary bends split the city of Zrenjanin into two parts — it formed a shallow, moat-like ring around the "Mala Amerika" ("Little America") neighborhood. But in 1962, the town built the foot bridge pictured above. It served its purpose, connecting pedestrians with the otherwise-isolated section of town. But in 1985, the city administrators had a better idea. They filled in some sections of the loop, allowing for natural-feeling footpaths to take shape, as seen on this aerial map. (The "A" marker shows the location of the bridge.)
Since 1985, the river bend comes up near the bridge but does not quite pass under it. (The effect is obvious in this photograph.) In rendering it obsolete, many town officials wanted to also tear it down, instead replacing it with a sports complex. But area residents objected. Dry Bridge is the only bridge in the world which does not bypass a physical obstacle (other than the incredibly small Trinity Bridge in Crowland, Linconshire, England, seen here) making it a bona fide tourist attraction. As of 2008, the bridge is still intact — albeit not very much in use.
Bonus fact: Bridge, the card game, has nothing to do with the over-river passageways. Its rules come from another trick-taking card game called "biritch," believed to be Russian in origin. When English speakers pronounced "biritch," listeners heard it as "bridge" instead, and the more Anglo-sounding moniker stuck.
From the Archives: Kentucky, Disconnected: How a river bend causes part of Kentucky to become detached from the rest of the state.
Related: A 5 foot long bridge for your backyard. As pictured, having a waterway for it to transverse is optional.