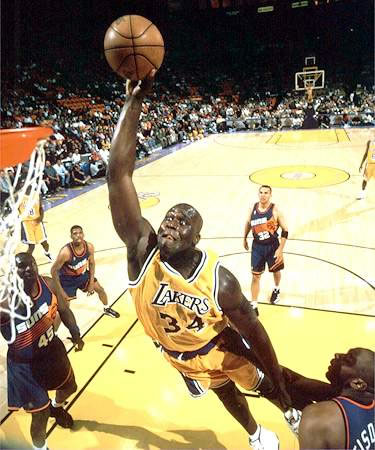 A typical door opening is about 6'8″ (2.03 meters) high. And if you're an American who is too tall to get through one without ducking, there's a very good chance that you're going to play basketball. Perhaps embarrassingly so, others simply assume it.
But that assumption is not entirely unwarranted — especially if you hit the magic seven foot threshold.
From 1992 until 2011, the NBA had a total of 88 players who were born in the United States and claimed a height of at least 7'0″ tall. The vast majority — 62 of the 88 — are exactly seven feet, so there's a chance, as one blog investigating the question speculated, that some may be rounding up. But even so, even fifty 7'0″-plus guys doing the same thing would be a lot. Because there aren't a lot of them out there.
We don't know how many seven-foot Americans there are, simply because no one collects that data. But we do know that 7'0″ and above is an extreme height. According to the Centers for Disease Control, per a report by Sports Illustrated, only five percent of adult American men are 6'3″ or taller. Using the CDC data, SI further estimated that "fewer than 70" men ages 20-40 born in the United States are seven feet or taller. SI claims that such a man has a 17% chance of being an NBA player.
And that seems low, given the list of 88 linked above (which covers a twenty year range, although probably a significantly wider age range). It's likely that more than half of the seven footers in the U.S. end up playing NBA basketball, even if only for a minute or two.
And while this seems like a pretty neat destiny, it's limited to basketball. While being super tall has obvious problems — ducking through doorways being the least of them — it also doesn't come with a ticket to success in any other pro sport, at least not in the United States. Only one seven footer (Richard Sligh) has ever played in the NFL; a defensive tackle, he lasted eight games in 1967, and never registered a tackle. The tallest player in Major League Baseball history, Jon Rauch, is "only" 6'11. (There's a 7'1″ in the high minors, but he isn't finding a lot of success there.) And the tallest NHL player, Zdeno Chara, is a pedestrian-seeming 6'9″.
Bonus fact: Being incredibly tall isn't great if you're a baseball player, but being rather short has an advantage — you come away with a very small strike zone. On August 19, 1951, St. Louis Browns owner Bill Veeck put a 3'7″ performer by the name of Eddie Gaedel in as a pinch hitter, wearing uniform number "1/8." The opposing pitcher, finding it nearly impossible to throw a strike, walked Gaedel on four pitches; Gaedel was then removed for a pinch runner. This would be Gaedel's only time at the plate, as the next day, the league office voided his contract, calling Veeck's move a "mockery of the game." The league also subsequently passed a rule to require that the Commissioner's office review and approve all contracts before a player can take the field.
From the Archives: Shaq Attack: How Shaquille O'Neal, the 7'1″ former NBA star pictured above, found a second career — in law enforcement.
Related: Kazaam, the 1996 movie, starring Shaq. 3.4 stars on 49 reviews, but most of the positive ones are sarcastic. For an honest review, try this one, which notes:  "You can pick up a previewed VHS copy here on Amazon.com for $0.85. I find it funny that a blank VHS tape will run you $1.00. I saved myself some money by buying a few copies of Kazaam instead of blank tapes and used them to record 'Small Wonder' reruns."