How the House at Pooh Corner Got Built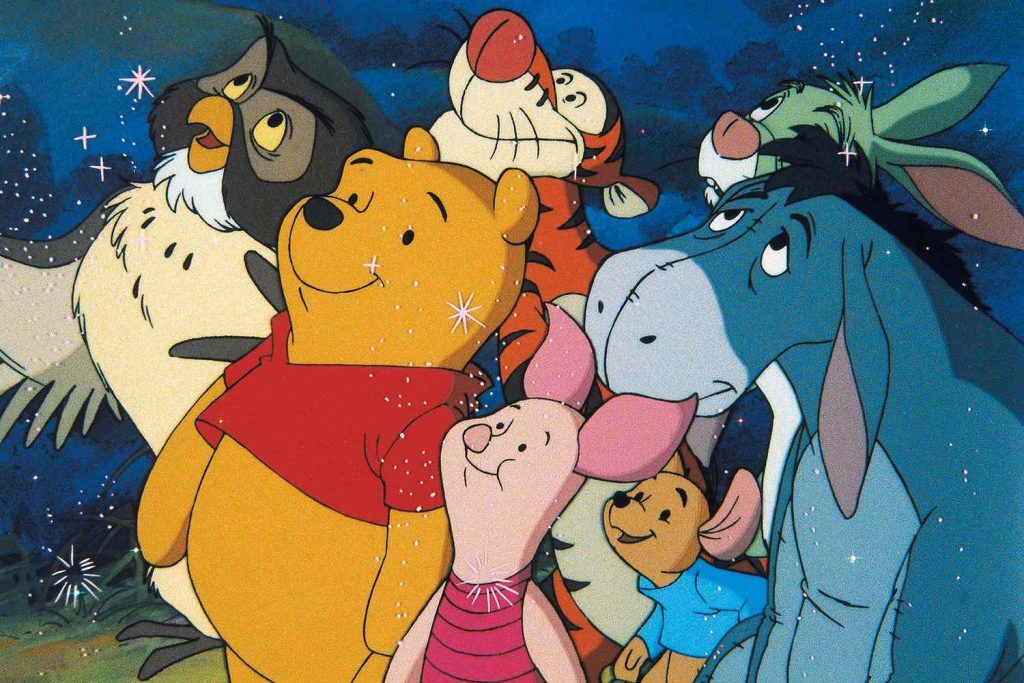 If you are a fan of movies from the 1980s, you certainly know who Kenny Loggins is. Among the hits from the guitarist/singer/songwriter are the title track from the 1984 movie "Footloose" and the song "Danger Zone" from "Top Gun." Over the course of his career, Loggins got an early start as a recording artist; at age 23, he, partnered up with another singer-songwriter named Jim Messina to form "Loggins and Messina." The duo released their first of six studio albums in 1971 and in 1977, Loggins went solo; since then, he has released fourteen studio albums, two live albums, and 31 singles.
And he had a little help from a high school girlfriend.
As a high schooler, Loggins wrote a song called "House at Pooh Corner," a nostalgic look at childhood through the eyes of famed cartoon Winnie the Pooh and his not-quite-as-famous cartoon friend, Christopher Robin. You can listen to the song at that link, and you should; it's a touching song about growing up, and really, the Winnie the Pooh universe is a pretty great anchor for any sort of jaunt of that sort. Loggins was particularly enamored with the song — but he was only 17 years old when he wrote it, and definitely not famous yet. It would still be a few years before he and Jim Messina began collaborating and almost a decade before Loggins launched his solo career.
But one evening, he was playing guitar at a party, and after he ran through some of his songs — including the one from the Poohniverse — three guys came up to him. They were part of the Nitty Gritty Dirt Band, a country rock group that was signed to Liberty Records and had already released a handful of albums. As Loggins later told Country Music Television (CMT), this was his big break: the established artists "liked the song about the Pooh bear, and they wanted to record it. And I was pretty excited because I'd never had a song recorded before." The Nitty Gritty Dirt Band took the song to their label, hoping to add it to their next album.
The record executives said no. The reason? They were afraid of the lawyers.
Winnie-the-Pooh has been around since 1926, when author A.A. Mline published a book under the same name. The Walt Disney Company, though, obtained most of the rights around the characters in 1951; the characters pictured above are the intellectual property of the Disney company. When Disney got wind of the song, their lawyers got involved — and slammed on the brakes. As Loggins recounted to CMT, Nitty Gritty Dirt Band member John McEuen informed Loggins that the song was a no-go: "it appears that that bear is the single most copyrighted sucker in the history of literature because we've been getting phone calls every day from the Disney lawyers who want us to cease and desist any music about their bear."
As you'd expect, Loggins was upset; what 17-year-old aspiring musician wouldn't be crushed to hear that some legal issues were between him and his dreams? He told his girlfriend at the time, Marnie Walker, what had happened, and she saved the day. Loggins (somehow) didn't know it at the time, but Marnie's father was Card Walker — the president of the Walt Disney Company.
Marnie brought Loggins home to meet her dad and Loggins played the song for him. It's not clear if Card Walker liked the song, but it's clear that he liked his daughter; Loggins told CMT "I remember him looking down at me, looking sad, because he knew he was trapped." He made sure that Disney gave Loggins the permissions he needed.
The Nitty Gritty Dirt Band ultimately recorded the Pooh song as well as some of Loggins' other works. And Loggins and Messina, in their 1971 debut album, sing "House at Pooh Corner." as linked above. The song was a success, peaking at number 53 on the Billboard Hot 100 list. In 1994, Loggins — then a solo artist and the father of a four-year-old — recorded his first-ever kids' album, titled "Return to Pooh Corner." The title track, here, is an updated version of "House at Pooh Corner," with an additional verse referencing Loggins' son.
Bonus fact: If you're a movie buff, you may have heard of the most recent Winnie the Pooh movie — and you know not to take your kids to it. It's titled "Winnie-the-Pooh: Blood and Honey" and it's a horror movie (and not a very good one). Why would Disney make a bad horror movie featuring its beloved children's character? Well, they didn't. "Winnie-the-Pooh: Blood and Honey" is an independent film written, directed, and produced by a British filmmaker named Rhys Frake-Waterfield, and with a budget under $100,000. As Variety explained, Waterfield was able to make the film because the early Winnie-the-Pooh books "are now out of copyright" and, while "Disney retains exclusive use of their interpretations of Pooh Bear and his friends," the rights don't extend to everything. The characters, therefore, are designed to be different; the slasher Pooh, for example, wears a lumberjack outfit instead of his Disney-given red shirt. (Oh, and he and Piglet are extraordinarily violent.)
From the Archives: Winnie the Pooh-Poohed: The very controversial — for a stupid reason — Winnie the Pooh-themed playground.