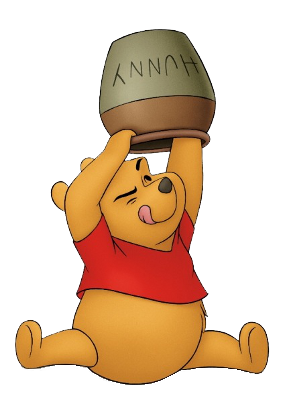 Winnie the Pooh is a fictional cartoon bear, created by writer A.A. Milne in 1924. He likes honey, his friends (including Piglet, Christopher Robin, Eeyore, Roo, and on most days, Tigger, too), and his red t-shirt. He is not, however, fond of pants, at least not enough to warrant wearing a pair.
Which is why he's not welcome at playgrounds in part of Poland.
The Polish town of Tuszyn is located just south of Lodz (here's a map) and is home to about 7,200, per Wikipedia. It's probably a lovely town, but unless you speak Polish, it's hard to say that definitively. There's not a lot of English-language information online about the Tuszyn — except for the details surrounding an imbroglio about the pants-free, anthropomorphized bear mentioned above.
In November of 2014, the town decided to name a local playground after a children's character. The idea, likely, was that if the playground was branded with a popular icon, children would be more likely to come and play. Winnie the Pooh was among those characters on the list, and the town government began discussing whether he'd be a good fit. One of the town councillors, a man named Ryszard Cichy, objected. According to the Croatian Times, which obtained a recording of the meeting, Cichy's problem with Poo was that "it doesn't have a complete wardrobe. It is half naked which is wholly inappropriate for children." (Cichy further noted that there is a Polish-created cartoon bear which "is dressed from head to toe, unlike Pooh who is only dressed from the waist up.")
The ridiculousness of such an objection should have been enough to end the debate right there, and not in Cichy's favor. After all, many cartoon characters wear some type of clothing but lack pants. (If you need examples, check out Yogi Bear, Donald Duck, Porky Pig, and Squidward.) Further, real bears typically don't wear pants; it's odd to assume Pooh would deviate from the naked-by-default rule simply because he wears a shirt. But politicians have a habit of doing strange things — and one-upping their colleagues with even stranger reactions. That's what happened in Tuszyn, at least.
In response to Cichy's objections, another politician claimed that the reason Pooh didn't wear pants is because he abstains from intimate relations and is a "hermaphrodite" — which probably wasn't the word the politician was looking for, but makes for an interesting reason to not wear pants. Another politician went even further (and this is the part that some readers may find too graphic to read, so you may want to just skip to the next paragraph). Councillor Hanna Jachimska asserted (baselessly) that A.A. Milne had, later in life, made the decision to change Pooh pretty significantly: "The author was over 60 and cut his [Pooh's] testicles off with a razor blade because he had a problem with his identity." Yikes.
News of the debate made headlines around the world and a local Polish TV station asked Tuszyn's citizens what they thought of their now-famous representatives. One man, as relayed by News Corp Australia, summed it up perfectly: "Winnie the Pooh was a bear with low intellect, and unfortunately, this is also evident in those who are concerned with this topic." (Present company excluded, of course.)
Bonus Fact: Don't assume that the Tuszyn ban on Pooh is widely accepted throughout Poland. In Warsaw, at least, Pooh is revered. There's even a street named after in his honor — "Ulica Kubusia Puchatka, or "Winnie the Pooh Street." Whether honey is sold there is unreported, and there doesn't seem to be a playground there, either.
From the Archives: No Necks Allowed: Why Yogi Bear wears a tie.
Take the Quiz: Unscramble these terms from the Pooh universe.
Related: "The Tao of Pooh" by Benjamin Hoff. A modern classic. 4.4 stars on nearly 500 reviews.