How to Punch Your Way Out of Prison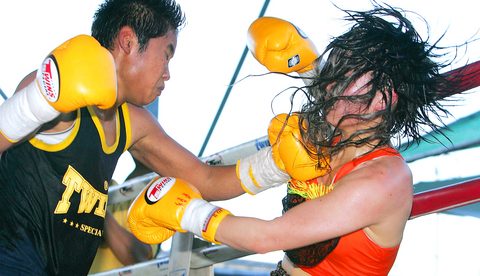 In general, if you're in prison, fighting with others is a really easy way to get yourself in further trouble, even to the point of having some time added to your sentence. Violent behavior of any kind is disapproved of and prohibited.
Except in Thailand — kind of.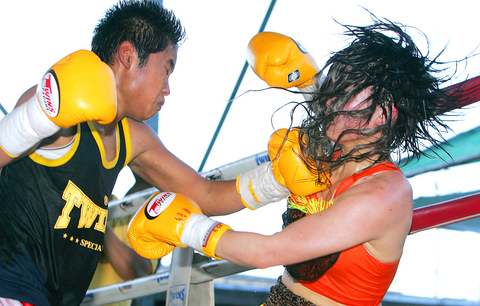 The woman beating the living daylights out of the other woman in the picture above is named Siriporn Taweesuk; the woman on the receiving end of the left hook (or jab, maybe?) is Japanese boxer Ayaka Miyano. This boxing match took place on April 3, 2007, and it wasn't just any other boxing match. The two pugilists were competing for the World Boxing Council's (WBC) Light-Flyweight Female belt, and Taweesuk won by unanimous decision. It seemed, by all accounts, to be a normal championship boxing match.

But it wasn't. The match between Miyano and Taweesuk took place at Klong Prem Central Prison, a maximum-security prison in Thailand. And if you think that's a weird venue for a boxing match, you're right, but that's not the least of it. Klong Prem hosted the match because Taweesuk wasn't just one of the competitors — she was also an inmate. A convicted drug dealer, Taweesuk was seven years into a ten-year prison sentence.

Boxing holds a special place in the hearts of the Thai populace; the sport is the first in which Thailand took an Olympic gold. And as a result, Taweesuk was rewarded with more than just a title belt. As TIME reported, "Thailand's sports-mad Corrections Department rewarded Siriporn's feat by shaving three years off her sentence. That means that on June 13, the Black Rose will sashay out of the high-security Women's Correctional Institution for Drug Addicts, where she first learned boxing three years ago in part to protect herself from more aggressive jail-mates."

Since then, the Thai Department of Corrections has revisited the idea of letting inmates punch their way out of prison. And they've decided they really, really like it. In 2013, the Department instituted a program known simply as "Prison Fight" (with the amazing tagline "Battle For Freedom"), where inmates literally fight for their freedom. Men's Journal describes the absurdity and, perhaps, the brilliance of the program:
In 2012, Kirill Sokur, a 35-year-old Estonian émigré and fight promoter, helped devise a new breed of behind-bars event: one that would match up, for the first time, Thai inmates and Western pros. He called his event Prison Fight and came up with the suitably catchy Battle for Freedom slogan. Sokur offered prison officials a deal: He'd provide the ring and the Western fighters and drum up attention from local newspapers and TV stations. The matches would be dubbed "charity events" – a nod to the fact that rehabilitated prisoners could earn their freedom through battle – which would make the prison brass look good.

In return, Sokur would film the fights with an eye toward eventually selling DVDs or perhaps producing some kind of reality show. Working with funding from an undisclosed source, Sokur has poured thousands of dollars into his venture in the hopes of finding a ready audience: Buoyed by the UFC's worldwide success, the international market for fight videos has soared in recent years to become an annual multimillion-dollar industry.
Sokur's theory was simple: few could resist a convicted murderer going up against a trained professional fighter, with the former's liberty on the line.
While this is definitely an animalistic appeal to the worst instincts of boxing fans, the Department of Corrections sees it as a win-win: the program helps amplify the country's love of boxing, and it acts as a rehab program as well. The inmates, per Al Jazeera, can't simply punch their way out of prison; they are "also expected to display good behavior and personal development in addition to [their] fighting prowess." Demonstrating genuine remorse and a true desire to build a better life, though, starts in the boxing ring.
Bonus fact: A boxer by the name of Thomas Hamilton-Brown represented South Africa in the 1936 Olympic Games, in the lightweight (up to 135 pounds or 61.2 kilograms) division — and he lost his first-round match, ending his Games early. Per Olympic historian David Wallechinsky, though, things may have been different. In 2010, Wallechinsky told Yahoo! Sports that Hamilton-Brown "softened the disappointment of his loss by going on an eating binge. Then it was discovered that there had been a scoring error and he had actually won the fight. Unfortunately, he had already put on five pounds and was unable to get rid of it by the next day's weigh-in" and was therefore disqualified.
From the Archives: Boxed Out: A little-known boxing scandal.