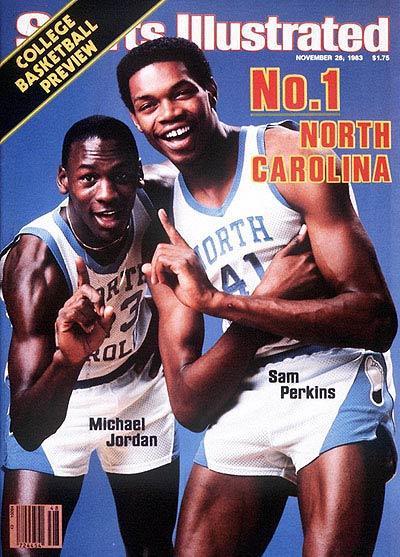 Ask virtually anyone who the greatest basketball player of all time is and they'll reply with the name Michael Jordan. His legacy is astounding; even Magic Johnson, an all-time great in his own right, has been quoted as saying "There's Michael Jordan and then there's the rest of us." And his effect on the game of basketball is undeniable, as fans and players alike aimed to emulate him. The ad campaigns featuring him even encouraged this. Most explicitly, in 1992, Gatorade released an ad called "Like Mike" (watch it here) in which a chorus of voices sang their desire to be more like His Airness. And Nike had another ad (seen here), one hawking his trademark Air Jordans sneakers with the catch phrase, "It's gotta be the shoes" as a tongue-in-cheek reason as to why Jordan was such a good basketball player.
While Jordan's effect on shoe wear is impressive, it's not the only effect he had on fashion. Most likely, Michael Jordan also changed the way we think about gym shorts.
Michael Jordan played college basketball for the University of North Carolina from 1981 to 1984. And as seen above, the shorts he wore were, colloquially, "short shorts." These were the common garb of the era and for a generation or two earlier, exhibited by Larry Bird and Magic Johnson, Julius Erving, and even Wilt Chamberlain. Jordan's shorts — at least the UNC ones — were of particular importance to him. According to Jordan's official NBA biography, when he made his way into the NBA, he wanted to keep his college experience close by — so he wore his North Carolina shorts under his NBA ones.
This decision, per the NBA's website, had an interesting side effect: Michael Jordan's UNC short shorts wouldn't fit under his Chicago Bulls short shorts, so he had to wear baggy, knee-length Bulls shorts instead, as seen here. In doing so, he broke the mold set forth by players before him. As proof, in the above-mentioned "It's gotta be the shoes" ad, you'll note that at the 0:13 mark, Mars Blackmon (played by Spike Lee) asks if the secret to MJ's game "is the extra long shorts." Even then, the shorts were still considered a deviation from norms of proper basketball apparel.
But soon, these extra long shorts became the favored style. By 2003, almost every single NBA player had jettisoned the short shorts for the longer variety (with future Hall of Famer John Stockton being a notable holdout). Looking back, it is clear that Jordan had something to do with this change in basketball fashion trends. In 1991, the University of Michigan's Fab Five, featuring two future NBA All-Stars in Chris Webber and Juwan Howard, wore the same type of shorts as Jordan did — to the extreme point where ESPN, in a documentary about these five Michigan freshman, featured their shorts on a promotional poster. And in that same documentary, the Fab Five explained why they wore the long shorts:
They wanted to be like Mike.
Bonus fact: The fifth floor of the Supreme Court of the United States has a gym in it — one which includes a basketball net. It's, jokingly, called "the highest court in the land."
From the Archives: Shaq Attack: About former NBA star Shaquille O'Neal's off-season dealings with law enforcement — or, more accurately, as law enforcement.
Related: A poster of Michael Jordan in a classic pose — with his hands on his shorts.