John Wilkes Booth's Heroic Brother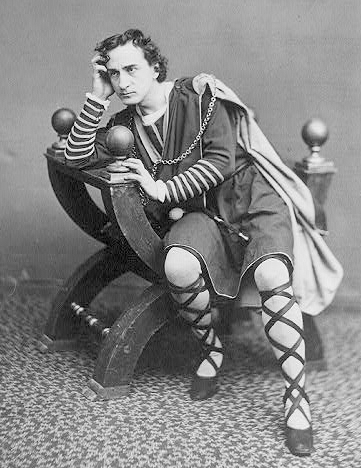 On April 14, 1865, just days after the end of the American Civil War, President Abraham Lincoln attended a play at Ford's Theater in Washington, D.C. That evening, John Wilkes Booth shot the president; Lincoln died the next day.
Before the assassination, Booth was well known regardless — as a stage actor who would regularly land leading roles at top theaters. Booth was the son of a famous actor, Junius Brutus Booth, and two of his brothers, Edwin and Junius, Jr., were also actors. Edwin (pictured above), in particular, was famous in his own right; more so than his brother John Wilkes, before the assassination. A critically acclaimed Shakespearean actor in his own time, Edwin Booth is often listed among the best American stage actors in history.
In late 1864 or early 1865 — the exact date is unknown, but certainly before the assassination of Lincoln — Edwin Booth found himself on a train platform in Jersey City, New Jersey. A young man, 21 years old at the time, was waiting in line to buy a ticket into a sleeper car. The young man, one of many people in a large crowd, was pushed up against the idle train car itself. The train began to move, and the young man fell into the gap between the platform and the train. Booth grabbed the man by his coat collar and brought him safely back onto the platform.
The young man knew who Edwin Booth was, given the latter's stage-earned fame. But it would be a few months later — and after the assassination — that Edwin Booth would learn that the young man whose life he saved was Robert Lincoln, the oldest son of Abraham and Mary Todd Lincoln. History suggests that Edwin found comfort in this fact — he, unlike his pro-Confederacy assassin brother, was a New York resident and staunch supporter of the North's cause.
Bonus fact: It was not uncommon for Civil War era families to be split in their sympathies, sometimes to absurd extremes.  Thomas Leonidas Crittenden, for example, was a brigadier general for the Union Army; his brother, George, was a brigadier general for the Confederates. (The two never faced in battle, though.)
From the Archives: Abraham Lincoln Created the Secret Service the Day He Was Shot: 100% true, but not what you think.
Take the Quiz: Name the presidents these people tried to assassinate.
Related: "Good Brother, Bad Brother: The Story of Edwin Booth and John Wilkes Booth" by James Giblin. Four stars on 10 reviews.