In 1993, the chancellor of the National University of Colombia, Antanas Mockus, addressed a crowd of students — a few thousand, by some estimations — only to find the student body hostile. Mockus was the subject of booing and the occasional thrown item, so he reacted. He dropped his pants, turned around, and mooned the student body.
Which is how he became the mayor of Bogota.
Kind of. Mockus' antics were not well received by the University's leadership, and he was forced to resign his post. But in Bogota, a city of over 7 million, he became an overnight star — and one with a reputation for honesty. (How "mooning the student body" leads to "hey, this guy's an honest man!" is anyone's guess, but that's what happened.) As the city's other candidates were seen as part of the so-called "political machine," Mockus' newfound reputation became politically valuable. He ran for mayor as an independent — something rarely if ever seen in Bogota — and the man who mooned his students won.
And then, things got even weirder. And strangely, better.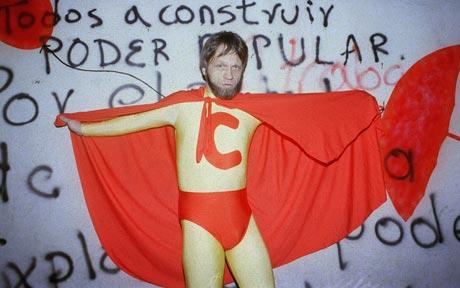 As mayor, Mockus' irreverence took center stage. He continued his eccentricity — in the picture above, as taken and described by the Daily Telegraph, Mockus took to the streets as a superhero of sorts — "SuperCitizen" — and started cleaning up the city. Literally. He went around picking up garbage, trying to set a good example — and using the tongue-in-cheek costume as a way to gain a bit more visibility than his title would normally garner him.
Tactics like these were par for the course during Mockus' two non-consecutive terms. He enacted a series of "Women's Nights," encouraging men to stay home with their children and letting their wives have a night on the town. (For Mockus' part, he gave the male police officers the night off, and asked the female officers to be the night's patrol.) And to encourage water conservation, he appeared on television, showering, showing the proper way to do so and save water at the same time. (He soaped up with the water off, basically.) Both campaigns were successful — his Women's Nights attracted 700,000 women over the course of a few days, and water use went down measurably.
But most notably, Mockus' creativity shone when it came to stemming Bogota's rampant traffic-related fatalities. First, he painted the streets with 1,500 or so stars, each signifying where a pedestrian was struck by a car and ultimately died. But that wasn't enough. As reported by the Harvard University Gazette (replete with must-see picture), Mockus surmised that his constituents were not motivated by fear of being struck by a car, but could be motivated by embarrassment and/or shame. So he trained people to be mimes (!) to mock jaywalkers — 420 mimes, total — and, amazingly, it worked. Before Mockus' programs went into effect, traffic fatalities were at about 1,300 a year; after, they dropped to 600 — more than half.
Mockus' political successes, however, did not extend past Bogota. In 2010, he unsuccessfully sought Colombia's presidency, coming in second place with only 27.5% of the vote.
Bonus fact: Citizen superheroes aren't unique to Bogota. Seattle has a bunch, called the Rain City Superhero Movement. You can see some of them in action here. One of the more prominent members, Phoenix Jones (really Benjamin Fodor) was recently brought in on assault charges stemming from a pepper spraying incident, but as SeattlePI reports, he will not be brought up on charges.
From the Archives: False Arrest: Why use mimes when you can use cardboard cutouts?
Related: "A Gringa in Bogotá: Living Colombia's Invisible War" by June Carolyn Erlick, focusing on the black market of Bogota. Five stars on three reviews, and available on Kindle.