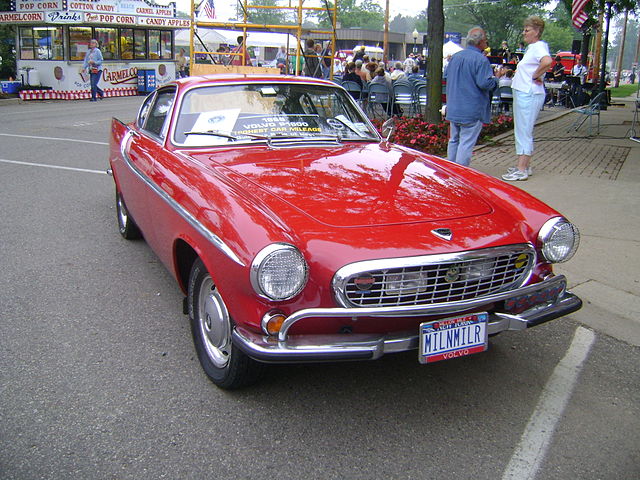 The distance from New York to Los Angeles is about 2,800 miles. From Cairo to Johannesburg, about 4,000 miles. Paris to Seoul? 5,500 miles. From the Earth to the Moon? On average, about 300,000 miles.
The amount of mileage on Irv Gordon's 1966 Volvo P1800, pictured above? A bit under 3 million miles.
Gordon is the Guinness world record holder for driving the most miles in the same vehicle by a non-commercial driver — and he set the record in 1998, at 1.69 million miles. He's been driving the same cherry red Volvo since he bought it in June of 1966 when he purchased it for $4,150 — almost a full year's salary for the school teacher. According to Volvo's official website, he immediately fell in love with it, logging 1,500 miles in the first two days he had it. As of November, 2011, Gordon's odometer reads 2.9 million. Or would, if the counter had enough digits. It's rolled over 29 times.
Becoming a multi-million miler did not happen by design. Before he retired from teaching, Gordon's daily commute was about 125 miles round trip and a driving enthusiast (obviously) naturally, he rang up 500,000 miles over his first ten years with the car. Since he retired a few years back, driving for the sake of driving has become his pastime. The average driver, nationally, rings up 15,000 miles driven per year; in Gordon's 44 years behind the wheel of his Volvo P1800, he's averaging more than four times that. And three million is within reach.
The 71 year old jokes that his health, and not the car's, is going to be the most likely reason for him not hitting the 3 million mile mark. The secret to his success? He changes the oil every 3,000 to 3,500 miles or so; changes the transmission fluid every 25,000 miles, and replaces the spark plugs at about the same time. He doesn't use synthetic motor oil, either, but not because it's scientifically bad; as he told Hemmings Motor News, synthetics weren't around "for the first two million miles," and he doesn't see the value of switching at this point. After all, why fix what isn't broken? And just to be extra careful, he doesn't eat or drink in the car — he pulls over if he wants a snack.
Oh, and no one else can drive the P1800, not even a mechanic: "The car never feels the same to me if somebody else has been driving it — I don't know what to tell you."
Bonus fact: Gordon's record is for non-commercial drivers. That's good news for UPS driver Ronald Sowder who, according to UPS's website, in 2007, passed the three million mile mark — and did so without a single traffic accident.
From the Archives: Stereotypical Concept Car: Another amazing Volvo… but not for really great reasons.
Related: Your very own red Volvo P1800 — for under $10. (It's probably not highway safe.)