Neither Rain Nor Sleet Nor Crazy Address Will Prevent The Mail Delivery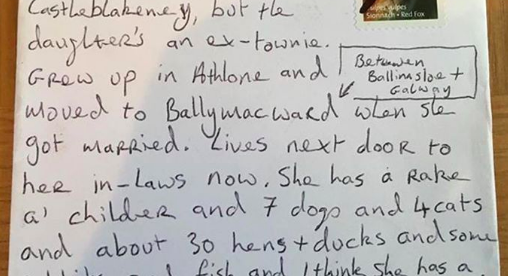 In the early 1990s, I made a bet with my brother. I don't remember, exactly, what the bet was over — perhaps a baseball game? — but in any event, we made a bet, and he lost. I was in college at the time and he had to pay up. But I didn't want money. I wanted a bagel.
I didn't particularly want to eat the bagel, and given that he lived about 150 miles away and, if memory serves, didn't have a driver's license yet, it would have been difficult at best for him to get me an edible bagel anyway. What I wanted him to do, rather, was mail me a bagel, but with one major caveat: he couldn't put it in an envelope or anything like that. He had to write the address on the bagel itself and put a stamp on it. I wanted to know if the postal service would deliver the bagel.
He — and they — mostly delivered. The post office back home insisted that he wrap the bagel in clear cellophane, and again, if memory serves, my brother wrote the address on a piece of paper also wrapped in the cellophane. Other than that, though, the bagel was off. A few days after he handed it off to a postal clerk, my dorm room mailbox had in it one cellophane-wrapped bagel, rather gross looking by then, ready for me to not eat. The whole experience — sophomoric, yes, but we were young — goes to show how dedicated postal workers at making sure the mail arrives as requested. Even when they get crazy requests, like a bagel.
Or like the envelope below.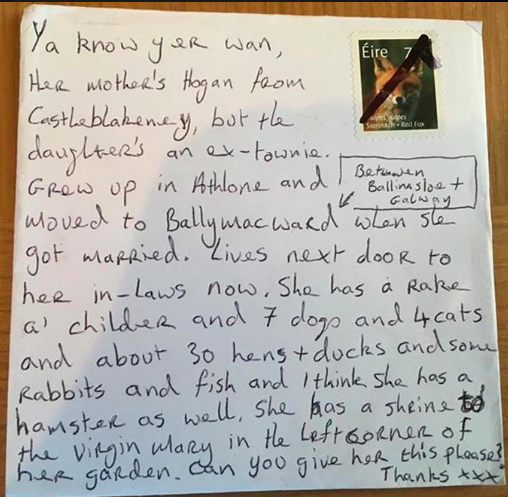 The address reads:
Ya know yer wan, her mother's Hogan from Castleblayney, but the daughter's an ex-townie. Grew up in Athlone and moved to Ballymacward (between Ballinasloe + Galway) when she got married. Lives next door to her in-laws now. She has a rake a' childer and 7 dogs and 4 cats and about 30 hens and ducks and some rabbits and fish and I think she has a hamster as well. She has a shrine to the Virgin Mary in the left corner of her garden. Can you give her this please? Thanks xxx
And for postman Celsius Sheridan, it was a challenge he dutifully accepted.
At the time — this was Christmas, 2016 — Sheridan was working for An Post, the state-owned postal service in the Republic of Ireland. The address, as you can plainly see, doesn't have a street listed; the only clear clue is that the woman ("yer wan" is Irish slang for "what's-her-face," basically) lives in the village of Ballymacward in County Galway. With nearly 5,000 people there, Postman Sheridan really needed to know his customers if he were to deliver that letter.
And incredibly, he did. On December 16, 2016, a Ballymacward resident named Nicole Lally posted the envelope to Facebook, proclaiming that she "was amused/mortified when the postman showed up this morning and hand-delivered this Christmas card from my friend."
The odd address was, like the bagel bet above, an experiment by her and her friend. She told the local press that "she and Amanda [the addressee] had tried to test An Post's limits a few years ago by sending each other cards with incomplete addresses. Hers was delivered, but Amanda's was not." This was a follow-up experiment, and one that almost failed; per the same report, An Post was about to treat the parcel as a dead letter, and "it was only when the supervisor in the sorting office in Ballinasloe asked around that Celsius was able to identify Nicole Lally as the intended recipient."
Unfortunately, the news reports did not note how many rabbits, fish, or hamsters Ms. Lally owned at the time. Or if An Post will deliver an unwrapped bagel.
Bonus fact: The address above is missing a lot of standard information, but you can forgive the mailer for omitting a postal code. While ZIP Codes are expected and often necessary in the United States, and while similar postal codes are commonly used elsewhere, the concept is relatively new in Ireland. Ireland didn't adopt postal codes (known locally as "Eircodes") until 2014, and as a recently as 2017, An Post stated that "Eircodes were never intended or designed for use at local delivery level' and the agency doesn't use them in that situation; instead, "the regular postal address of a property at the final stage of delivery."
From the Archives: Postal Puzzles: Meet the guy who made driving his postal worker mad into his own little game.