Not Even Baby Yoda Knows How to Drive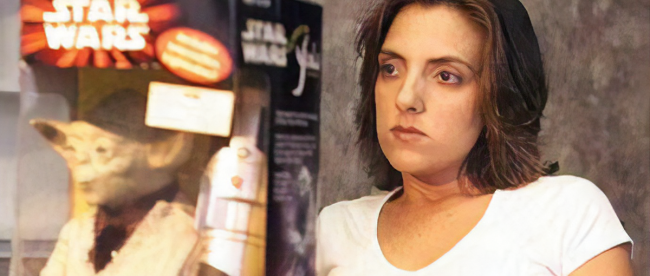 In 2001, a 26-year-old waitress named Jodee Berry experienced something which many of us would, in a different context at least, truly appreciate. That April, she sold more beer than any of her other colleagues at the Hooters she worked at in Panama City Beach, Florida. Her prize: a little bit of Star Wars. Specifically, she was given a Yoda toy.

Perhaps today, that would have been a pretty good prize. If you're a Star Wars fan, it's been a very important winter. The final chapter of the Skywalker saga hit theaters last week (and no, not all of us have seen it yet, so please, no spoilers) and the first-ever live-action Star Wars television series debuted a few weeks ago. That show features a character colloquially known as "Baby Yoda," and it's retail gold: it's Star Wars, it can use the Force, and it's cute. As a result, plush versions of Baby Yoda are one of the top-selling toys of this year's Christmas season.

But the calendar matters in Jodee Berry's case, for two reasons. First, December of 2019 is a peak moment in the Star Wars saga; April 2001 wasn't quite as important. And second, April begins on April 1st, better known as April Fool's Day. And Berry was being played for a fool. The Associated Press explained:
Jodee Berry, 26, won a contest to see who could sell the most beer in April at the Hooters in Panama City Beach. She said the top-selling waitresses from each Hooters restaurant in the area were entered into a drawing and her name was picked.

She believed she'd won a new car.

She was blindfolded and led to the restaurant parking lot, but when her blindfold was removed she found she was the winner not of a Toyota, but a toy Yoda doll.
"Toy Yoda." "Toyota." Get it? 
As you can see, she was not amused.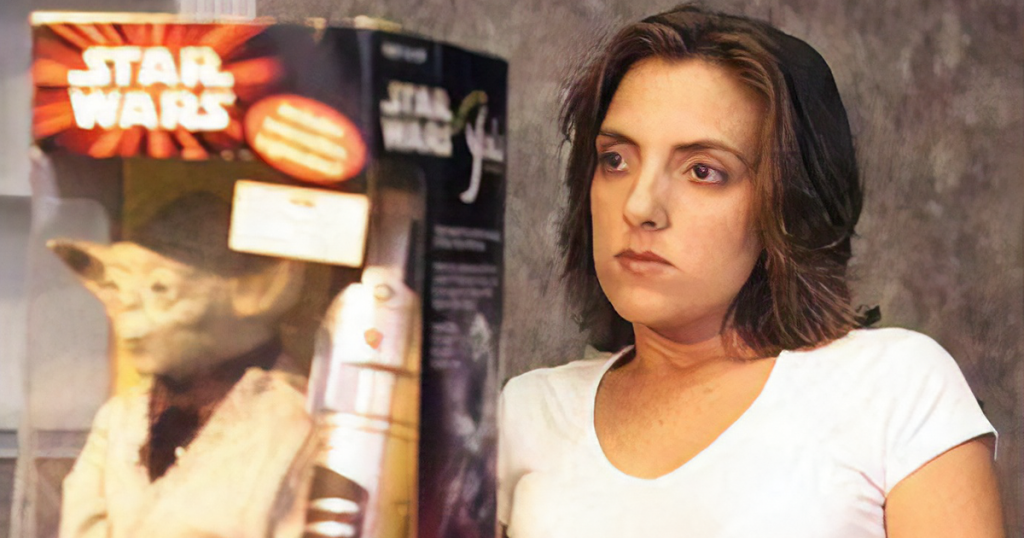 Berry didn't accept the situation, either. She sued, claiming the company had breached her employment contract. The argument was centered around the promises made by restaurant leadership; per the AP, she "said restaurant manager Jared Blair told his waitresses he didn't know what kind of Toyota it would be _ a car, truck or van _ but told them the winner would be responsible for the tax on the vehicle." That seemed like a promise to her — one involving wheels, not green toes — so she quit a week later and then sued the parent company of the restaurant franchisor, claiming she was due a real Toyota.
And: she won — effectively, at least. About a year or so after being promised a Toyota and receiving a homophone, Berry settled her suit. According to her lawyer, per the Orlando Sentinel, as part of the settlement, Berry was invited to "go to a local car dealership and 'pick out whatever type of Toyota she wants.'"
Bonus fact: How many toes does Yoda have? It depends on when you see him. As Mashable points out, "in The Phantom Menace, Yoda has three toes. But in The Empire Strikes Back, Return of the Jedi and Revenge of the Sith, he has four." (The Star Wars wiki-encyclopedia Wookieepedia devotes eight paragraphs to the question of Yoda's toes, for those who want to learn more.)
From the Archives: The Life and Lies of Darth Vader: When did Luke learn who his father is?