The Weekender, December 20, 2019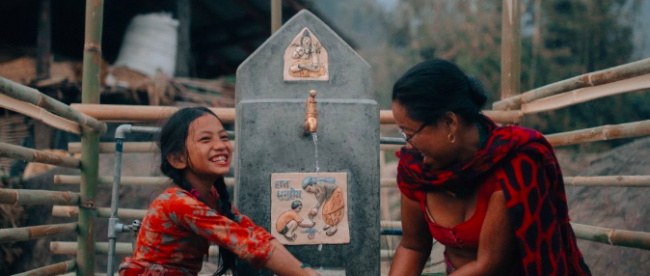 Hi!
Last week, in celebration of my birthday, I asked you to donate to charity: water. And after one week, I'm thrilled to share that we've raised $3,991 — that's more than 95% of the way to my goal!
First of all, thank you for supporting this cause. That's a lot of money we've raised, and it's going to a great organization. I'd like to get to $4,200 and, if so, beyond. So I'm going to reiterate what I said last week:
Water is one of those things that most of us take for granted — you turn on your faucet and, like magic, out comes something safe to drink which, by the way, you need to survive. But for millions of people around the world, that's not the case. And the results are tragic: every day, about 1,400 children die from diseases caused by unsafe water and poor sanitation.
100% of the money will be used to build clean water projects. (All of charity: water's operational costs are covered by private donors, allowing them to use all of your gift to bring water to those in need.) When these projects are complete, charity: water will send you photos and GPS coordinates so we can see the exact community we helped, if you're interested.
So please, consider a gift. Just click here. And thanks again.
And some other things you should check out:
Some long reads for the weekend.
1) "You Might Be Buying Trash on Amazon—Literally" (Wall Street Journal, 12 minutes, December 2019). The fantastic subhead: "Dumpster divers say it's easy to list discarded toys, electronics and books on the retailer's platform. So we decided to try."
2) "Throwaway Kids: 'We are sending more foster kids to prison than college'" (Kansas City Star, 21 minutes, November 2019). This isn't a feel-good story.
3) "My own private Iceland" (Vox, 29 minutes, October 2019). Iceland is a massive tourist destination — and maybe it's gone too far. Here's one paragraph from the story: "The crowds can even cause a kind of overtourism rage. Last year, two visitors beat each other up trying to take photos at Rome's Trevi fountain and local protestors stormed a tourist bus in Barcelona, agitating against the invasion of the city by travelers. Venice, the most tragic victim of overtourism, recently instituted a new entrance tax to compensate for the damage the sinking city suffers; each visitor requires a daily fee of €3 to €10, depending on the expected traffic."
Have a great weekend!
Dan