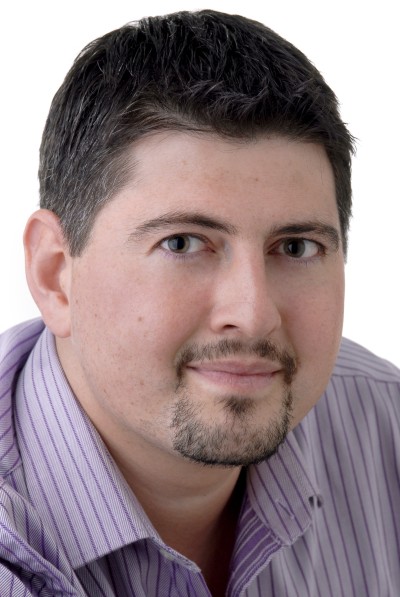 The Jobbiks are small but significant political party in Hungary, holding 43 of the 368 seats in the country's parliament, called (in English) the National Assembly. The Jobbiks describe themselves as a "radically patriotic Christian party" which aims to protect "Hungarian values and interests." Critics often call it racist, fascist, homophobic, and anti-Semitic. And in 2007, a young anti-Semite by the name of Csanad Szegedi (above) began his ascent in the party.
Fate hastened his descent.
Szegedi began his political career in 2003 at the age of 21. The Jobbik party formed that year and Szegedi signed up early on. In 2007, he showed himself to be even more radical than the nationalist party he subscribed to, founding a paramilitary organization called the Hungarian Guard. The Guard adopted the insignia and colors of a pro-Nazi Hungarian party from World War II known as the Arrow Cross, which itself killed thousands of Jews during the war. Szegedi, when elected to the European Parliament in 2009, took office wearing the uniform of the now-banned paramilitary unit.
Anti-Semitism invaded Szegedi's words as well as his dress and associations. According to the Associated Press, the politician blamed Jewish artists for desecrating Hungarian symbols; stated that Jews were buying up land in Hungary in "massive" amounts in order to facilitate emigration from Israel to Hungary; and asserted that post-communism privatization efforts were driven by "people in the Hungarian political elite who shielded themselves in their Jewishness," whatever that means.
In June of 2012, Szegedi — not even 30 years old — resigned from the Hungarian parliament and the Jobbik party. A rumor that began in 2010 had crescendoed and instead of ignoring it, Szegedi admitted its truth.
He was Jewish.
A technicality, sure — but it was enough for Szegedi to attempt to bribe the person who made this discovery. Per Jewish law, if your mother is Jewish, so are you. And if your mother's mother was Jewish, therefore, you are too. And in 2010, someone (a "convicted felon" per most news reports) confronted Szegedi with documents demonstrating that not only were his maternal grandparents Jewish, but they were both Holocaust survivors. His grandfather had been assigned to a work camp while his grandmother had survived through the horrors at Auschwitz.
Someone recorded the conversation between the felon and Szegedi who, in the recording, seemed honestly surprised by the findings. This makes some sense, as Szegedi's grandparents apparently hid their religion from their children. Nevertheless, the Jobbik aspirant believed this newfound truth to be detrimental to his career, and offered to pay off the felon to prevent him from going public with the information. The news leaked out regardless and Szegedi, on the urging of Jobbik leadership, resigned afterward. The Jobbik party's official stance is that Szegedi was asked to resign due to the bribery, and not due to his bloodlines.
Bonus fact: Hungarian children born in the early 1980s — like Szegedi, for example (1982) — are referred to locally as the "DuckTales Generation," a reference to the cartoon about uber-tycoon Scrooge McDuck and his three grandnephews.  On December 12, 1993, a news broadcast interrupted an episode of DuckTales to announce the death of Jozsef Antall, the country's first democratically-elected leader after the fall of communism. For most Hungarian children of that age group, this was their first cultural touchstone when it came to politics, hence the "DuckTales Generation" label. Antall died of cancer just two and a half years into his four-year term.
From the Archives: The Last Jew in Afghanistan: Really.
Related: DuckTales Season 1. Pre-Gizmoduck, if memory serves.